Digitization of Sports Ticketing: A Pathway to Improving Blockchain and Crypto Adoption

Over thew past few years, blockchain-based cryptocurrency has proven to he safe as well as a more transparent option in financial transactions
and it models how payments will be characterized in the near future. While the process of gaining mass adoption may be slow for several reasons, we are discovering and witnessing a gradual experimentation in several sectors of life. Sports is one of the sector that has experienced a remarkable growth in crypto adoption overt the last few months and with the increasing the number of crypto-based sponsorship deals within the football industry, it is obvious that cryptocurrency may find a central space in sports sooner and that would mean a huge reach to the masses.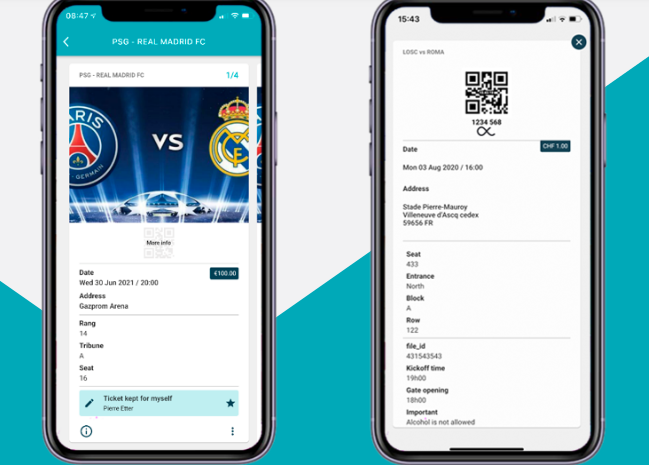 Source
It is evident that outcome of recent tracking of the applicability of cryptocurrency in the football industry has shown a massive potential for monetising and engaging a global market. These were never imagined in the last decade. Indeed, there is the realization that blockchain and cryptocurrencies can further fan engagement, attract sponsors and as well improve the revenue flows for sports organizations locally and globally.
Already, sporting organizations, teams, and clubs are innovating to fit and survive in the new digital age and meet fan expectations especially with the recent restrictions on physical participation following corona virus outbreak. This creates a ready market for crypto information which can be consumed by deedicated fans. Truly, passionate fans consume sports and related content beyond the actual duration of a match watched.
According to Sportskhabri, some few successful examples of crypto-based companies venturing into football include:
Sportsbet.io, an oline betting platform - allows via crypto.

Sportsbet.io, an oline betting platform - serves as an official sponsor to Arsenal, Southampton, Flamengo and Watford.

Quatocoin (QTC) - purchased 25% stake in an Italian club R(imini FC 1912) using cryptocurrency.

Gibraltar United FC - announced in 2018 that they'll be paying their players using crypto (QTC).

StormGain, an online crypto trading platform - served as Newcastle United's sleeve sponsor as at the last two seasons.

Coingaming Group, bitcoin gaming brand - new sponsorship deal in favour of Southampton, an English Premier League club which means that players' bonuses will be paid in bitcoin
In April 2021, it was revealed that English Premier League club Southampton will be able to pay their players bonuses in bitcoin, thanks to a new sponsorship deal they signed with .
Interestingly, UEFA and FIFA have already started experimenting with payment for tickets for their flagship events via cryptocurrency. source
The above assertion can be valid due to transparency and decentralised nature of cryptocurrency which would help in the tracking and accountability in ticket purchases by people from around the world easily without having to deal with multiple currencies.

SOurce - Screenshot
Protokol enlists and discusses top five (5) blockchain amd cryptocurrency usecases in sports to include fan tokens, Digital Trading Cards and Collectibles, Fan Loyalty and Engagement rewards, Blockchain-Based Ticketing Systems, and Decentralized eSports Ecosystems. Below is captured the importance of blockchain based ticketing for sports.
Blockchain technology in sports is also being applied at the ticketing level as an easier and more secure way of purchasing, storing, or even transferring tickets between owners or events. Thanks to its decentralized nature removing the need for intermediaries and central actors (as well as insecure centralized systems), fans who find themselves unable to attend an event, for example, can simply switch their ticket without paying penalty fees or losing their money, making for a much more efficient user experience.
As the data on the blockchain is immutable, no one can falsely claim to have bought a ticket or dispute a price. Blockchain-based ticketing systems ensure that the possibility of counterfeit tickets is eliminated as they can be instantly validated by blockchain technology. Moreover, in the event of sporting fixtures being postponed or delayed, the entire process of rescheduling is simpler for organisers and end users alike. source
We cannot undermine the essence of ticket sales among revenue streams of a sports organization or team. It is important to note that a strong ticket sales strategy do not only add revenue but also helps the team to understand their audience profiling from the data collected.
One of the awesome providers of this service is Tixngo. Two years down the line, Tixngo provides ticketing solution using blockchain technology to create secure mobile tickets. The TIXnGO API, allows for ease of plugging into any existing ticketing system. There is a promise that fraud can be reduced while helping to digitalise the fan experience.
We are aware that covid-19 had placed several limitations on the sports industry, however, with technology, there is the possibility for fans to remain connected. Moreover, being able to create additional revenue streams increased crypto-sponsorships, fan tokens, non-fungible tokens ("NFTs") and many more options are awesome ways top keep the sports sector afloat. However, this is yet to be embraced wholeheartedly in developing Nations.
Posted Using LeoFinance Beta
---
---