Hive Pays... + $90 in my First 7 Days
It's barely 9 days from when I made a resolve to re-fire my engagement on Hive blockchain and restart my investment journey. It's exciting that after claiming rewards for the posts I made over the last 7 days, it accumulated to approximately $90. That's really impressive and really a booster for the journey.
Interestingly, I'm pumped about and I don't have regrets being a hive maximalist. Two days ago, while discussing with a friend @Ubyego who asked to know about low cap crypto that he could buy in. I told him all I needed in crypto in the meantime is accessible through Hive and Hive communities.


Note all figures are converted to USD
My engagement on Hive as an author and curator at the base and second layers has exposed me so much to discovering which of the earning options on Hive pays better. Earning from $1 to $46 within 7 days on a particular activity is way very interesting and rewarding. As we can see in the data breakdown above, curation is my highest earning activity on Hive blockchain.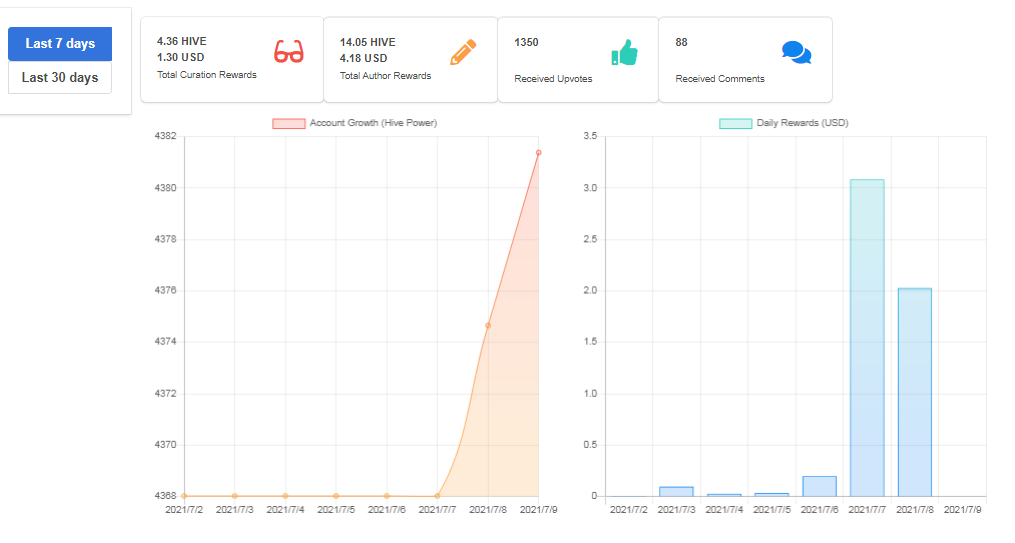 SOURCE: https://hivestats.io/@uyobong
Gathering $88.6 in 7 days is a great relieve for my weekly budget which presently averages at $90 weekly. However, though 50% of the tokens earned is auto-powered up, others have also been intentionally powered up to add to my stakes. Interestingly, the earnings had a leap after Three days (that's 6 days ago). Keeping up with this to a consistent level would amount to around $320 or more.


SOURCE: https://hivestats.io/@uyobong.sports
Earnings form SPORTS curation stays on top with as high as $46. IT still amazes me how much the very undermined token is improving my crypto holdings in value now and in the future. Also, surprising is the fact that my authorship earnings on second layer is over 25 times that earned on the base layer of Hive. This goes a to proof that communities have all it takes to give Hive a facelift. Sticking to these communities have been a reason for my financial growth in the lat 15 months of my active engagement on Hive since it's creation.
Hive pays indeed. The time, efforts, intellectual resource and data cost is never a waste as long as you know the right thing to do. It wouldn't be wrong to say I'm playing both roles of an employer as well as that of a freelance employee on Hive blockchain.
Posted Using LeoFinance Beta
---
---