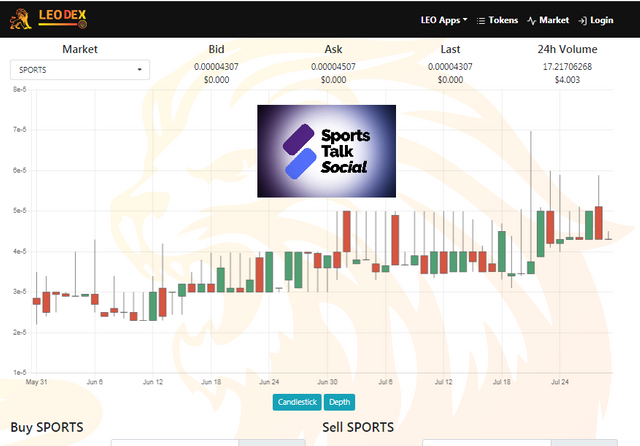 I am doing my best to getting organizations and established communities begin to onboard to HIVE. Thanks to HIVE communities and Tribes token that can help a community to build their business and profit from it here on Hive blockchain. When we have established communities of say 1k users or more begin to join HIVE and make investments, then we'll see HIVE grow. While a few individuals out of the lots that are joining each day may invest, communities would do better.
After I had engaged the PR team of a local sports team in my state and told them about HIVE and SPORTS token, I got a response to send an official mail to their lead team explaining how thy could make the most of their investments here. While it would be to their good to invest in Hive, more investors means improved value for HIVE and Hive Tokens.
Consider SPORTS for instance, a typical local organized football team has at least 10,000 dedicated fans. Onboarding 2 of such would mean a great deal for HIVE and SPORTS. As I try to put up an investment model to guide such new teams, it discovered that SPORTS is maintaining a solid price in the last few weeks despite HIVE bullish nature.
SPORTS has solidly creating an upward step-wise price trend as seen in the screenshot above. Currently trading at 0.000043 HIVE for the past one week and there are huge buy orders worth as much as 291 HIVE at 0.00003 - 0.000043 price range.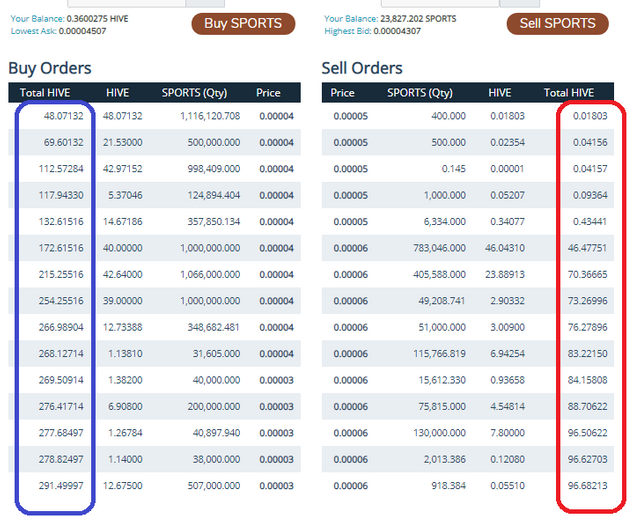 Interesting to note that despite the bullish nature of HIVE, less tokens are up for sell (just 96 HIVE at 0.00005 to 0.00006 per HIVE). This could be due to the fact that "dumpers" are exhausted with their tokens and people who are now involved in SPORTS stakings are those who see the future of the token and do not wish to dash it out at these low prices.
I can vividly remember some weeks ago when a slight pump in HIVE would result in a downtrend of HIVE tokens. SPORTS usually go down to 0.00002 HIVE. The narratives are changing and we are beginning to see more healthier communities and healthy-thinking investors.
Another discovery is that total SPORTS held by accounts with at least 1 million liquid tokens is less than 60 million. This means that the entry of a single Sports team would buy out all the liquid tokens.
If you would ask me, I would say that an entry level for a sports team should be 50 million tokens and that's currently worth a little above $700 at 0.00006 tokens per HIVE. Holding a stake of 50 million SPORTS at the current inflation level would give out as much as 30,000 tokens in full upvote and that would be worth about $0.4. I think that should be a selling point for the token for a sports team/organization who wants to reward their fans.
I will keep marketing these Hive communities and tokens till we have mas adoption.
You can actually head to LeoDex to purchase SPORTS token or start writing about your favourite sports/teams in the SportsTalkSocial community to earn SPORTS.
The present 23.3 million SPORTS in stake is for curation of undervalued quality #sportstalk posts, SPORTS staking reports and #HiveImpact or Charity projects in the sports sector.
You may join my SPORTS Curation Trail to maximize your SPORTS stake.
---
Disclaimer: This is not a financial/investment advice. It is just my conviction about SPORTS token. Always make your personal research before investing in Cryptocurrencies.
---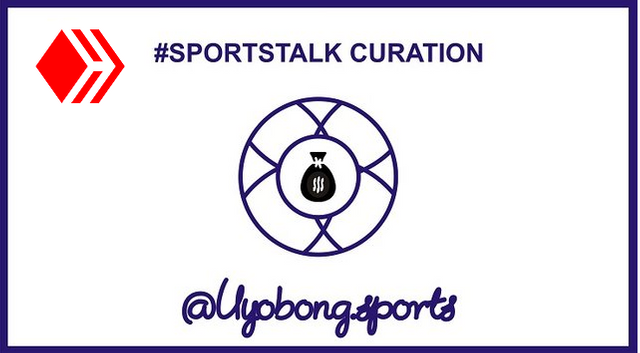 If you have made a recent "quality" #sportstalk post of at least 200 words, drop the link in the comments section of this post and reblog the post for a huge upvote from my 23.3 million stake.
Please consider following @uyobong.sports to be able to see our upcoming give away.
You may also consider delegating SPORTS to @uyobong.sports to enjoy daily Curation.
Posted Using LeoFinance