The multiple earning opportunities that abound on the Hive blockchain makes this blockchain a place to reckon with. Like I said in my last post, blockchain technology is here to disrupt the traditional business module that have existed over the years. Hive has proven to be a social platform where entrepreneurs from all sectors of life can converge and relate together. With the innovation of tokenized communities, the experience gets more amazing.
Among the earning opportunities available, curation is one aspect that has wowed me since I ventured into it. Two years ago, curation was only whales on STEEM then could do. Holding a 50 Steem Power then was something huge and would have required about $50k. Now, the bear market hits so hard on HIVE and one can have 50k Hive Power with just $8,000. However, that's a huge some for some low income earners and especially users from a struggling economy like Nigeria.
The staking feature for Hive tokens makes things more accommodating for low earners who can resort to curating with the tokens. Some Hive tokens are quite very cheap and becoming a whale with such holdings would not cost a fortune. The @Sportstalksocial community is one of such communities powered by SPORTS token which is presently valued at $1.3 million market cap and trades at $0.00001.

When we look at how vast the sports sector is, we can vividly agree that the SPORTS token is really undervalued. We're yet to have a mass adoption of the token by 1% of the passionate sports enthusiasts. As LEO token tells the world of crypto that there are second layer tokens on the Hive blockchain, it would be easier to come to notice other awesome and potent tokens that are presently undervalued.
Three weeks ago, I was cerebrating my earning of $8 as Curation Rewards for SPORTS Token during the Bear Market days in this post. Things are getting juicier for the Hive tokens as the LEO pump has got some more eyes on the H-E tokens and there are siome much buying pressure in Hive-engine and LeoDex.

As at the time of writing this post, a lookup of my sports curation account on Hivestats revealed that my monthly curation earnings has grown to $20. That's huge, really huge for a presently no token like SPORTS. This much earnings is from an investment which was initially less than $250. My weekly curation earnings from SPORTS stands at $5.2 in the last 7 days.
Interestingly, all time curation rewards I ever got from HIVE stake is $33 and at present holding a stake of over 2k HIVE. Things are going to change drastically in the next few months and we may likely have a "moonly" experience with Hive token investment by December this year and SPORTS would be one of those great token I wish you hodl.
SPORTS is a native token of the SportstalkSocial community of the Hive blockchain which is used to reward sports contents created on the Hive blockchain. The SPORTS token, presently aged 14 months, is one of the premier tokens of the SteemHive engine and indisputably one of the Hive tokens with high curation APY around 100%.
At the interim, the only available way of profiting from SPORTS token is to stake it and upvote #sportstalk contents for 45% curation rewards. The potential of the token still lies intact as the sports sector is yet to fully embrace cryptocurrency.
I'm personally reaching out to a set of developers to consider building sports games that could utilize the SPORTS tokens in its game economics. Two to three of such strides could peak SPORTS at $0.001 in no time.
I'm building my stake of SPORTS and still growing. Aiming the highs of 100 million tokens and it's with a long term duration in mind. 5 to 10 years may be a great span of time to look back and be happy that I invested in the penny token.
You may join my SPORTS Curation Trail to maximize your SPORTS stake. With the trail, your stake of SPORTS would yield profits without your active involvement.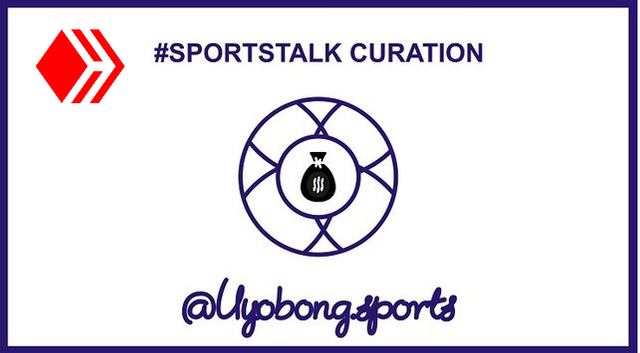 Please consider following @uyobong.sports to be able to see our upcoming give away and consider delegating SPORTS to @uyobong.sports to enjoy daily Curation.

If you have made a recent "quality" #sportstalk post of at least 300 words, drop the link in the comments section of this post and reblog the post for a huge upvote from my 30 million stake.

Beef up your quality in image and words to enjoy a yummy curation from @Ocd. SOme quality posts are being visited on daily basis.
Posted Using LeoFinance Beta