Many out there are drilling themselves with daily work-outs just to having their good body shape and six packs, yet, there is much more to being just healthy. Indeed, after keeping fit, if there is not enough and good food to take in, the body shape would soon be lost. We cannot downplay the fact that fitness and exercise contribute a whole lot to our mental psychological and physical well-being. However, these these components when put together has a way of influencing our work life and finances on the long run.
On Hive blockchain, The Actifit Project makes it possible to stay fit and healthy while building wealth simultaneously. Over these three years of being on Hive @Actifit project is one of the most underrated but I know how easy it gets to onboard new users to Hive via Actifit. Talking to some older folks, I only tell them I want to give them an app they use to track their daily exercise and fitness level and why they should post it daily for checks and balances. Then, on the long run, I surprise them that they've a;ready accumulated so much cryptos- AFITs, SPORTS and HIVE tokens. This is just one of the simplest ways to get some very inquisitive persons to Hive with ease.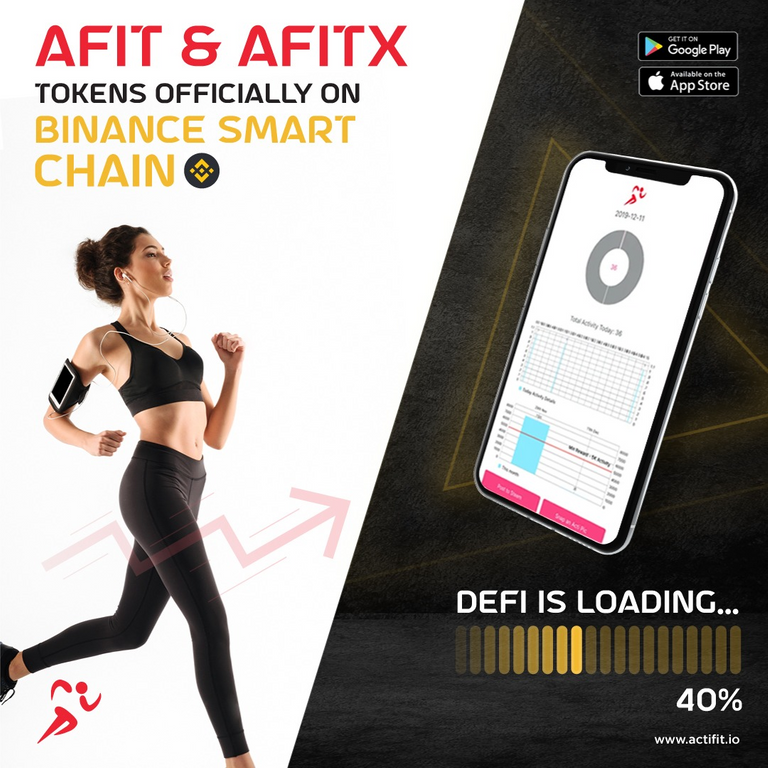 Reading about the DeFi plans of the Actifit project about 15 days ago made me so excited and it gave me some more reasons to prioritize my daily exercise. Health is wealth as we popularly quote, but the real thing is now getting to happen on the Hive blockchain as AFIT and AFITX tokens would now gain some more tangible value in the crypto market sooner. Watch this space.
Actifit Tokens Officially on BSC - DeFi Loading ... As highlighted on prior announcements, we are going full throttle on expanding our presence to BSC, and bringing actifit vision and hive connectivity onto the BSC audience.
The Binance Smart Chain is gradual taking the centre stage among other blockchain utility options. It's low fees and the ease of building upon it are a few of the advantages it has and sets it up with huge prospects in the near future. Thanks to the @leoFinance community having led the way to show that Hive communities can start thinking cross-chain operations to really show blockchain and crypto users the power of the People's blockchain and crypto - HIVE. Glad to see Actifit toeing this direction with this succulent move that will truly define health as wealth.
Actifit started by bringing the world of fitness onto blockchain and Hive in particular. We are now expanding this onto core DeFi, widening the reach to concepts of Yield Farming, pools, loans, and diverse aspects of the financial sector that align well with its beliefs, and its wide market of more than $450 Billion within the healthcare industry, fitness, smart watches, wearables, insurance sector and much more. - source
We are going to see this one-time top Hive community regain its space as more users would get interested in earning more AFITs via their daily fitness log. It is beautiful to see this gradual walk into the future where everything gets tokenized, even our fitness at a scale of producing millionaires. This means that as one gets fit, he also earns money in the process to maintain the body with good food and other necessities.
I think I'm ready for Yield Farming for AFIT and AFITX tokens. The future is here! I know how much of CUBs I've earned and how well it's served as a huge passive income of late. I can't wait to have AFIT and AFITX pools start printing more valueful cryptos as the Actifit Pool on BSC emerges.
Posted Using LeoFinance Beta