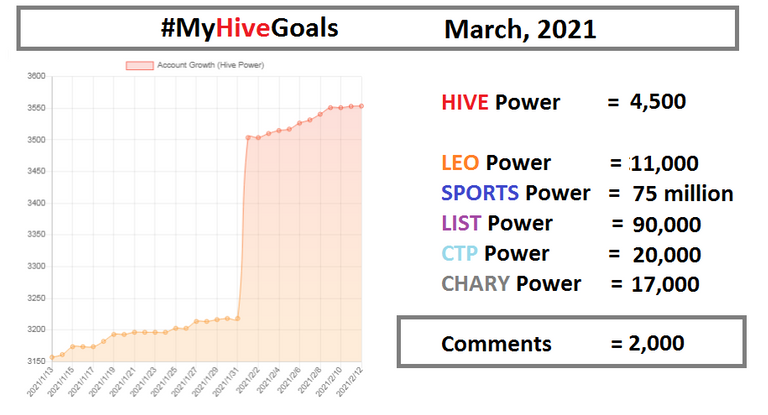 Welcome to the month of March, 2021. This month is quite very crucial for the Hive blockchain as we'll be celebrating the first Hive anniversary and it would be cool to look back to how the past 12 months has been seen the Steemk-Hive fork. I am hopeful that we may see HIVE at $1 to celebrate its first anniversary in the cryptosphere.
This month is also very crucial for me as it marks a new beginning for several projects ion my life. This is why I decide to be very intentional in every aspect of my life including investment in crypto. We are anticipating some new shots like the #ProjectBlank from the @LeoFinance's kitchen among others. I read about a project cooked by @Achim03 and @ph1102 and would likely be revealed this month too and I'll be glad to support those two awesome individuals and their projects too.
In a bid to set up myself to make the most of the big additions that would be coming to the Hive blockchain, I've decided to up my staking game today and it's strategically the Hive Power Up Day (HPUD). Powering Hive and Hive tokens to the tune of $137 is an amazing shot in the first day of the week and month. These steps adds gradually to the big vision that would be reached at the end of the year.
Every vision without timelines are mere wishes. Moreover, breaking down a large vision into smaller chunks of achievable makes it easier to achieve big goals with tiny efforts. I call it the Drop Strategy in investment. I'm looking forward to a more regular and consistent module to adding to my stakes and perhaps i'll settle for weekly powerups. This #myhivegoals game was inspired by @Jongolson and I think it's been very rewarding since I joined.
Today, my $137 investment in HIVE and Hive tokens were shared into the following tokens:
I'm very bullish about all the cryptos invested on in this first day of March 2021. I am pushing hard to reach the Dolphin status of Hive stake. Thanks to @Threespeak for inspiring me to power- up more Hive and I hope I could reach 10k stake before the 3Speak airdrop. With the growth of my second layer holdings, I'll do more to up my HIVE Power stake and can't wait to start giving out $1 worth of upvote.
Anyone who's been active on Hive in the last 6 months should have been aware of the development strides by the LeoFinance team and how well the LEO token has appreciated. With the announcement of the trichain linkage with LEO, it's imperative that one should see the LEO token hit $1 soon. Moreover, the supposed TwitterKiller #ProjectBlank airdrop would make holding LEO stakes much interesting.
I see myself pushing around $50 weekly into SPORTS token. It might interest you to know that 70% of that are drawn from my curation rewards. Indeed, I am not taking from SPORTS yet. I am looking into the future of 2 years to start taking profits with SPORTS. Meanwhile, it's safe to keep plowing the curation rewards back into the staking pool. I can say that 100 million SPORTS stake looks realer than ever and I see that milestone being hit before the third quarter of this year. Thanks to all who're dumping SPORTS to make it cheaper to buy.
A few weeks ago, I have termed CTP as the next LEO. Yes, it is. The price chart look very alike. LEO at some time had stayed around the 0.21 HIVE value for long before breaking to parity with HIVE. I see CTP doing that in a couple of weeks to come when the #SecretProjects begin to get revealed. Thanks to the creative lead of Jon for all the development in the CTO community.
When we brainstorm on the ban of crypto trading to FIAT in my country, eCommerce becomes the way out for maximal use of crypto. Looking forward to having more big merchants come into the Hive blockchain and the @Hivelist community would be a place worth staying. I'm hardly building up to reach 100k LIST soon. Staying at 82k stake is beautiful but more can be achieved within the month.
With CHARY, I can power my charity project the more and be able to give back to the society courtesy of my Hive (crypto) earnings. While the governments wants to starve the people, we are out there to make many smile though our crypto earnings.
I'm seeing the financial future more clearer and closer. The stakes shall be worth some more of its value in the coming days.


gif by @doze
Posted Using LeoFinance Beta