Hive is never short of creativity and innovations. The blockchain infrastructure allows any entrepreneur to build his dreams and take advantage od the scalability, true decentralization, fast and free transaction features of this blockchain. It's never wrong to call Hive The People's Bitcoin. At $0.3, Hive is still very affordable for anyone who wants to be listed among billionaires in the next 2 years.
I've met two awesome persons @ph1102 and @achim03 who are active leaders in the CTP community and are working hard with @Jongolson to bring value to the Hive blockchain. After spending about 3 years each oin Hive, Achim and Ph1102 decided to build and launch in a new product on Hive-engine, the second layer of Hive blockchain. hence, Project @Liotes.
Liotes may look like a dividend paying token which pioneers to transform this air circulation into energy. The Liotes Energy mills (LENM) that will produce an almost never ending supply of energy (Liotes Energy = LEN). Launch is scheduled for March 9, 2021.
in today's Liotes update, it was interesting to see a Tribe power renting feature which would be the first on Hive second layer that would serve as one of the usecases for LEN tokens while also helping to boost the value of other tribes token which would be considered in the lending pool. Liotes promises to be a project that would benefit everyone. IO'm already bullish about it. Read this paragraph that inspired me quick reach to 70 million SPORTS stake
Renting Tribe Power is one of the priorities that we will try to implement in the short term. As the idea is to create USE CASE for our LEN tokens, we want to make that happen and we believe that this can be the first step toward that. We couldn't do this before, as we didn't distribute tokens (yet). So, for the beginning, you can expect a kind of store on our main website where you will be able to spend your mined LEN tokens for purchasing renting power in your favorite Hive-Engine tokens (LEO, CTP, SPORTS, etc...)

On reading that paragraph, I hurried to power up 600k SPORTS (about $62 in value) and that helps scale my SPORTS power to around 70 million. Here's my transaction ID. I've been clamouring for partnership on Hive and blockchain and nwe see the many dividend tokens like BRO, DEGHE, and others making that possible and allowing investors to earn other tribes token.
Each day breaking brings us closer to the beautiful future of SPORTS token and I am not resting until 200 million SPORTS stake is reached. The journey to my SPORTS power all started from a Zero cash investment. Contents were created and SPORTS were earned. I powered up and also uised my HIVE earnings to buy more SPORTS. Over time, the valueso accumulated has steadily rose through to this epic 70m mark.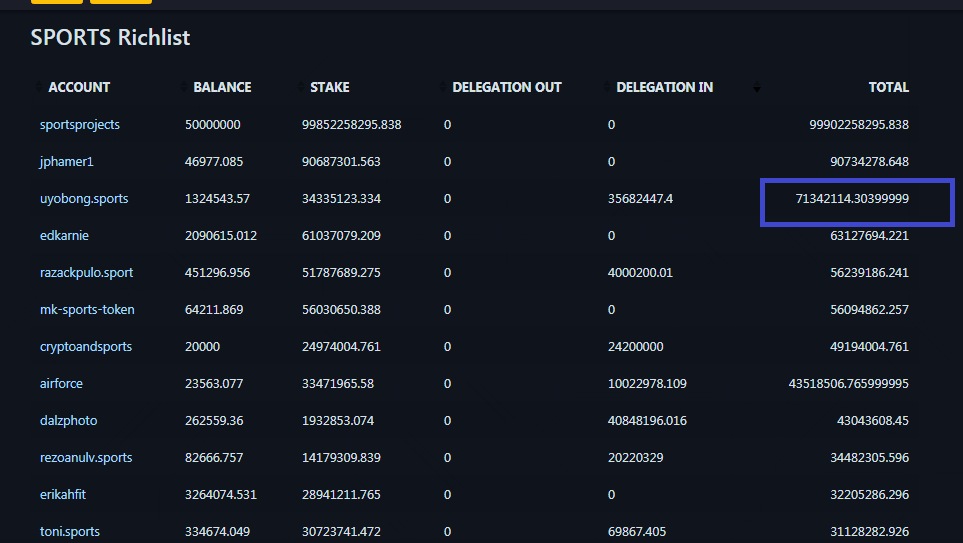 I think we are getting closer to the future than ever. Imagine that we have some 10 huge investors desire to power up 100 million SPORTS and curate with it, then we could see a SPORTS token worth $1 or more. This was just a quick perk on Liotes and its plan to build other tribes. I'll be right back to tell more on why you should get ready to invest in LENM.
Happy weekend!
Posted Using LeoFinance Beta