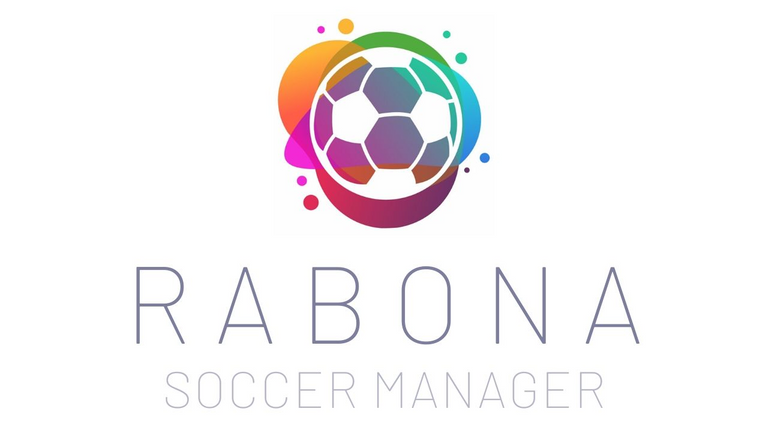 Rabona is a 13 days old online soccer management game on the Hive blockchain and presently ranked 42 in Stateofthedapps and 8th in the games category. As at the time of writing this post, the game has pooled over $3,500 (29,641 HIVE) in 38,405 transactions and has a record of 576 users so far.- (Source 1, source 2).
I am privileged to be one of the pioneer users of the dapp in the last 13 days of its creation and have participated in the management of my Team FC Creativians for two football seasons with an investment worth $11 (80 HIVE).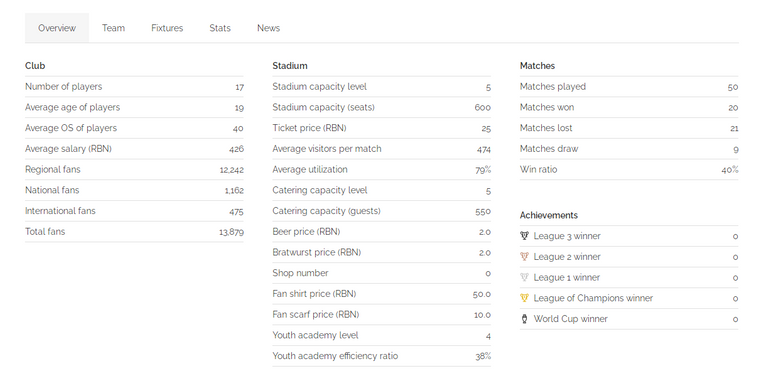 It has been an interesting adventure so far which is quickly sharpening up my team management skills. There's a swift contrast between Rabona and the PES team manager module. The Rabona experience seems more realistic especially as real money is involved. Profit/losses therefore becomes primarily dependent on the ability take the right decisions in terms of buying/selling of players, building of infrastructure and creating other income sources while improving player abilities which also increases their salaries.
My first two seasons have been running into deficits though the downturns would be corrected over a long time of participation. The early stages actually require funding until when the income sources match with expenses for breaking-even.
The Season 1 financial summary of my team showed a deficit of 60,586 RBN equivalent to $0.65. Season 2 which is still in session is already running into a deficit of 252,251 RBN ($2.6) because I have to expand my facility for more income generation in the coming seasons.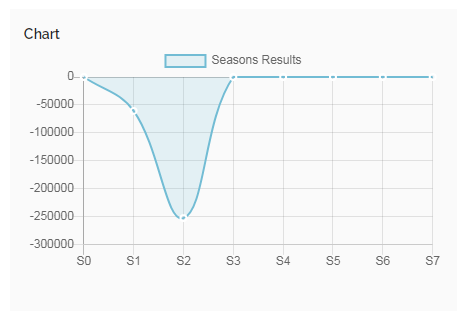 On the whole, my club is running into a deficit of 250 RBN cumulatively over the last two seasons.
User, USD and Tx Stat Trend?
Dapp.review shows the graphical trend of users, USD pooled and number of transactions over the last 30 days which shows a steep decline for all three variables but with pumps at intervals. Indeed, the Tx and USD would always respond to user stats. The high points in the chart shows the start of the seasons where new players join the game. We anticipate another slight pump in the next two days when Season 3 would begin.



Aware that the dapp is still in its beta stage which is open for inputs for bug fixes and other updates, yet, a game of this nature should be showing a rising curve especially with the huge anticipation that was created before the launch of the project.
My Feedback for Improvements
Games built on the blockchain with an integration of cryptocurrency is meant to give value much more than fun. Thus, there is need for a well defined incentive package for all users that are plying Rabona. Giving free RBN tokens and at start isn't enough motivation to invest money.
So far, there has been a huge acceptance of Hive's second layer tokens because of the scalability and ability to help low income users make some profit from their investment other than hive curation which yields tangible value for whale shares. Since there has not been any clear announcement as per the future of RBN token, it could be more motivating if Rabona collaborates with another Hive tribe that has a token already trading in Hive-engine.
There is also the need for an aggressive marketing of Rabona game, however, the selling points of such marketing information would be the incentives available for players. HIVE raised could be powered up to upvote daily report of Rabona activities.
I also want to suggest that since Rabona is a sports related game, an affiliation with @Sportstalksocial community could boost the userbase of Rabona.
Meanwhile, there should be an option that allows a team manager to pay for training with RBN token.
I'm looking forward to seeing Rabona game grow and attain the highs of 1,000 daily users as obtainable with other Hive games. We are still in the beginnings and I hope @Rondras and @oliverschmid would keep their ears up for feedback from Rabona users to build the project further.
Rabona is a massive multiplayer online soccer management game. Decide how to build and develop your team, take on the role of the head coach of your team, and manage the financials of your club. Lead your club to the top of the league and become the champion!
Feel free to use my referral link - https://rabona.io?ref=uyobong to register for Rabona so we both can earn 25,000 RBN tokens.
Posted Using LeoFinance Beta