For me, learning is a lifelong adventure whether with a grin or screwed face. Journey through the Steem/Hive blockchain has been packed-full of learning opportunities. From crypto to tech adn creativity, I've availed myself as a good student on this blockchain. Thanks to all who have been sharing their stuff with us from contents to dapps and many more.
Aboiut 10 days ago, I had announced my leap into the latest game oin Hive - Rabona to express my managerial skills in the sports-tailored game. The first eight days have been awesome after completing the first season in the game.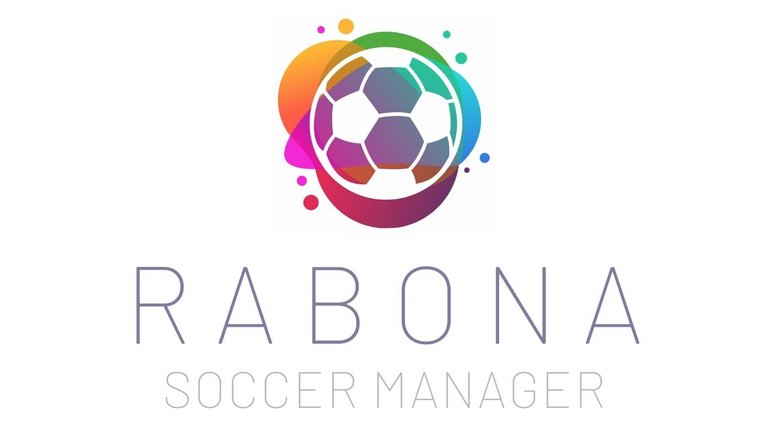 For those just seeing this for the first time, Rabona where a Hive user can become a founder of a football team. The user performs all managerial tasks from building stadiums, buying/selling/loaning players and setting up the team for automated matches. The goal is to make the most of the resources available to the team to the best advantage and profiting from the adventure.
Boom, if you're playing Rabona, it feels like you're Roman Abramovich who owns Chelsea FC and Jose Mourinho who manages Tottenham Hotspurs all in one being. Thanks to @Rondras and @Oliverschmid for the creative creation.
My managerial career on Rabona with my team FC Creativians started with $5 (31.867 HIVE) investment which unlocked 305,000 RBN, the native Rabona token for as a start-up financial resource.
The beta phase of the game is priced at $5 which is presently 31.867 HIVE. That's a 50% discount price for the beta testers of the game. Every beta tester must pay the $5 before being granted access to the game. It's better to pay $5 now than pay $10 later.
The first season of the game lasted for 7 days. Within these days, financial responsibilities I had were to sort out player salaries, build facilities, set-up merchandise shops and also generate revenue.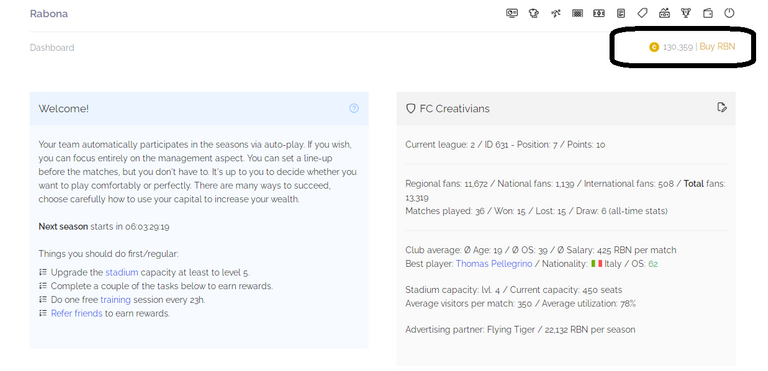 So far, my team has played 36 matches, with just 15 wins and 6 draws. Match ticket sales to about 350 visitors to my stadium has been a major source of revenue. This was the only number accommodated in my stadium out of the over 13,000 fans. In the first season, 95,586 RBN was generated as income for my team.

It was amazing to see how fast the expenses were accumulating in the first season. Player salaries (95,586 RBN) and player purchases (11,510 RBN) comprised the huge proportions of the season expenses. With a total expenses of 156,173 RBN, my deficit balance was 60,586 RBN, that's an equivalent of 3.81 HIVE.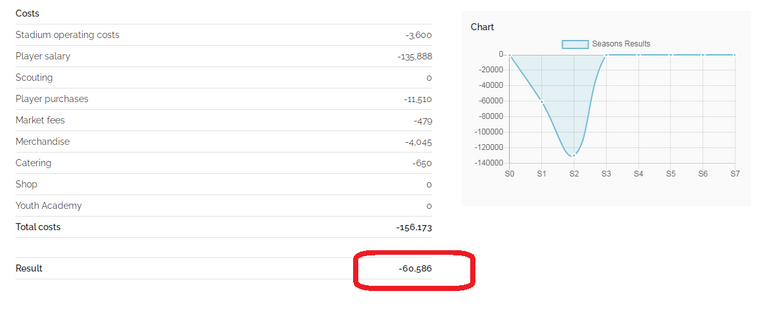 Owing to my finishing 8th position on the league Table, I earned 0.336 HIVE as my Rabona rewards payout for season 1. That's ridiculously 98.9% loss on an investment of 31.867 HIVE. I think all the users got rewards between 0.1 to 0.48 HIVE. However, the experience was fun and building skills over the last 7 days of season 1 is something memorable.

A Peak into the Future
While we are yet to know the future of the RBN token, I'm hopeful that in there is a future which the tokens can be converted to crypto for profits of the investors/club founders. With over 250 players already into the game, I see a huge traffic and interest that Rabona is bringing to Hive. While popular opinion has it that RBN be listed in Hive-engine, it is likely that RBN would be a non-fungible token (NFT).
The excitement has just begun as Season 2 is already started with 4 matches already played. Every team is striving for the top position to qualify for the next higher league. Let's keep engaging and see what the future becomes.
It is generally accepted that games are one of the gateways to the adoption of this hive blockchain by the masses. Could Rabona be such?
Posted Using LeoFinance Beta