A well-rounded weekend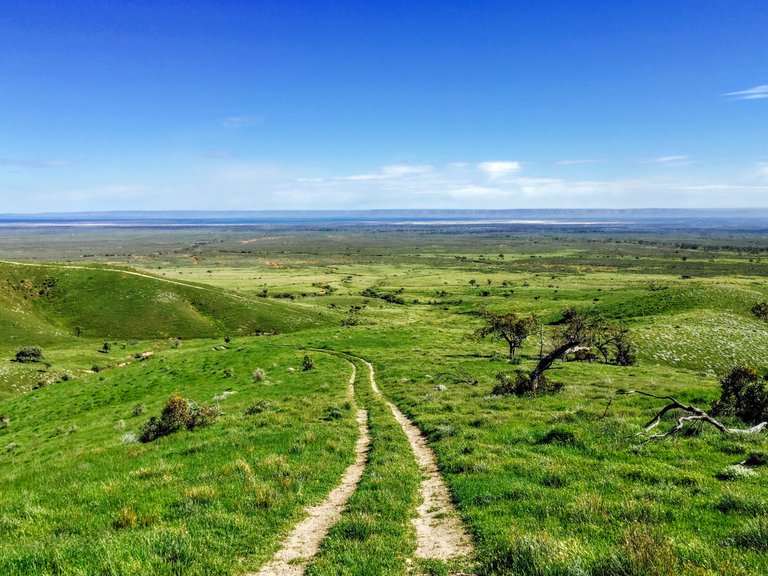 Hey hivers, how y'all doing? I hope your week has started well and you've got a productive one planned...Or that happenstance makes it that way; Either way I hope you have a good one.
Mine has started well, and has been travelling along quite quickly to be honest; I've just come home from work on Tuesday night after a fairly long twelve hour day although Faith and I convened in the mid-afternoon for a sneaky Tuesday coffee and cake date which was nice. It's hump day tomorrow and then the run to the weekend starts. Yay!
So, everything is on track for a good week, but it's last weekend I want to write about right now.
As you may know I headed north of home for a two-day shooting event in the Southern Flinders Ranges. I go to this location quite a lot, mostly for camping and hiking with Faith, but this weekend she stayed home and I went to compete in practical run and gun shooting competition.
The location is a working sheep farm, a very huge one, that consists of open plains, rugged mountains, creeks and scrubland. It's a great place to camp and hike and I find it very peaceful. Of course it's not peaceful when a hundred or so competitors are running and gunning, but when the guns go quiet...It's just lovely. It's a licensed gun range of course, otherwise shooting events would not be permitted.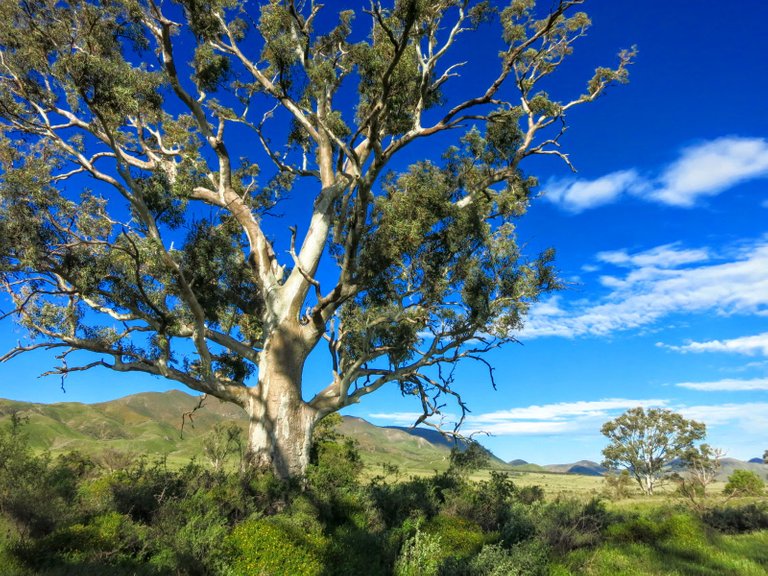 There's many gum trees on the property, the largest of which are beside the creek that occasionally flows. I'm not sure how old this one is but it's big and stands near the access road to the campsite and it's always good to see it...It sort of says, "welcome, come in and relax."
I had a great weekend personally, I mean from an enjoyment perspective and also from the competition point of view.
As one of the event-organisers, an event we run several times a year at locations around the State, I am ineligible to take a placing; If an organiser wishes to shoot the event, as I did on the weekend, they are removed from the overall results prior to the paying competitors seeing the them but we get to know where we finish prior to that happening...The scoring system prints two sets of results with the second set omitting any event-organisers.
I'm happy with the way I went over the weekend; I was sitting in second at the end of the first day, just by a couple of points, and ended up third overall. Of course, like I said before, only a couple of people actually know that result; It's inconsequential in truth.
I went for fun this weekend, and as a working-organiser, and whilst it was a little annoying having to do my official job whilst trying to compete at the same time, I managed to get it done.
For me, when competing, I focus on improving on my own performance, beating my personal best; I don't worry about the other competitors. I don't find any hint of motivation from the thought of beating them...The thing is that I can't influence how they perform, but I can influence myself, so that's what I do. In fact, worrying about how well others are doing often destroys my focus and makes me perform worse, so I block it out.
Anyway, the shooting was good and I enjoyed it.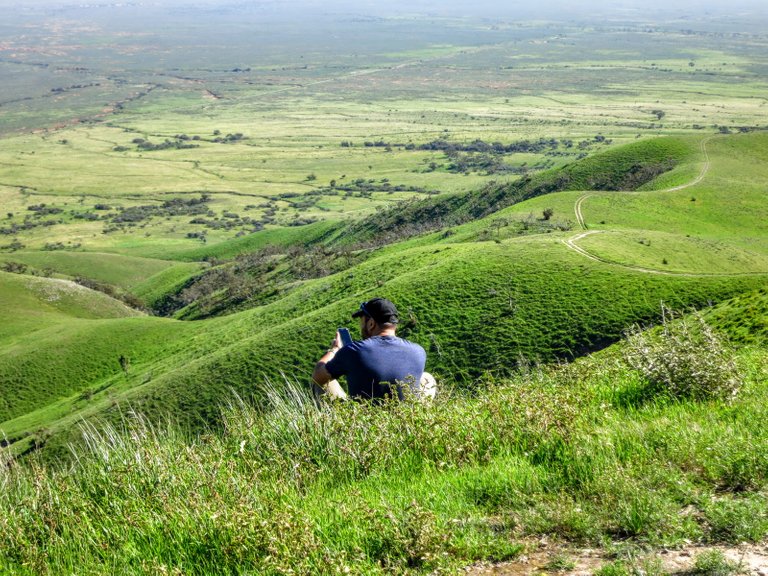 Here's me after the shooting finished on the first day. I had to drive up here to get enough coverage to answer some replies on the #weekend-engagement topic post. So this is an action shot...Hive action. A mate took this without my knowledge and he text-messaged it to me today. That little track to the right is the track I used to drive up here - 4x4 only of course.
Overall the weekend was pretty good. I got to see some people from interstate that I only generally see at events and we got to tell lies around the campfire - An activity that always seems to be enjoyable.
Of course all weekends come to an end and I saddled up the Big Dog for the drive home. It was a straightforward run south on Highway One with only one stop off at a little place called Harry's Home Made Fine Foods at a tiny map-dot place called Nelshaby. It's a little roadside shop that makes all sorts of home made foods.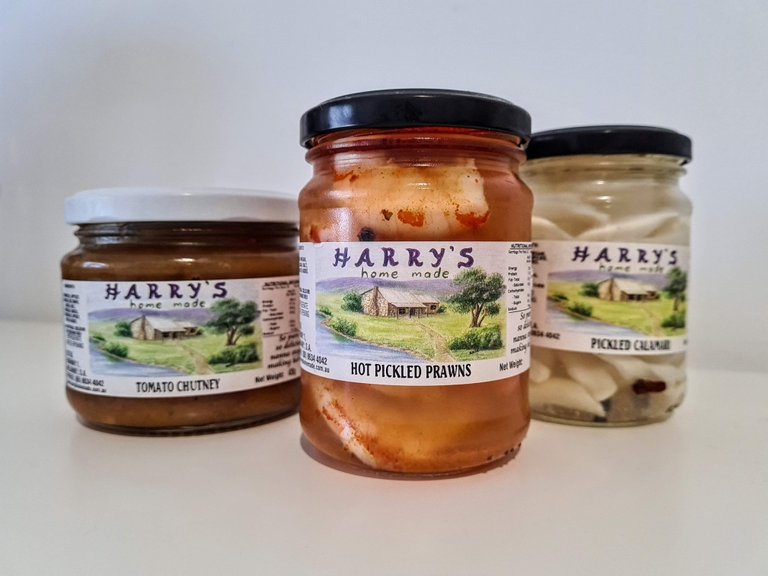 A couple things I grabbed at Harry's. The other stuff all got eaten over the last few days. 😁
Harry's has been around for thirty three years and they have ninety different products like jam, honey, relish, chutney, pickles, olive oil, and cured meats like salami, peperoni, chorizo, hams, prosciutto and the like. They also do some pretty cool pickled seafood like prawns, calamari, muscles, razor-fish, scallops and so on. They have take-away foods like pizza and burgers with such exotic meats like crocodile, camel, kangaroo and buffalo - All made on the premises.
I called in grabbed some goodies, threw them in the fridge in the back of the Big Dog and got them big wheels rolling home to Faith; Job done.
I had a fairly hectic weekend but it was enjoyable, well-rounded.. I would have liked Faith to come along but her recent operation meant she had to stay home...But that's ok, we'll head up there again soon, just the two of us, and do some camping...And probably stop in at Harry's for some more goodies.
I hope y'all had a great weekend, tell me about it below and write a post in the Engage the weekend Community.
---
Design and create your ideal life, don't live it by default - Tomorrow isn't promised.
Be well
Discord: galenkp#9209
---
---