"Queretarocks" trash can clips - B sides and bloopers.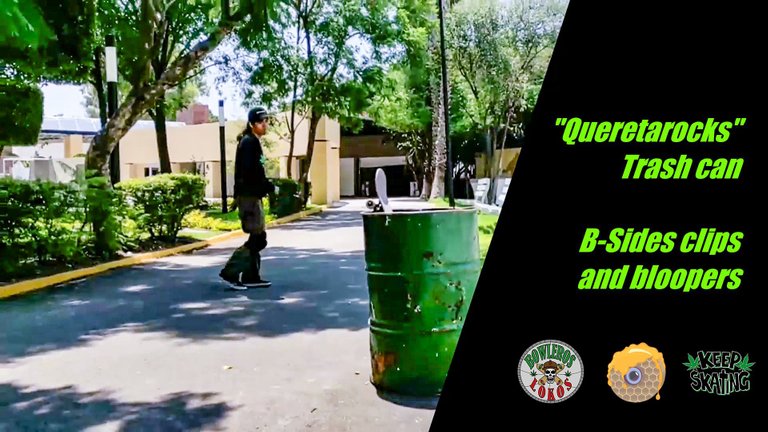 | [EN] | [ESP] |
| --- | --- |
| Sometimes riding a skateboard seems easier than it really is, I can personally say that most of the time I skate a spot with my friends, and it takes me many tries to land a trick, so many tries that I realize that it is not as easy as I thought, I always end up watching the video and realize this: The tricks actually look easier than they are! It is a true fact that for some time caused me some conflict, since I always hoped to be a high-level skater and nothing that I filmed met my expectations behind the screen, so after some time of reflection I ended up with the conclusion that tricks may not seem so difficult on the screens, but the feeling is everything. I also came to the conclusion that becoming a high level skater is not about how hard your tricks are, but how hard your tricks are for yourself, I mean, for example, if you do a 3 stair ollie one day and the next day you go and do a 4 stair ollie, that means you are a hard level skater, because you are increasing your level and you are overcoming fear, and I think this part of overcoming fear should be a goal for all people in daily life. So, in order to don´t make this post longer for you, dear hiver, I will tell you that this is a compilation of tricks that may not have worked well, but they helped me overcome the fear and keep me motivated for more future trips, as well as more vlogs here on Hive. I love you all and I hope you continue to have a great time, #SkateHive for life!! | Algunas veces andar en patineta parece más fácil de lo que realmente es, personalmente puedo decir que la mayoría de las veces que grabo en un spot con mis amigos, y me toma muchos intentos bajar un truco, tanto que me doy cuenta de que no es tan fácil como pensaba, siempre termino viendo el video y me doy cuenta de esto: ¡Los trucos realmente parecen más fáciles de lo que son! Es un hecho verdadero que durante algún tiempo me causó cierto conflicto, ya que siempre esperé ser un patinador de alto nivel y nada de lo que filmaba cumplía con mis expectativas detrás de la pantalla, así que después de un tiempo de reflexión terminé con la conclusión de que puede que no parezcan tan dificiles en las pantallas, pero el sentimiento lo es todo. Tambien llegué a la conclusión de que llegar a ser un skater de alto nivel no se trata de cuan dificiles son tus trucos, si no, cuan dificiles son los trucos para tu propia persona, quiero decir, si por ejemplo, haces un ollie de 3 escalones un día y al día siguiente vas y haces un ollie de 4 escalones, eso significa que eres un patinador de nivel duro, porque estás aumentando tu nivel y estás superando el miedo, y creo que esto de superar el miedo debería ser una meta para todas las personas en la vida diaria. Entonces, para no hacer este post más largo para ti, querido hiver, te diré que esta es una compilación de trucos que quizás no funcionaron bien, pero me ayudaron a superar el miedo y a mantener la motivación para más viajes a futuro, así como más vlogs aquí en Hive. Los amo a todos y espero que la sigan pasando muy bien, #SkateHive de por vida!! |
(Unsupported https://lbry.tv/$/embed/Bsides-Queretarocks/9b7995bf7b2c9eae495476f87a0391995d05b4fe?)

[EN]
Catch up Jorge Alcalá´s skate session here:
[ESP]
Mirar sesiones skates de Jorge Alcalá:
Social media
---

---
Join the Stoken/Skatehive Discord

---
What STOKEN plans to bring to Hive 🍯

Unique name, and meme-ified branding that will stand out above the hard to find Hive brand.

Real world events tied to web3 content creation.

Attracting non crypto content creators, into web 3.0

Exciting content to bring in non crypto audience.

Focus on onboarding large, existing communities i.e: Reddit skateboarding: 385k members, and Redbull: 10 million YouTube subscribers.

NFTs. Plans include real world utility, fund raising, and future gamification.
DTF ( Decentralized Token Fund )

Stoken DAO: Decentralized voting system to allow the community to sponsor athletes, content creators, influencers, and real world events.

A new token for you to earn for doing Hive stuff!

Possibility of future airdrop of governance tokens. 

---
---
---