WOW tomorrow night's fight is SUPER interesting! The main card is so good!
This fight card could be one of those low-key legendary fight nights that seriously dictate these fighters' career trajectory. This could be historical.
To start the night is Kevin Holland vs Darren Stewart. Both of these fighters are great. Both are on the come up and can use this fight to cement their growth and move on to bigger fights with a win moving forward. Holland is a smaller Middleweight and can easily fight at Welterweight and he often speaks on fighting in the weight class in the future. He seems to enjoy and embrace his ability to fight in both weight classes. Stewart on the other hand has always been one big fight away from being taken seriously as a contender. He is a big powerful proper middleweight too so this should be fun.
Next is Mackenzie Dern vs Randa Markos. This will be a great Strawweight fight. Mackenzie Dern has been active and winning a lot of fights, she clearly feels like she is championship material, as well as many other people. She faces a savvy experienced and super game fighter in Randa Markos. Markos is always competitive but is mostly a .500 fighter. A win over a name like Dern's could really propel and reinvigorate her career. Dern wants to continue on her championship path!
After the ladies is Johnny Walker vs Ryan Spann. A powerful Light-heavyweight scrap. Johnny Walker was and still kind of is a huge hype-train. He is a wild and exciting fighter that is not afraid to be confident, even cocky, and he he showboats often. He was on track for a title fight until he became humbled with two straight losses. He is still super dangerous with a lot of hype behind him. I look at Ryan Spann on the other hand and MAN he's on an epic EIGHT FIGHT WIN STREAK. Both of these men have legit Championship aspirations. This should be a fun one.
Next up is Khamzat Chimaev vs Gerald Meerschaert. Khamzat made a name for himself for basically fighting two weeks straight and getting dubs both times and walking away completely untouched. He thrives and enjoys fighting at both Middleweight and Welterweight. I question his second Welterweight victory though since the guy he fought actually formerly fought at FEATHERWEIGHT. But hey a win in the UFC is still good. His hype is at a fever pitch right now. He is confident and sells fights wonderfully. Khamzat is so confident in his chances in this fight that he already has his sights set on fighting next week at welterweight, down a weight class! He believes he is going to walk right through Gerald! He faces a tough middleweight tomorrow though. Gerald Meerschaert is no joke! He has a bunch of experience and I feel like he's in the prime of his career. He has had a couple of tough split decision losses and I feel like he's hungry to defeat this hype train and continue on his path to championship gold.
Donald Cerrone vs Niko Price is basically going to be a straight up car accident on national TV. Donald Cerrone is a straight up legend. Not much else needs to be said. He has fought a thousand times. While he doesn't always win the biggest fights that will propel him into Championship fights, I do believe he is capable of beating most opponents. This guy is a fan favorite and a legend. I worry about how he will fare in this matchup though. Niko Price is a large muscular Welterweight. He is a savage and super durable and tough. He is as game as they come. He has been chilling around and sniffing contender status for awhile. This is honestly going to be war, perhaps for the ages.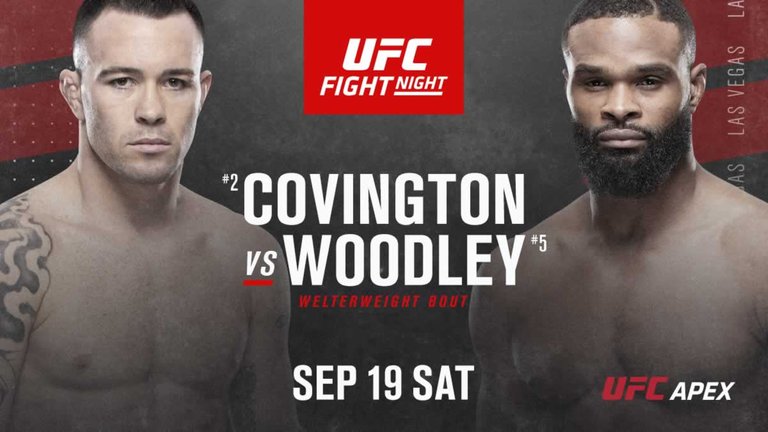 Source
Last but of course, DEFINITELY not least is the highly anticipated main event that is former Welterweight Champion Tyron Woodley vs the controversial Colby Covington. This fight has been talked about forever. There is significant bad blood here. These guys don't like each other. A part of me wonders if some of there beef and antics are for show to sell the fight, but I definitely feel like there's a solid amount of dislike for one another, it's pretty obvious.
Covington has been called racist and people don't like him for his Donald Trump support. Woodley is often portrayed as overly emotional and whines too much. Both men have called each other racist. LOL. Covington wears MAGA hats, Woodley wears Black lives matter gear.
So not only is this fight personal they are also making it political. There is a lot of heat leading up to this fight. These guys have been hyping a match-up between these two for years.
This could be a classic fight that kind of feels like it's Democrats vs Republicans. This is going to be exciting! The animosity is clear and obvious. I can't wait to watch this!!
At the end of the day these two are going to make each other a lot of money. It's a business at the end of the day!
---
What do you think of this fight card tomorrow?
I can't pick these fights, honestly every one feels very close to 50-50. Anyone got predictions?
HIVE ON. Fights tomorrow and then football on Sunday. These are the best weekends!