Calcio Storico- Gladiator Football With Very Few Rules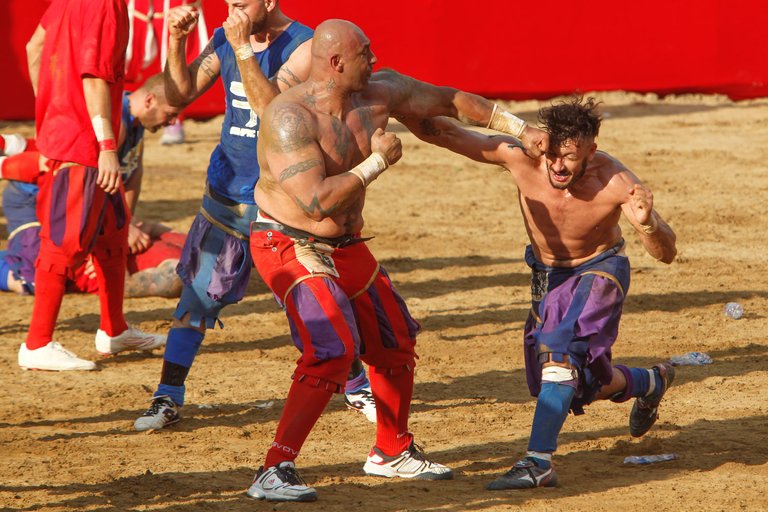 source
Calcio Storico is a sport played once a year in the city of Florence. The game dates back to the Roman times when the Roman Legions used to play it in times of peace to keep in shape. Even the popes used to play this sport in the Vatican city. Back then it was called Harpustum with the same "rules" which to be quite honest there are very few. This is an Italian blood sport giving you an excuse to just beat others up.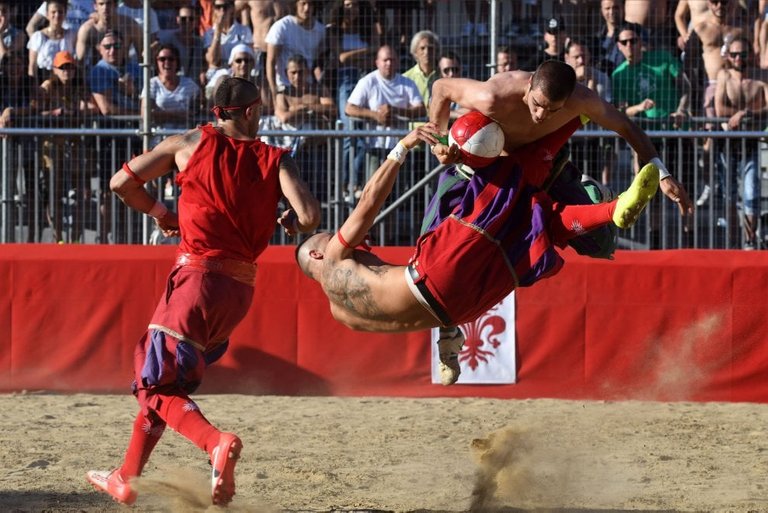 source
1574 Henry III of France attended a game and said it was too small to be a war and too cruel to be a game. This is not for the feint hearted as there are serious injuries and players have even been killed.
In the olden times the rules allowed for almost anything and you could argue there were no rules. Head-butting, punching, elbowing, and choking were seen as alright and even the occasional bull was added to the game to help create confusion. Betting was a big thing as well so more confusion added to the "party" was seen as creating better odds with a possible upset.
Today you are not allowed to kick to the head and sucker punching is banned. Punching is fine though. You have to play fair which included not more than one person against an opponent. Teaming up will get you expelled from the game.
A violent sport is an understatement yet they say it brings the city of Florence closer together. Florence is divided up into 4 regions with 4 different colors depicting each region.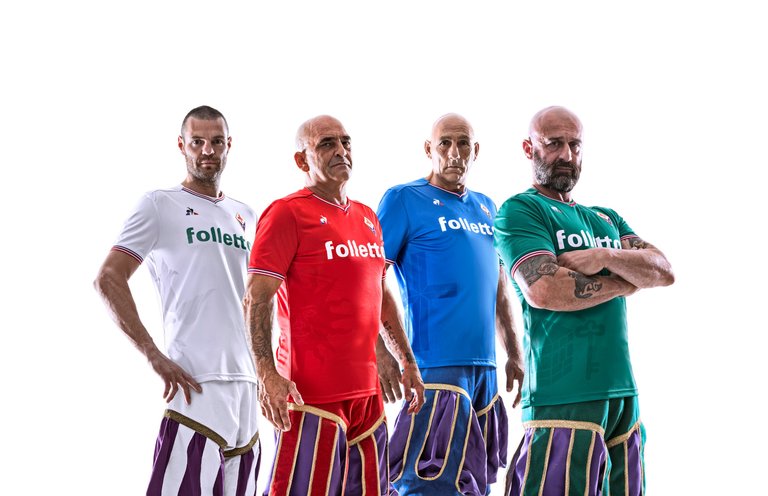 source
Santa Croce / Azzurri (Blues)
Santa Maria Novella / Rossi (Reds)
Santo Spirito / Bianchi (Whites)
San Giovanni / Verdi (Greens)
Every year the city plays host to three matches with the winners of the first two matches playing in the final. The game is played on the 24 th June highlighting the San Giovanni Festival.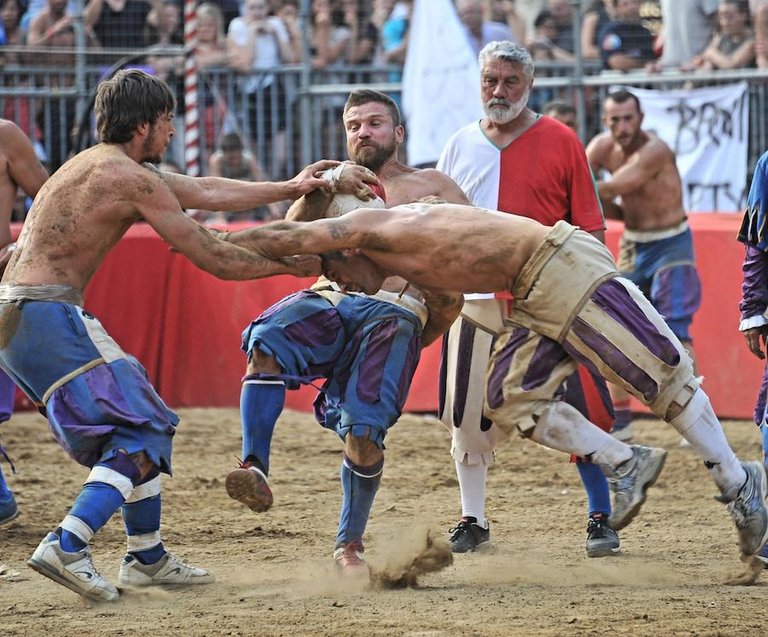 source
The pitch is 100 m long and 50 m wide with a half way line. The goal runs at the end of each side the entire width of the pitch. Each team is comprised of 27 players and no replacements for injured or expelled players are allowed. One match lasts for 50 minutes with 25 minutes per half.
source
The game has one referee and 6 linesman who try and keep peace when fights get out of hand. Captains of each team don't get involved and hang back by their goal lines. They also help control players that become too aggressive as they need their players on the field and not expelled.
The cannon firing gets the game started with the ball being thrown into the center of the pitch. The forwards which comprise of 15 players from each side start fighting by kicking,punching,wrestling and tripping trying to tire the opponents out. Once gaps appear with players beaten into submission the backs make their moves trying to score a goal.
I think it is great that there are people around that want to keep traditions going no matter how extreme things might be. This is going back to their roots. It looks like a load of fun even though it is a little insane and would recommend a gum guard to protect your teeth. Probably something I would have tried if I was a little younger. Not sure if foreigners are eligible to play though as teams could bring in some imports and maybe change the dynamics too much.
---
---