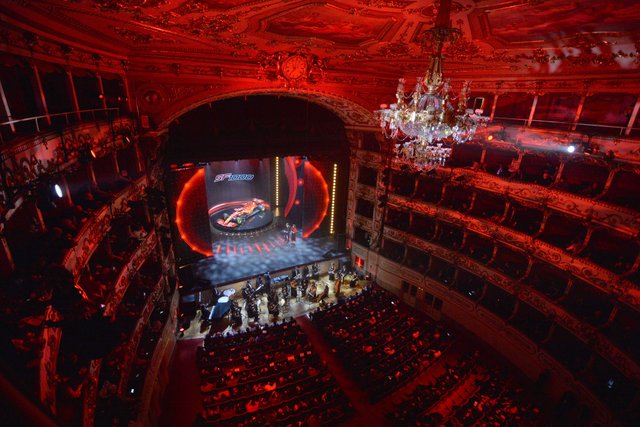 source
The Ferrari team launched their car for 2020 last night in a somewhat theatrical way using an orchestra and some ballerinas. Not very macho for something that is meant to get petrol heads excited. As a launch goes it has no real meaning until the car hits the test track in just over a weeks time.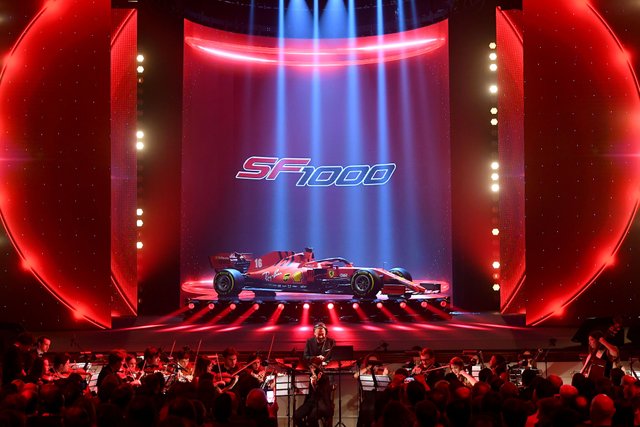 source
Last season Ferrari were so desperate to get results they resorted to cheating. No one has come out and said it outright but if you read between the lines of what transpired they were caught out. New regulations were put in place after Honda technicians and engineers asked specific questions. Ferrari's new found speed disappeared immediately leaving them looking like idiots.
Ferrari has spent more than any other team on it's V6 Hybrid engine reported to be over $1.4 Billion developing it. Last season for all the money spent they had reliability issues which for their sakes I hope it has been fixed now.

source
Last nights unveiling.
Unveiling a new car means absolutely nothing as things will change once testing starts. According to some reports the wind tunnel testing wasn't going down too well with the new car. Whatever happens it has to be an improvement on last years version, but by how many seconds?
I am no technical junkie who can tell you what is what, but looking at this version nothing is jumping out saying I am that different. They have added some winglets and some horns plus the side pods look slightly different. These features are all used to help channel the air into areas they require it. The side mirrors and the horns have been stolen from Red Bulls 2019 car.
There have been no press pictures of the back end though so I expect to see something different once it is revealed. Sebastien Vettel mentioned this area was more compact so we have to take his word for it now.
Ferrari's head of Formula One Mattia Binotto says this is a hole new car compared to last season with a new type of suspension and have reworked the power unit reducing oil consumption by 50 percent. I don't think that raises any alarm bells for Red Bull or Mercedes as this was a given.
Last seasons car was fast in the straights and handled poorly in the bends and corners. The suspension has been adapted due to more down force being generated. The 2019 model was loose on the front end not creating enough down force and a gamble that didn't work. Having seen what they have done this car should be quicker than last year, but by how much?
Mattia Binotto says his team are ready to take the Constructors Championship this year saying his young team learnt from their mistakes last season. I just don't see it how you can go from being so bad to suddenly winning it and I don't give them a snow balls chance again this year. Strategically they are all over the shop and you can't go from being so bad to very good overnight and why I think they will not feature in the top 2 anyway again this season.
Red Bull will unveil their car tomorrow and this is the car Mercedes are concerned about. Red Bull have engineers who think out the box and are not scared to try new things.Ferrari have the history and pedigree behind them but I don't believe they have what it takes to win and that is the X factor. Mattia Binotto looks awkward and he doesn't come across as someone who is confident in what he is doing.
Mattia Binotto is no Christian Horner or Toto Wolff and it is the person at the top who needs to inspire others to excel. It would be good to see a strong Ferrari as we all want a close Championship this year, but my money is on them finishing 3rd or possibly fourth behind another team who has to jump out the pack.Renault,Williams or McLaren are due for something and will wait for testing next week.
This years Championship will be a lot closer as their was no new structural regulations imposed. Teams with smaller budgets have a chance this season to show what they have as they have had double the length of time to get something right.