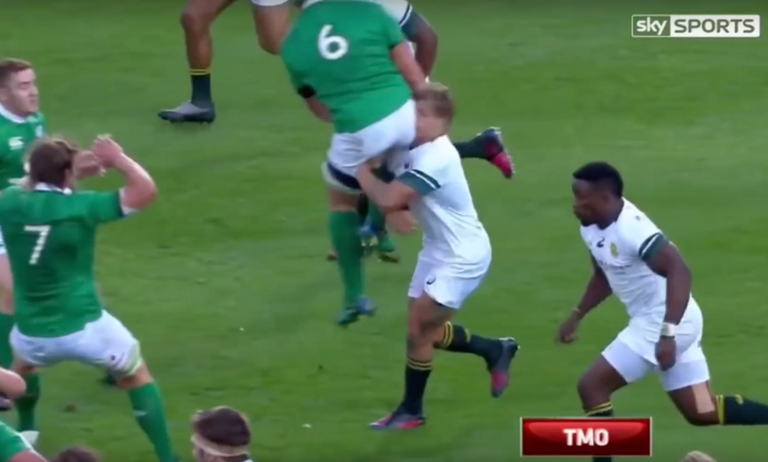 source
Lambie about to be knocked out which resulted in a career ending concussion.
CTE or Chronic Traumatic Encephalopathy which is a progressive degenerative disease is a real worry for sportsmen in contact sports. The condition is bought on from repeated blows to the head and not necessarily every time you are concussed either.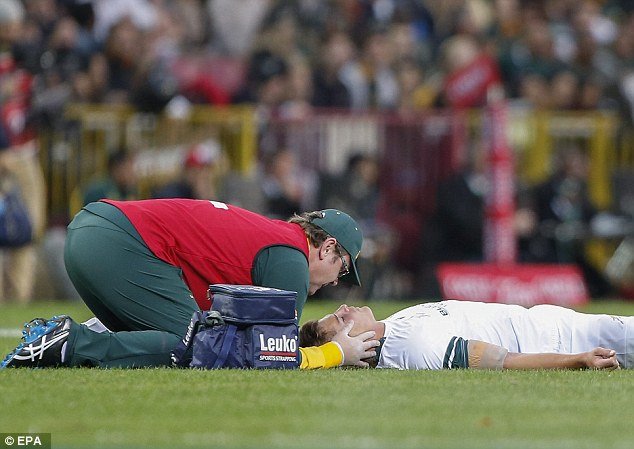 source
The rules have changed now protecting the player in the air, but the rule changes were too late for Lambie.
Pat Lambie must be one of the few rugby players lucky enough to be advised to end his career playing days early. He hung up his boots last year at the age of 28 after being advised by a neurologist to do so. he had a string of concussions and head blows which resulted in him suffering side effects.
The attitude to concussions has changed over the years as a blow to the head was deemed ok as long as you weren't vomiting and were walking straight then you were good to go. If you felt dizzy or head blurred vision a week later then it had to be your eyes and maybe you were getting old and needed some glasses.
I raised this as George North the Welsh International wing was concussed two weeks ago playing against France. His blow to the head was not as dramatic as Lambie's but it doesn't have to be. He was out cold for a matter of seconds and that is all it takes. Apparently George has had 6 serious concussions over the last few years and one has to start thinking when is it time to hang up your boots.
Medical technology and studies are improving all the time and now that CTE is a thing which is a degenerative brain disease in layman's terms things need to be carefully looked at. I am certain that it is only a matter of time until we see some of the older generation suffering the side effects of this disease. There have been a few cases of ex All Black players suffering memory loss making their annual gatherings a game of guess who I am a reality and a joke amongst the older groups.
As I have said before they built them tough and a blow to the head was seen as next to nothing. If it was bleeding you had some stitches and you were right as rain. They used to tell players to sit down and have a drink of water and after a minute or two they were fixed. Water fixed everything as the knowledge and information we know today wasn't around.
I read somewhere that an Aussie from the AFL had an autopsy revealing CTE so it is not just going to be American Football ,Rugby and boxers under the spotlight and expect Footballers and god knows what other sports to show signs of this disease in the years to come.