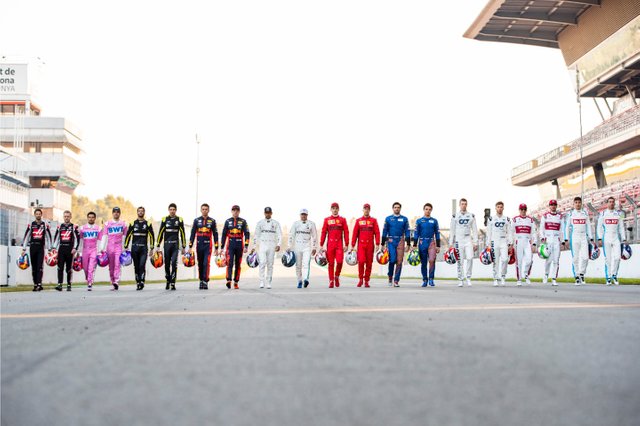 source
The 2020 season kicks off today with the first day of 3 days for test session 1. Next week there are another 3 days for test session 2 which should see the teams ironing out any hiccups they come across this week.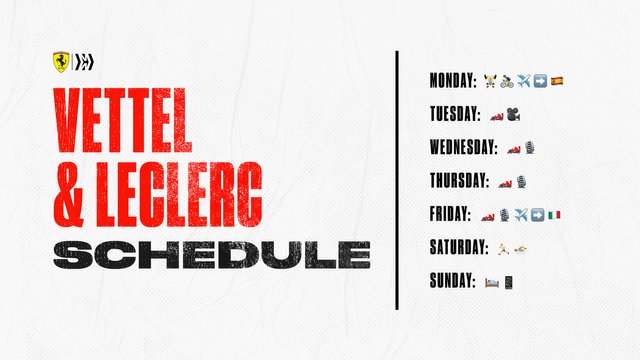 source
As you can see from Vettel and Le Clerc's schedule it may only be testing, but these guys don't get much time off as this is the busiest time of the season. Once the racing starts in Melbourne next month the hard work that everyone has invested will hopefully pay off.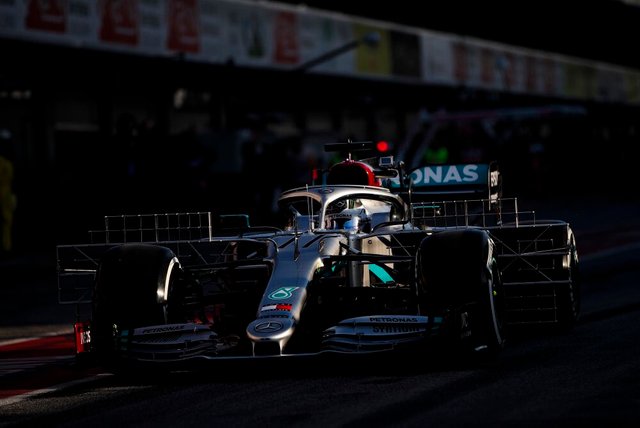 source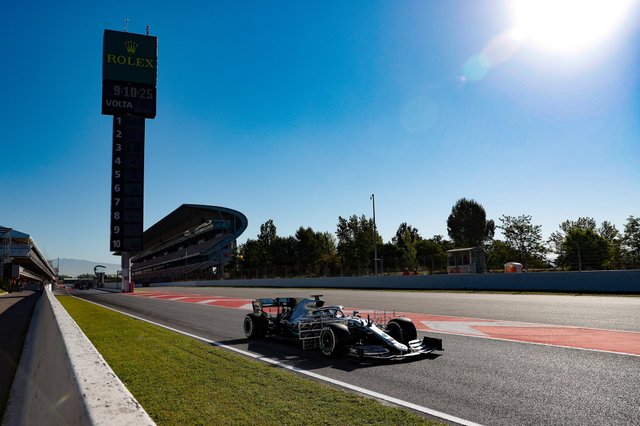 source
The Mercedes car out on track this morning with Valteri Bottas. It looks as though it is covered in barbecue grids but these are all sensors recording data that the engineers need to fine tune the car. Everything up until now has been using a model in the wind tunnel and there is nothing that quite beats the real thing. Teams don't get huge opportunities throughout the year for testing on their own cars due to budget constraints as the FIA is trying to make it as level a playing field as possible.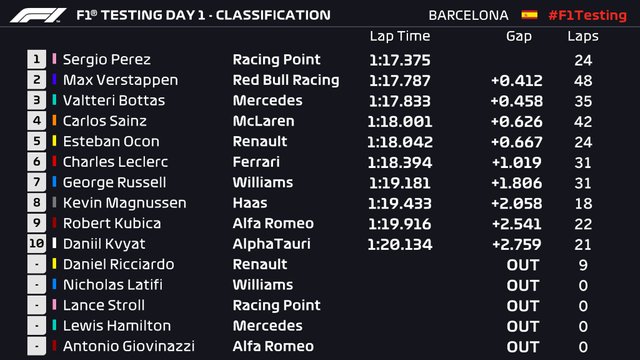 source
Two hours of the morning session completed and nothing much really to tell just yet.
After the first two hours it is still way early to tell anything.What this doesn't tell you is what tyres each car is on as that will definitely change things so this is infact meaningless right now ,but just interesting to look at. Another factor is how much fuel is on board each car as well so as I said meaningless right now. If this was next weeks time results though certain teams would be panicking. Ferrari did say they were gambling quite a bit on some of their upgrades this season so we will know how much of a gamble things were only next week.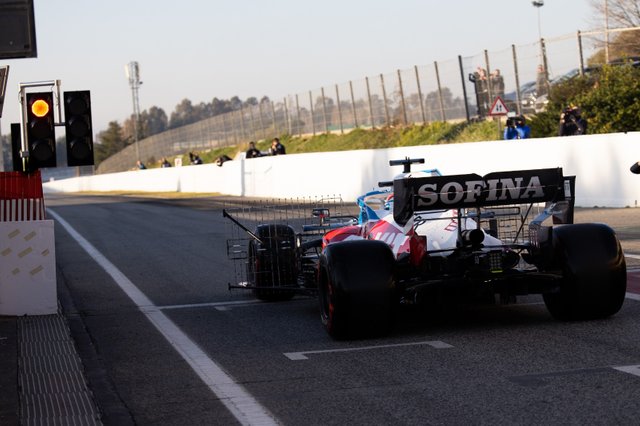 source
What I find interesting is the number of laps completed by the teams. max Verstappen has spent basically 50 percent on the track and 50 percent in the pitts. This tells me they are happy with where they are currently compared to the likes of Renault who have done exactly half of Red Bulls laps. Speed is not the criteria right now as those times will tumble over the coming days as it is more about the systems that they have upgraded working in tandem with everything else.Reliability is the other obvious one that they are all keeping an eye on.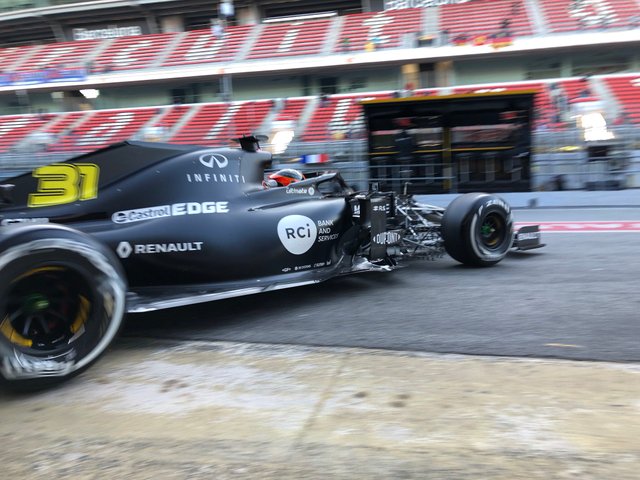 source
Renault was the only car not to show it's face at a car launch and they have gone all black this year compared to being all yellow. The cars color will change for the first race however so I am sure more yellow will appear for Melbourne. I am hoping for a huge improvement form them as I enjoy Daniel Riccardo and hope he can become a contender for the championship over the next couple of years. It was a gamble leaving Red Bull when he did and I hope it doesn't backfire.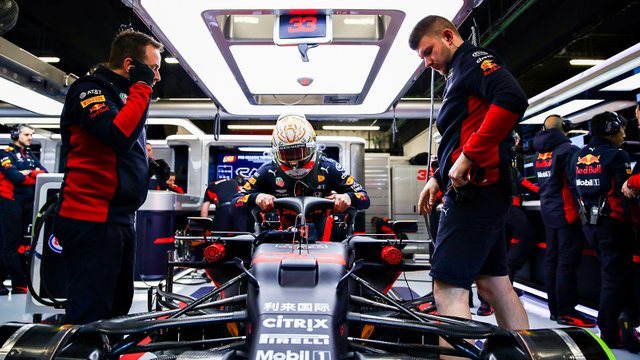 source
Red Bull have employed different tactics to most other team this week giving Max the full day for testing. This makes sense giving the number one driver of your team the job of sorting the car out for the other driver. Max has more experience than Alex Albon so more should get done in a shorter time frame.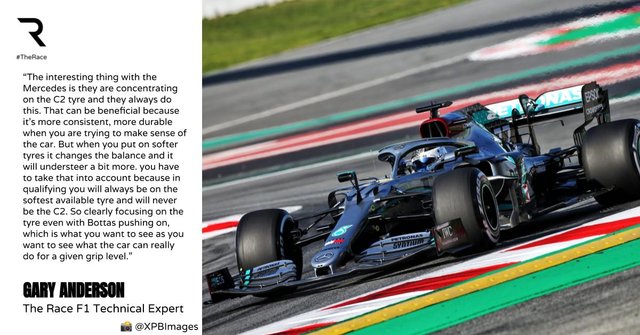 source
I think that is smart and more common sense sticking to one tyre for testing making sure the car is set up correctly.
This week is all about information for teams on their cars plus what the other teams have to offer. It is amazing how many photographers the teams employ to get so many different shots from around the track of all their competitors cars plus their own.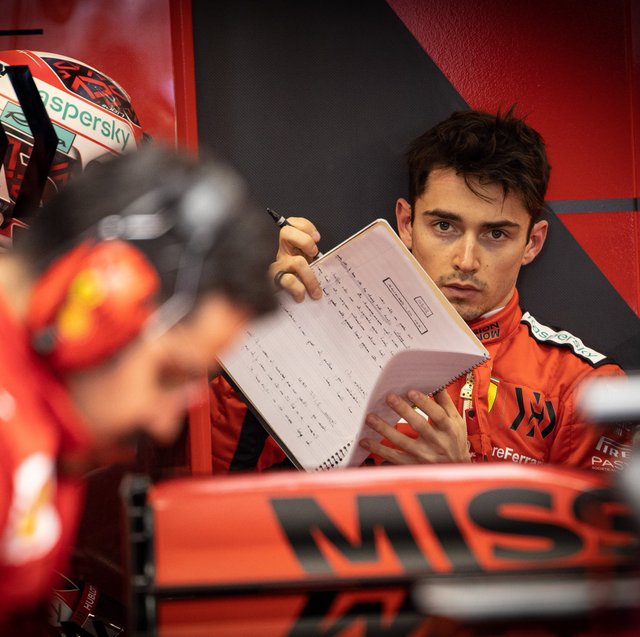 source
The drivers input is required and a great source of information.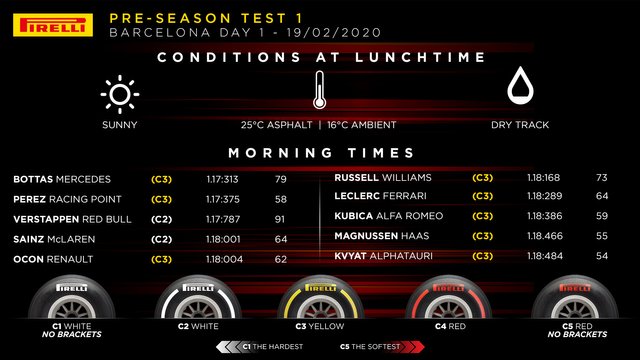 source
Would love to know how much fuel is on board each car as this literally tells us nothing as to who is performing the best so far.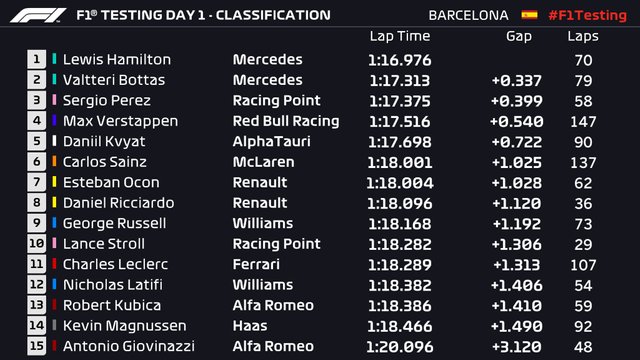 source
Hamilton and Mercedes dominating yet again back on top. I think this is an omen for what will happen this season as they have never been this good on day one before.
Just to show how the cars have improved from last year the time on the first day for 2019 at this very same track was a 1:18.1 .Putting that into context Mercedes are nearly 3 seconds faster than where they were after day one last year. There are currently 8 teams under that time and Hamilton has improved the overall best time of last year already. Technology never stands still and this goes to show you how much has changed in just one year. Racing Point and Williams are noticeably quicker already this season and that is the benefit of having Mercedes as your engine supplier.