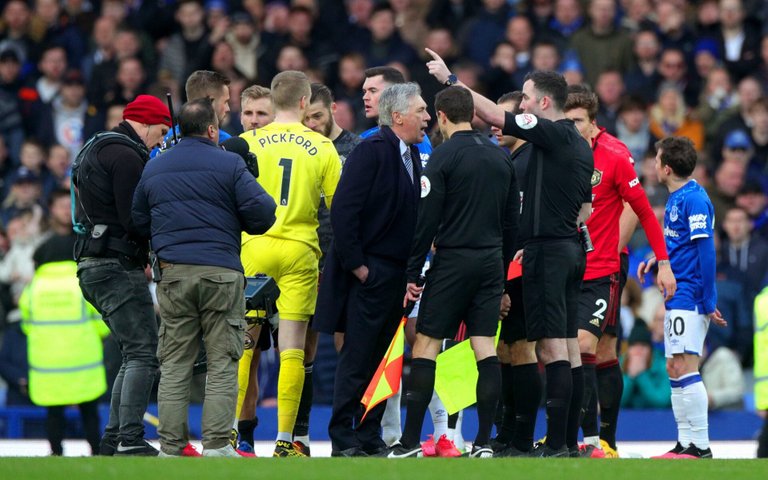 source
What a tosser and a feeble human being Chris Kavanagh is.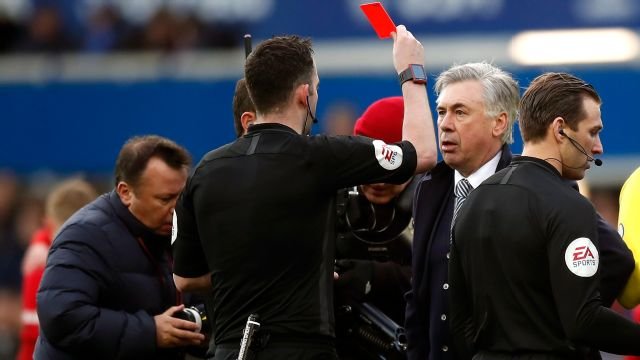 source
Why do games with weak referees always end in some form of controversy? They stick out like sore thumbs and are dragging the game down with it. It smacks of ignorance and arrogance. Ancelotti only asked for an explanation and was told "off you go."
I was watching the Manchester United game versus Everton this afternoon and was left a little bewildered.The game was close and to be fair the draw was a fair result, but the refereeing was weak and not something you want to see to often.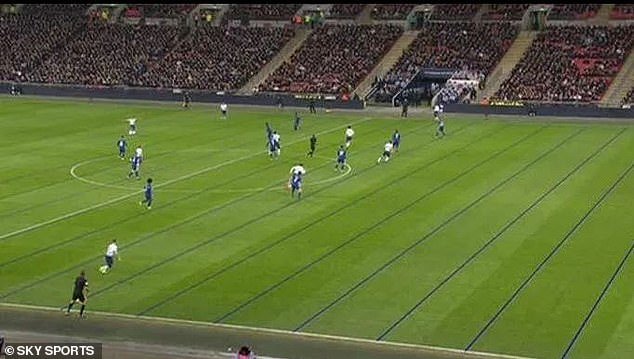 source
I didn't have to look too far and Googled Chris Kavanagh to find a host of cock ups whilst he was behind a VAR screen. What makes it even worse is they gave him a whistle for doing such a poor job.
The Premiership should be an advert for English Football and that includes top officiating as well. Yesterdays game was more of an advert of how weak the officials really are and why most of them don't have a back bone.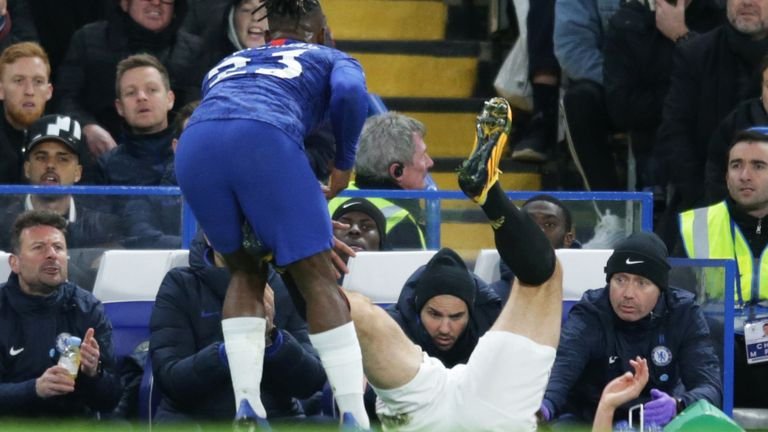 source
Another one with Chris Kananagh as the VAR official and was too scared to highlight something that should have been dealt with.
There were a couple of instances that were squirm worthy and you wanted the referee to grow a set of balls as in my mind he has none. The first instance was when he called for a foul saying Fred had handled the ball which he hadn't and what happened next was an automatic red card.
Fred who was enraged ran over to the referee and thrust his chest into the referee knocking him. Most people probably missed that, but that was over the top whether the call was right or wrong. Breaking the space between someone and then clattering into them is a sign of disrespect and aggression. Fred was challenging the decision which you cannot do and his actions should have warranted red. Yes the decision was wrong but two wrongs don't make a right and Fred should have been dismissed from the field.
The second instance was when he red carded Carlo Ancelotti after the final whistle. Common sense and managing situations is what is required and red carding a manager who has been left frustrated is uncalled for. Have a discussion, but do not get out of something you don't like by just using a card. He chose the cowards route instead of having a chat with Carlo. You will gain respect by walking off the field having a civilized chat with someone than standing in a line with all the other officials. What happened to relationships as it shows the clear divide of them and us. This makes them look like total idiots and they can't see it.
I think this is something that is fairly common with English referees as firstly you have to use your commonsense and secondly you need to have an air of confidence around you. Respect is gained and todays performance was shocking and if that is one of the elite panel which he obviously is then you hope he is the weakest of the bunch.
You can understand now why there are so few VAR decisions over turned if you have such weak characters around. Referees need to manage a game in their style and decisions need to be interpreted accordingly.Many decisions can be argued each way depending on how you see it.
I know when I refereed I took no prisoners and players knew exactly where they stood and no one crossed the line. Why aren't these referees who are payed very well getting the basics right and that is the players trust and respect. All players want is consistency and the right call by someone who is being fair and impartial.
As a referee you are human and you will make mistakes at some point as that is only natural. Players will not mind if you are fair though and respect will follow. This referee today though was way out of his depth and looked like a school kid trying to tell adults what to do. His face told a story as there were no smiles and it was just someone trying to do a job. The body language gave me no confidence that he was capable of doing the job and looked as though he was nervous as hell.
Lets hope the powers that be also saw this, but then again they all came out the same mold and are clueless on people management. Chris Kavanagh is his name which we wont forget as he has many life skills yet to learn ,but he fits into the elite group very well as he is not alone. Expect to see him around for many years to come and why refereeing standards will never improve. Ex players are also to blame as where are they with the whistles?