Every NFL fan has got their own ideas about what attributes are most important for a good quarterback to have. Do you value football IQ over athleticism? Pocket passing or mobility? Game manager or gunslinger? A great quarterback probably needs to pretty good in all of those areas. I thought it would be fun to share my list of the NFL's top forty-two quarterbacks.
Sports media nowadays is purely out for profit and clicks. It's ridiculous. NFL analysts are so skewed by what gets them the most clicks and the most money that their opinions end up sounding completely absurd.
I'm not about to claim that my rankings are more accurate than other people's. Ranking quarterbacks is not exactly rocket science and there are only so players to pick from anyway. But I will try my best to not be influenced by mainstream media.
I have my complete list already done and I will be spreading out my list throughout a series of posts. I used my own criteria and my own opinions to create my list.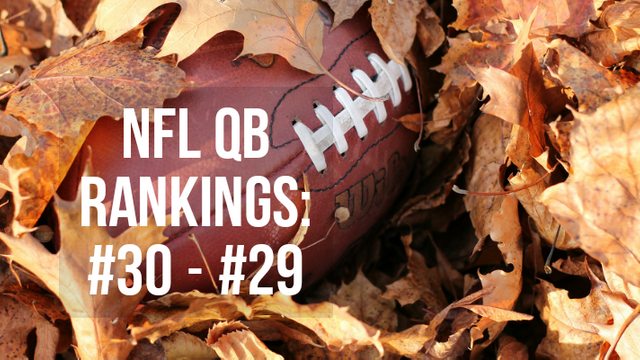 ---
#30 - Baker Mayfield - Cleveland Browns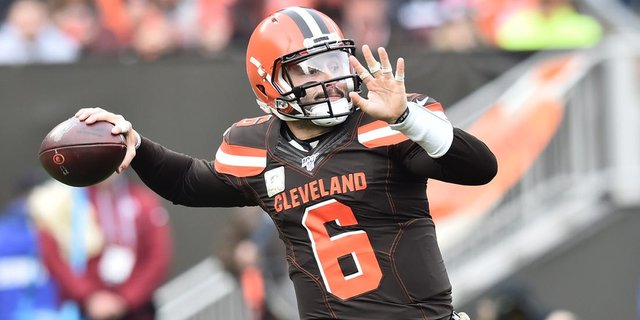 Source
The Browns have the 36th best quarterback in the league in Case Keenum and now the 30th best quarterback in the NFL in Baker Mayfield.
Baker Mayfield is a hard quarterback for me to rank and evaluate. I thought that he was going to help lead the Browns to a 10 win season last year, but the 2019 season turned out to be a pretty disappointing year for Baker and the Browns.
Many of Baker's stats declined from 2018 to 2019 and Baker didn't even play a full season in 2018. Baker started in every game in 2019, and he threw less touchdown passes, and more interceptions than 2018. In 2019 Baker also saw declines in: QB Rating, Passing yards per game, and completion percentage. The Browns finished their 2019 season with 6 wins, one less win than the previous season. I could maybe go into more detail but I'm not trying to roast the guy.
I think Baker is better than how he performed in 2019, but his surprising drop in production did kind of shock me a little, so I truly don't know what to make of this guy. I mean he did have a very similar Touchdown-Interception ratio as Jameis Winston. Jameis was 33-30 and Baker finished with 22-21.
I liked what I saw from Baker in 2018, and honestly I guess overall his 2019 season wasn't absolutely horrendous.
Also, I should definitely point out that the Cleveland Browns as a franchise have been pretty much terrible. I don't want to be negative because my team, the Tennessee Titans, have had some dog-crap seasons in their history. But the Titans are not even close to the Browns level.
I know the Browns had Odell Beckham Jr. and Jarvis Landry, and that is nice. But when you combine Baker's youth, the poor franchise, and their very raw, inexperienced, and some would say unqualified or just bad head coach in Freddie Kitchens you might be in for a rough season. Getting six wins in a way is a bit surprising.
Overall though when I combined Baker's two seasons, I could not put him above a lot of other guys in the league right now. As a player I like his potential. He has pretty much all of the physical tools. Most criticism I really have is his mentality that I feel like I can notice from his body language sometimes. He seems cocky to me at times. His cockiness turned into a pretty long and tough season. In Baker's second season it seemed to me that he thought it would be as easy as his first season and he would maybe even get better. But professional defenses watched tape on Baker and game-planned for him.
If Baker works hard this off-season he can maybe have a significantly better third season. He better too because my #36 QB Case Keenum, currently the backup to Mayfield, is waiting for an opportunity to start, I'm sure.

#29 - Tyrod Taylor - Los Angeles Chargers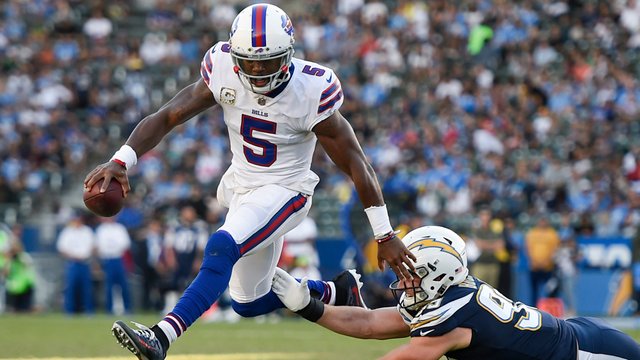 Source
Tyrod Taylor is one the most under-rated quarterbacks in the league in my opinion. He is a good QB. Teams can win with this guy.
He is very mobile and has a strong, accurate arm. He doesn't make too many bad mistakes. Honestly, Marcus Mariota and Tyrod Taylor are extremely similar quarterbacks. Just watching their highlight tapes, you can tell how similar their styles of play are, it's crazy.
Tyrod hasn't shown in his career so far that he is elite talent wise, but he has shown a lot of qualities I like, like winning. While only by two games, he does have a winning record as a quarterback at 23-21-1.
In the 2017-18 season, Taylor started 14 games and played in 15. He helped lead the Buffalo Bills franchise into the post-season for the first time since 1999. In my opinion that's a solid accomplishment overall.
Taylor was drafted in 2011 by the Baltimore Ravens. He has played for the Ravens, Bills, Browns and Chargers in his career. He's currently on the Chargers.
In his nine seasons as a pro, Taylor has accomplished:
9,562 Passing Yards
1,843 Rushing Yards
70 Total Toucdowns
Wining Record as a starter
Super Bowl XLVII Champion as backup QB with Baltimore Ravens
1x Pro Bowl
1x Playoff appearance as a starting QB
Like most mobile quarterbacks, and Marcus Mariota, he does get injured a bit often.
I definitely believe that if you give Taylor a solid defense, and actual talent he can lead a team to wins and maybe more. He likely won't be an MVP anytime soon, but I do like Tyrod Taylor's game.
Taylor has been sort of drifting as a backup since 2018. But heading into 2020 Taylor has a chance once again to be a starter with the Los Angeles Chargers after backing up Philip Rivers for a season. Rivers is now an Indianapolis Colt.
There is speculation the Chargers could possibly look into star free-agent QB Cam Newton. The Chargers also drafted rookie Justin Herbert with the sixth overall pick in the NFL Draft, which isn't a great sign for Taylor.
I hope Taylor gets this shot to be a starter again in his career. He is still only 30 and in the prime of his career. Despite those circumstances of Newton and/or Herbert, many people are saying that Taylor is still in position to start, especially with the limited off-season. The Chargers will want the veteran who has year of understanding the playbook under his belt. Also of course we don't truly know how good Herbert will be quite yet.
I hope Tyrod Taylor can make the most out of this opportunity in Los Angeles, as long as he doesn't get in Tennessee's way of course.

What do you think of my rankings and reasons behind them?
Hive on!