Over the years I've competed in many sports from field hockey, cricket, tennis, American football, go-karting, shooting sports at others; I have had an extremely competitive nature and always held to the belief that there's no point in competing if one doesn't have the desire to do so at ones' peak-performance. To enter a sporting competition of any nature, for me, means that I will give it one hundred percent of my effort and energy in a bid to perform at my maximum.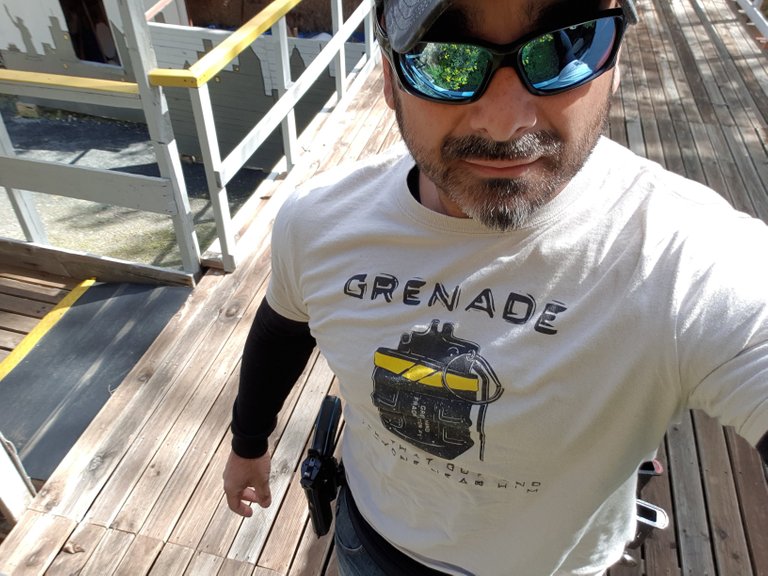 Winning, placing oneself in the position to do so, means also having a winning attitude and in the past winning has been a strong focus for me. Although underlying to that desire to win has been the desire to beat my personal best from previous competitions and achieve the maximum from myself that I could possibly gain on that day. I'm my own strongest competitor.
If I walked off the field or stepped out of my go-kart feeling that I have achieved my best it really never mattered whether I won or not; I still considered it a personal victory and was happy. Sure, winning is awesome, but that feeling of achieving ones' highest level on the day is too.
I recently committed myself to shooting in the upcoming IPSC State Titles where I will have to compete against some of the best shooters in the country. It should be a fun event, an opportunity to hang out for the weekend with some people I only really see at these major events, and to push the limits of my ability in the pursuit of a personal-best result.
I don't care where I place overall or even within my own class and division; That simply doesn't matter. I'm not there for trophies, glory, accolades or to see my name at the top of a list; Those things don't excite me too much these days. I just want to have fun and come away knowing I left nothing on the table, giving it all in an attempt to operate at my peak.
Over the next few weeks I will do a lot of practice at home with my handgun. Having a fast draw and target acquisition (we shoot from holstered typically) is important just as is having the right grip on the handgun. A fast draw and being able to accurately put the first round onto the target saves time and the correct grip manages recoil making subsequent shots faster and more accurate.
Speedy magazine changes both stationery and running will also get practiced...All of this happens in my workshop and no shots are fired. It's about creating muscle-memory, which will translate on the range. I'll need to spend some time studying the course of fire also, which get's emailed ahead of the event.
Pictured here are three of the twelve stages for an example.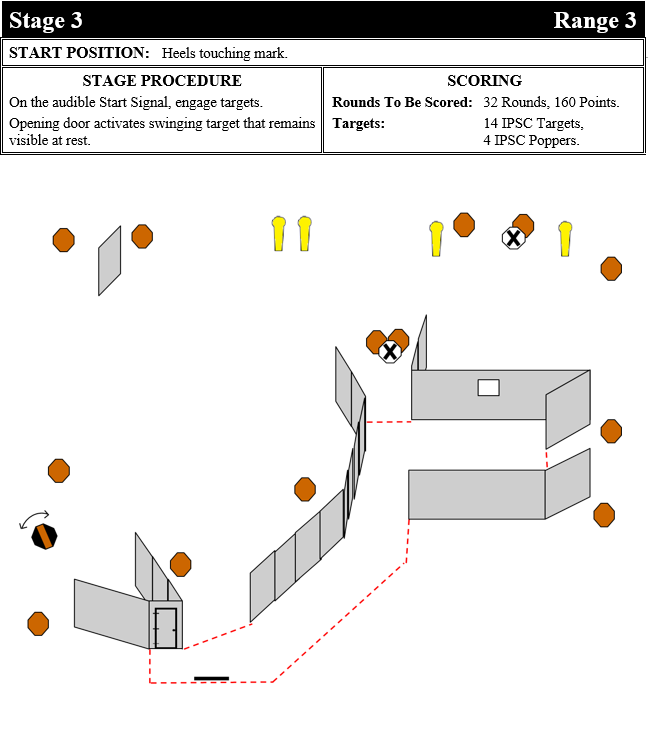 Here each brown target has to be hit twice, the yellow ones only once as they are falling steel targets (Fall once hit at the top section). Note the swinging target with the black hard cover sides...That will start swinging once the door is opened by the shooter. Targets with the 'X' are called no-shoots - Hitting one is a minus 25-point penalty for every time it is hit. The starting position is the thick black line.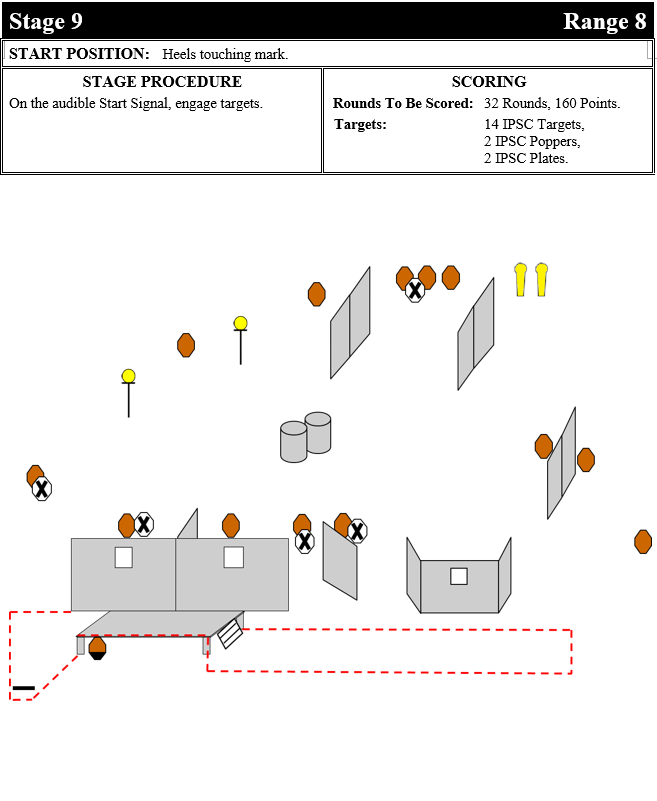 Same as above with the brown targets requiring two rounds on target. All yellow targets are falling steel. Note that there's a platform and stairs on this stage, and plenty of semi-obscured targets.
Again the same here. The swinging target, behind the black hard cover, will activate when the yellow popper is dropped.
The distances the shooter has to traverse on each stage are unknown and these stages sheets are not to scale. Shots will be made at anywhere from 2 metres (Around six feet) out to 50 metres or so, sometimes more. Scores are calculation of elapsed time and points gained with greater points gained for better accuracy on the chest-sized brown targets.
Obviously the faster one runs and shoots the better the score.
Just for an example of the way IPSC looks in real life here's a video of a guy shooting at the 2018 Australian IPSC handgun Nationals. He's shooting in the Standard Division and shoots well enough to take second place in that Division. The video will give you a good idea of what I'll be doing at the State Titles event in a few weeks.
I'm looking forward to the State Titles and whilst I'll be prepared, will also be somewhat nervous; Always am at competitions. There are some complicated stages and because this is a practical discipline there's always multiple ways to run each course, some faster than others. They key is to determine which way to do it, which targets to shoot first, where to change magazines and so on.
I'll probably not have many photos from the weekend as I'll be too busy working and Faith isn't coming to this event. She normally keeps me organised, fed and hydrated so I can focus on the stages and the shooting. Without her there I'll have to look after myself completely which complicates matters...I will probably write about the weekend at some stage though. So stay tuned if you're interested.
Thanks for sticking around and reading.
---
Tomorrow isn't promised - Design and create your ideal life, don't live it by default
An original post written by a human
Discord: galenkp#9209 🇦🇺