I like winning...I possess a winning attitude and perspective on life, apply qualities that lean towards winning and have to say that, in my own humble opinion, I feel I win at life in general, mostly. Winning is great. But I don't always win, no one does.
I competed in the IPSC Handgun State Titles (South Australia) over the weekend just gone. It's a pretty intense practical shooting event and is categorised as a Grade 3 Match meaning it contributes to a world wide ranking. Grade 3 matches are big events.
I wrote previously about going there for fun and I came away at the end of the weekend feeling like I achieved that objective.
I got to hang out with some cool people, met some new ones and tested my skills against some of the best shooters in the country as every state of Australia was represented. However I also went to compete against them, and against myself, and so put in a reasonable amount of effort leading into the event preparing myself and equipment as best I can. Effort equals reward in my opinion - If the right effort is applied.
I deployed on Saturday morning in a good frame of mind, was relaxed but energised, looking for fun but wanting to perform at my best, you know, I had a good balance going.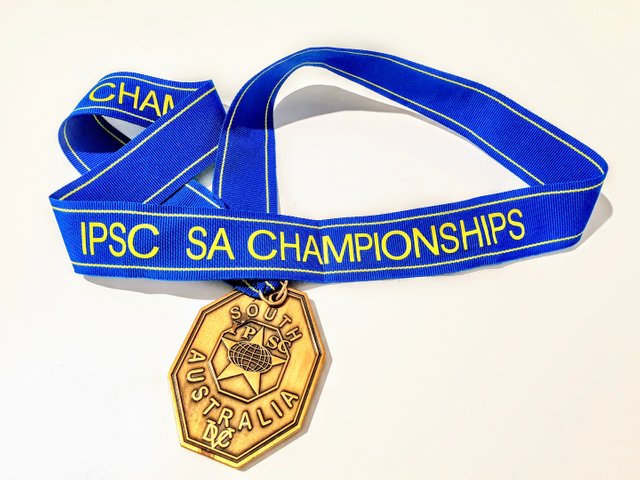 I'd joked that it would be just my luck to start on a difficult stage and sure enough my first hit-out was a 32 round stage with a lot of targets and movement.
Many were visible from multiple points on the course of fire making it difficult to strategise the right (fastest/most efficient) sequence, and easy to miss one out altogether which is a procedural penalty of minus 25 points. There was movement onto a raised platform, down stairs and across the ground also, plus shooting through apertures (windows). It was a technical stage and the last one I'd prefer to begin on. Still I strategised, worked out my plan and rolled out into it confident there was little else I could do but attack it. As it turns out it was one of my best stages all weekend. OK, now I was warmed up...Bring on the other eleven stages!
Over the weekend I had ups and downs, missed a couple shots costing valuable points, but hit no penalty targets (minus 25 points every time one is hit) and didn't get disqualified and sent home for safety breaches. My speed between targets was reasonable as was my target acquisition.
On one stage I made a massive error costing me about 8 seconds which really affected my whole weekend and I'm still a bit annoyed about that one, however I know what I did wrong and will remember for next time. Self-evaluation is critical for me to understand where improvement can be made _ I mean in all aspects of life, not just shooting.
Overall I was pleased with the fun-factor of the weekend, which was a major focus and always in doubt at big events where people come from far and wide with only one aim; To win. It's a serious event attended by serious shooters, but this year it was a lot of fun too, which was good.
Could I have done better? Hmm, a good question. Yes is the obvious answer as we can always do better than we did right?
Did I perform at my peak though? Well, I think yes from the shooting and physical aspect...I've got that part pretty well covered. I think over the weekend my strategy could have been better on a few of the stages which would have seen me finish higher in the standings. Oh well, we live and learn right?
Ok, so where did the old boy finish? Great question.
I'm still waiting on all the results to be posted so I don't know where I finished in the overall standings just yet. This result is a little misleading anyway as it combines all Divisions and Grades together which is not a good representation. It's sort of like combining results from a Formula One race and Porsche Cup race - Obviously the Porsche competitors will never compete against the F1 cars. So, I'm still waiting on that result but the only results I really need to worry about is where did I finish within my own Division and Grade.
As far as my Division and Grade goes...Well, I actually came third (second of the losers), so a reasonable result and one I'm happy with.
I didn't hang around for the presentations after the event yesterday though and so wasn't there to receive my medal personally however one of my buddies accepted it on my behalf so I'll get it at some stage. The image is of my Top Rookie medal I won at my first State Titles/Grade 3 match a while back.
So, fun and a medal plus some valuable intel on my course-of-fire strategy which I need to work on I think. I'd say that was a good result.
I also got to show off in front of my wife a little on Sunday (my best shooting day) as she came up to the range to support me. We've been together for 32 years but I still like to show off every now and then and she's always pleased to see me doing well. She also keeps me grounded when I start to get that win at all costs look in my eyes.
The next State Titles I compete in (January 2021) I'll be competing as a senior...Yep, I'll be 50. That doesn't make the competition any less fierce though as most of those guys have been shooting this discipline for 30+ years and are very good. I'll probably get my ass thoroughly kicked. I might have to do a Tonya Harding and break some legs with a baseball bat. (Just kidding of course.)
Anyway, that's my State Titles weekend wrapped up. I probably don't have to go over it again. Had fun, came third is a good result from the weekend I think, and a good return on investment.
Thanks for stopping by.
---
Tomorrow isn't promised - Design and create your ideal life, don't live it by default
An original post written by a human
Discord: galenkp#9209 🇦🇺