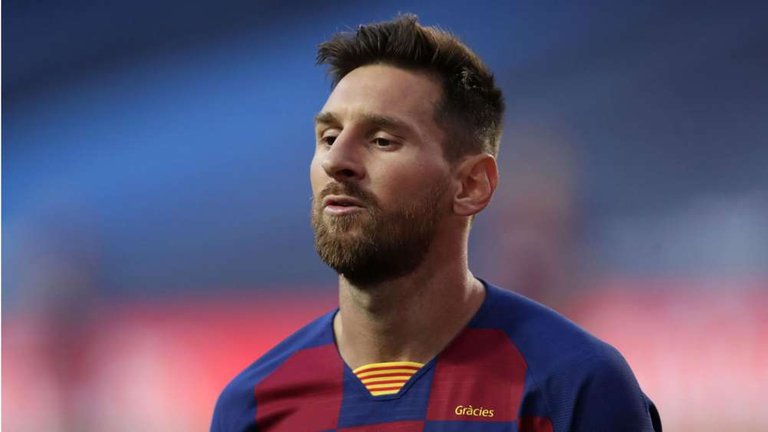 Image source
Lionel Messi is staying put Barcelona still lost.
I guess all Barca fans worldwide would be happy at the news that messy is staying out at the club at least for this season. Sincerely I feel happy for them but I feel sad that we might not get to see the best of Messi come next season.
The picture is perfectly clear to insiders at the club and it won't be a surprise if Barcelona goes another trophyless season. Reason being that Messi, as we know him to be one of the best in the world, might not give his all this coming campaign and the reason is that him remaining at the club is because he has been held as a prisoner at the club.
Prisoner in the sense that the contract signed for his release clause appears to make it impossible for another club to sign him for that massive while considering his age and football time left in him. All thanks to corona which played his part in making sure that Messi window of opportunity to move on shut down at his mercy.
We know when a player is happy, it reflects in their performance and regardless of extraordinary Messi might be, if he is not happy at the club, his performance would tell. All Messi asked for from the club seems un-ratified and remains unsorted. He asked for better players but that seems to be too much of an ask for the club to attain. Even Vidal recently made an outburst that only 13 players of the current Barcelona teams were professionals.
Messi is aging and he should have players to support him, even though he appears to be a fine wine, he still needs his voice heard and with the current Barcelona president still on the seat, Barcelona has lost Messi.
Now they have a player who is not interested in the player for them, who is not going to run down his current contract and leave for free, a player who won't give his all for his club and a player who has lost all respect for the club president and with so many other changes coming up at the club, the best Barcelona could do is search for another player who could give half or quarter of what Messi gave to the club because Barcelona has already lost Messi.