Free Crypto Money giveaways airdrops Time to Stuff your stockings with free crypto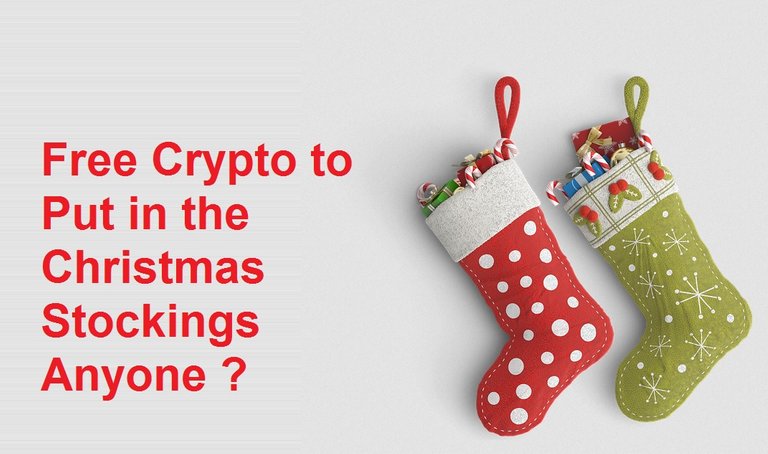 source
This is the part of the year when we are in the spirit of giving. Having said that I feel I know a lot of people around me who are in this mood 365 days of the year!
Though I am a fan of Dollar cost Averaging as a means of investing and I even wrote a post about it some time back which you can read here
However we are in the Christmas season and going with the spirit I feel we can all use some free crypto to put in the stockings!
After all BTC is at all time high and keeps getting stronger my the minute so having some extra free crypto does not hurt.
So without much ado let us start.
SocialGood (SG) is an innovative project that helps you earn Free crypto for shopping !
Besides you get some free crypto by merely installing the app
The Price of the social good token SG rose +7,529% within 15 days of listing.
The app is available both for android as well as apple platforms
Earn cash backs with Lolli
Lolli is another service which lets to earn crypto cash backs every time you shop.
You can register with Lolli here
Currently Lolli services offers the crypto earning cashback service to its customers in USA only.
Earn Big money with Tro Network
The Tro Network has a current ongoing airdrop where you can get free 0.05 tro tokens for joining their telegram channel and completing simple social media tasks
You can join their tlelgram and claim your airdrop reward here
The Tro token is an ERC-20 token already listed and was recently trading for around $1200 so 0.05 Tro tokens that you earn = $60 free crypto
Price Update : Due to price movement the Tro token price is down to $500 so your airdrop reward is $25
Reasons to participate and claim this Airdrop
Tro token is already listed and trading
Airdrop is free
Airdrop Ends and distribution starts on the 20th Dec 2020
The tasks take only a few minute of your time
Map is doing a Christmas airdrop
Map is a listed crypto that you can find on coinmarketcap.com.
For a limited time they are doing a Christmas airdrop.
It is a simple few minute task that requires joining their airdrop telegram channel and completing a few simple steps.
Free crypto for a few minutes of your time ?
If you are upto it then here is the telegram link to claim it FREE
Please note this too is a limited time airdrop which runs only a few more days.
Spin the wheel of fortune to claim your winnings
Freebitco is running a campaign where you can win from Rolex watches to free Crypto here
you can register here and play the free wheel of fortune every day.
Once you register here you would get an email every day to spin the wheel of fortune.
Besides there is the trusted free faucet, a multiplier game and game betting opportunity if you are into those kind of things.
Cointiply offering multiple Earning opportunities
Be it a faucet, Paid to click to get free crypto or the opportunity to earn doing surveys here
A sporting quote before I close
My sports coach always used to say: Never lose sight of your goals. Aim high and strive and train hard to achieve your goals.
My Heart felt wishes for you
May your crypto & fiat wealth grow and may you & your family remain happy and healthy.
Let me know if you face any difficulty and I shall do my best to help you

---
---