I mean, he was one of the reasons I actually stopped watching basketball because he was a major whiny ball hog and thought the world revolved around him, but sad nonetheless. I mean, he was my age. That could have been me. Or you. Or anyone close to us. I doubt it would have been CNN or ESPN newsworthy at this point in my life, but still, kinda puts in perspective how short life really is. I'm sure he'll be missed.
Take your 24 second violations tho people, no doubt, he was one of the greatest.

---
Read more: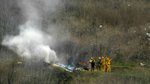 Source: Kobe copter in climb before rapid dive
The helicopter carrying Kobe Bryant that crashed Sunday was in a climbing turn at about 2,400 feet before it turned into a dive, a source told ESPN. According to flight-tracking data, the copter was in a 4,000-feet-per-minute descent when it crashed.
Source:
https://www.espn.com
---
Share this post:







---
Posted using AltYes browser extension.