I just finished a 11.586km running that lasted about 0hh:54mm:47ss !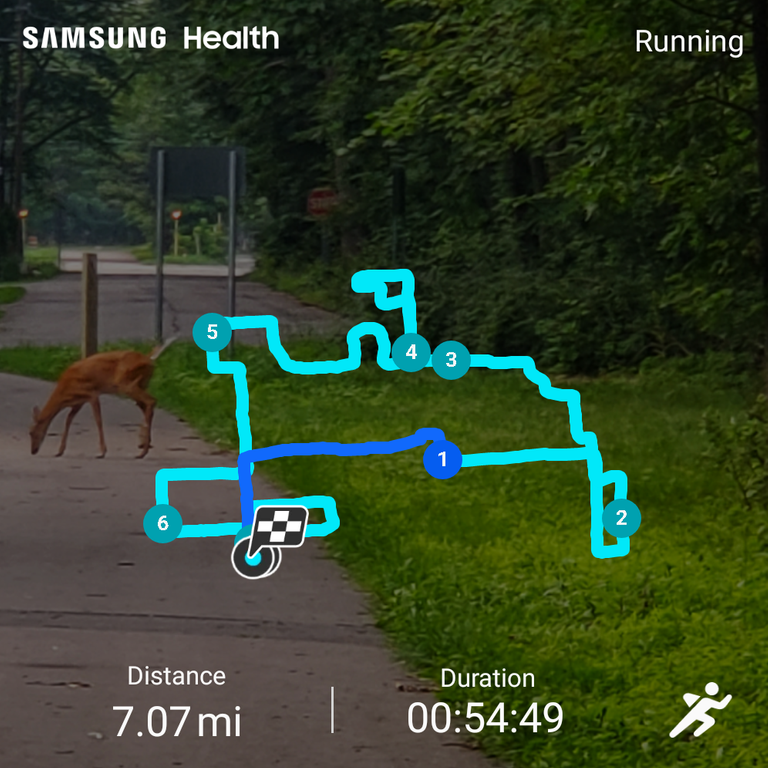 Because of the weather and a lot of procrastination, I let 2 days pass again since my last run. So today I wanted to go for a longer run, particularly with the lower temperature around 72F (22 degrees Celsius) and low humidity. During our walks with the dogs earlier in the afternoon, I noticed my legs were still sore in spite of the extra day off, but nothing bad enough to stop me. However, when I started, I had a sharp pain behind my right knee. I ran through it and it kind of disappeared after a couple of miles, proving once again how important warming up is (and of course I never do).
The route was almost identical to my last run, except a short loop at the end to add a little distance. Maybe the last mile was too much though, because I struggled, but I really wanted to take advantage of that nicer weather. I wasn't able to keep the pace I started with, but the overall pace at 7:37 min/mile is slightly faster than last few runs, and since the run was also longer than my last few, it's not too bad.
I saw many deer along the way, maybe the same one on the cover picture taken earlier in the afternoon. By the way, there was a second one just on the right of the picture edge. So many these days. But that was about it. Of course, more than half the run was in complete darkness, so I might have missed plenty of other wildlife.
This run brings my total for July to 110km, already more than last month, with still 10 days to go. Not bad at all. But for the next run, I'll just play it by ear depending on the weather, the available time, and my energy level.
Till then, keep Exhausting.
Check out some detailed info at my EXHAUST page
Join me in testing out EXHAUST!