I just finished a 7.243km running that lasted about 0hh:40mm:12ss !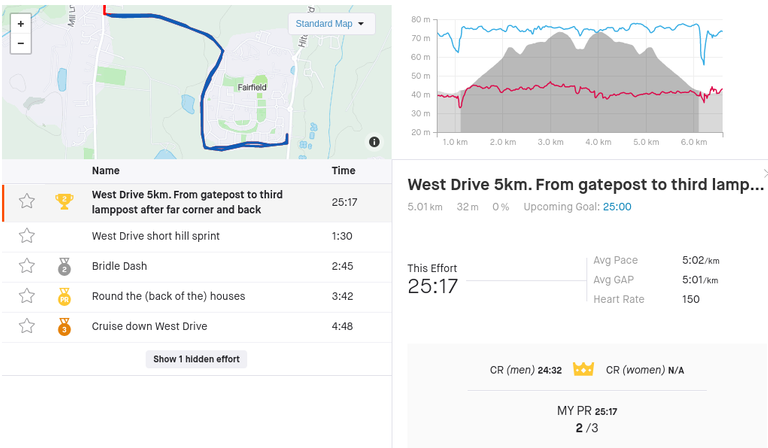 I decided it was about time I did another 'not parkrun' 5k. I have a couple of options for that near home, but I went for the one around Fairfield that involves a fairly big hill. There is hardly any flat on this out and back course, so you are running uphill about half the time with over 30m between the lowest and highest points.
It was a bit windy when I set off, but it did not affect me too much. There was also a few drops of rain that did not amount to anything. I jogged up to the course start at the old hospital gates, took a few deep breaths and set off. That first long hill is hard work, but I kept up a fairly good pace for that. Then there are some dips to negotiate as well as avoiding the various walkers. There were also a couple of ladies on horse who I passed twice. I was not checking my time much, but the kilometre updates had me just over 5min/km. At the far end I go to the third lamppost and turn around. There is then another long climb that really saps the strength from your legs.
After that it is mostly downhill and you just have to go for it. I passed one lady who was jogging down and there was a guy coming up the hill as I neared the end after passing the horses for the second time. I gave it all I could and needed a walk for a bit.
There is someone up that end of town who gives away lots of bread products each day. I think they work at a supermarket and get what is left at the end of each day. I grabbed some rolls for lunch. After walking a bit I jogged the rest of the way home. When I was nearly there a young lady came storming past me. Obviously a more serious runner than me.
After breakfast and a shower I have had my coffee and feel recovered whilst also feeling good about knocking 20s off my best time on that course. My friend Jon is still the quickest by a fair margin. I would hope I could get comfortably under 25 minutes on a flat 5k now. I will try the other route another week to test that. It is not the same as a parkrun as you do not have other runners pushing you on. You can log a 'not parkrun' time on the site and I see a lot of people locally are doing that. Some are setting new personal bests, but these do not count as 'official' records. Not that I would expect people to cheat.
It could be months yet before we have timed races of any sort gain, so I will keep training in hope of setting more good times.
Run free and stay well.
Check out some detailed info at my EXHAUST page
Join me in testing out EXHAUST!