I just finished a 8.003km running that lasted about 0hh:44mm:51ss !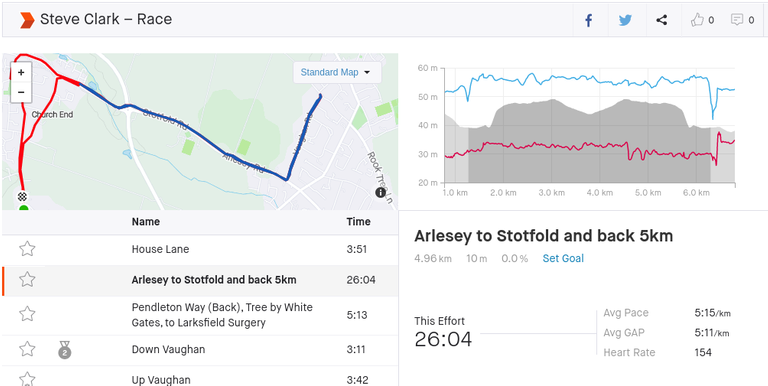 It has been a while since I attempted a full 5km at 'race pace'. parkrun may restart in a few months, so I need to get back up to speed. I have a couple of routes for this distance, both with some warm-up built in. This time I did the fairly flat course along the cycle path to Stotfold. That only has one road to cross which should be quiet on a Saturday as it only leads to a new school.
After a lot of rain yesterday it was bright this morning, but cold and with a little wind. The start for the 5km is at the pedestrian crossing as you leave Arlesey at the north end. At Stotfold you then go all the way along Vaughn road before turning back. I actually needed to add a little at the far end to get the exact half distance according to my Garmin watch.
On the warmup my legs felt awkward as they have lately, but they improved a little as I reached the start. Then I just went for it as best I could, but without checking on my pace. The uphill slope out of the underpass was hard work and then it is pretty flat. On the way back I had a bit of a headwind and was feeling tired. When I could see the finish I gave it all I ha.d left.
I have run this route a few times, but this was the slowest so far. Given I have not done that sort of run in a while I do not feel too bad about that. I have been doing three runs each week, but may add this as a weekly Saturday run to work on my speed.
Run free and stay well.
Check out some detailed info at my EXHAUST page
Join me in testing out EXHAUST!