I just finished a 13.661km running that lasted about 1hh:18mm:20ss !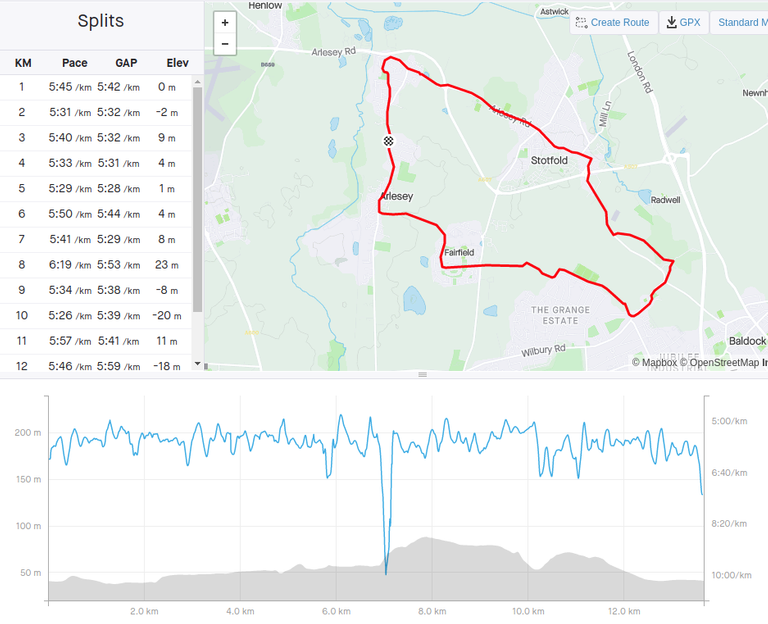 It has been cold and a bit miserable lately, but it was fairly bright this morning. I had decided to to my long look clockwise again as I have run it the other way so many times. I had some breakfast first to give me some energy rather than just a drink as I often do.
It was cold enough for long sleeves and gloves, but I took off the gloves after a while. After a loop round by Arlesey church I went straight through Stotfold to pick up the road out to Norton. I then picked up the Greenway through Radwell Meadows as that is quieter than running by the road. It was quite nice out by then. A few people were out with their dogs or running.
This route is fairly up and down with 83m of climbing according to Strava. On the path the get back to the road I had a bit of a walk up the hill. Waiting to cross the road meant that kilometre was fairly slow, but generally I am happy with the pace. I aim to be under 5:40/km and achieved that for a fair bit of the run.
From Norton I too the footpath that leads the Grange recreation ground where some soccer matches were going on. Such activities seem to be allowed again now. From tomorrow various businesses can open again. I hope I can get a haircut soon as my hair is the longest it has been in a long while. My son is looking forward to being able to use the gym again.
The steep slope down from the Grange is hard to run fast on tired legs, but by then it feels like I am on the way home. There is just a last climb up to and through Fairfield and then it is all downhill or flat.
I was too tired for a real sprint down West Drive, but kept running all the way back. As I came up to our house my son was coming the other way after his 5km run.
It looks like I managed a comfortable heart rate for most of this run. I should not be running near my limit on a longer run. My legs were not too bad today, but I had stretched a bit before I started.
This is being posted a bit late as the @exhaust server had some issues that have just been resolved.
I just tried some chin-ups and managed a set of 8! That is good by my standards. I think I am improving.
Run free and stay well.
Check out some detailed info at my EXHAUST page
Join me in testing out EXHAUST!