Morning Run - Dithering
I just finished a 9.651km running that lasted about 0hh:56mm:1ss !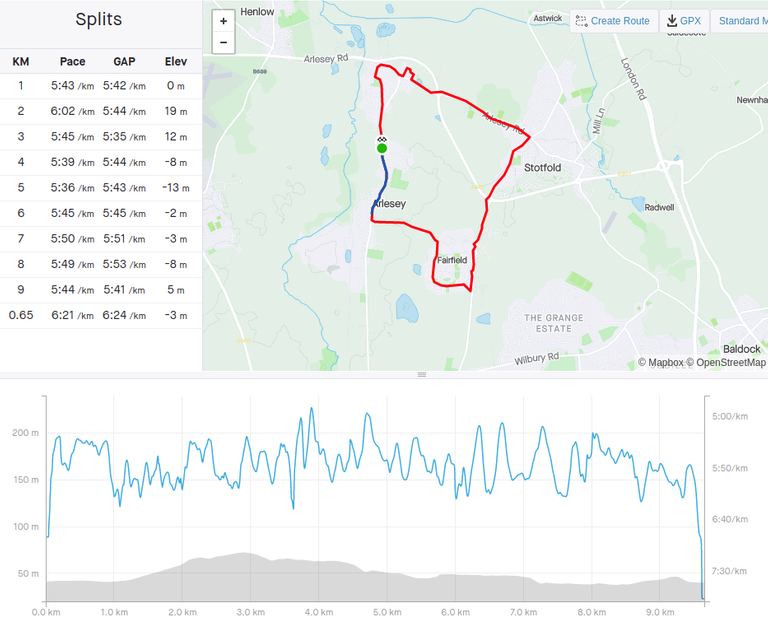 I was really not sure if I would run today. I was feeling generally stiff and achey yesterday and when I woke up I could hear the rain coming down hard. I was quite happy in bed too. I had some breakfast whilst I considered it and my son went off for his run. When he got back it was not looking too bad out, so I decided to at least do something.
It did rain on me a bit at the start, but not too bad and it was not cold. Up at Fairfield I avoided the off-road bits that might be muddy. I saw a few other runners out there, but it was not too busy.
I just did the shorter loop through Stotfold where I saw a red kite. I have not been that way in a while and there is a new development site for some houses. I am trying to remember what was there before, but I think they must have taken down an old house.
Heading back towards Arlesey it was feeling like hard work, but I kept running anyway. I even added some extra bits near the end, but did not quite make it to 10km. I am still over 700km for the first half of the year, which puts me on target for the same as last year. I will have to see if I can increase it at all, but I will go with what my body can cope with.
I am supposed to be busking with the band today, but the weather is not looking great. We may have a practice session instead.
Happy 4th July to the colonists.
Run free and stay well.
Check out some detailed info at my EXHAUST page
Join me in testing out EXHAUST!
---
---