I just finished a 11.839km running that lasted about 1hh:8mm:39ss !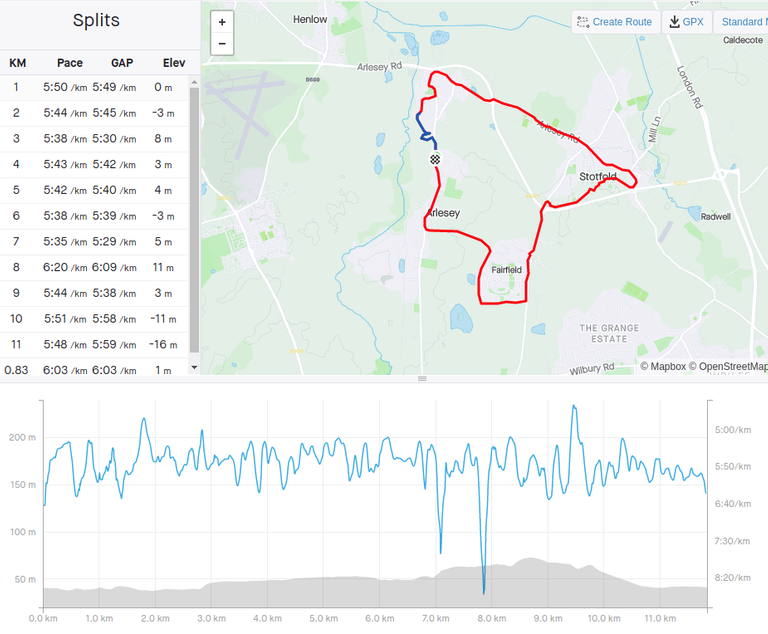 I had various stuff on today, but still wanted to get my long run in. Not a bad morning for it as it was dry and not too warm.
I did my usual route, but in the opposite direction to normal for variety. I even added some extensions at the start that I usually do at the end before leaving Arlesey. I was feeling a bit stiff and achy, but was okay to run.
There is a long, fairly straight leg out through Stotfold and then I turn off through the new estate. I improvised a route through there. I did have to walk some stretches as I was struggling a bit, especially uphill.
I then went around Fairfield before coming back down the hill to Arlesey.
Overall pace was not too bad and I mostly stayed under 6min/km apart from when I walked. I was pretty warm by the end and took ages to cool down, as usual.
It has been a fairly busy day with a big family lunch outside and then I was playing at an open mic in Hitchin with friends. I am listening to the England/Italy match as I type this. Of course I would like England to win, but people may go a bit crazy if they do. I was born the year we last won a major soccer tournament. It really is 'just a game', but people still get really passionate about it.
Run free and stay well.
Check out some detailed info at my EXHAUST page
Join me in testing out EXHAUST!