Man, it really feels pretty good to get my hands on some fresh cards again! It's definitely been a couple of years since I bought a new pack.
The other day my neighbor (who I've known since I was a kid) randomly mentioned out of the blue about how he collects cards. Said he has thousands of baseball cards in his house. Apparently a couple of my childhood friends from my baseball playing days have become pro baseball players and my neighbor was bidding on a card on Ebay that was of one of those kids. It was a trippy moment for sure. Not only was it a blast from my personal past, but I also felt like it was possibly a sign I should continue to pursue this hobby again, and maybe even make some money.
I did not expect the cards I bought online to arrive today and when they did I felt so excited. I forgot how fun collecting was in so many ways.
I bought 2019 Score Football Cards.
When the cards showed up, I mentally was hoping I could get lucky and get a Drew Lock rookie card, and I got one! I was pumped. I have a feeling that Denver Broncos QB Drew Lock could be really good in the future. He looked really good in 2019, I think he will have a big 2020. Not only that, but I got DE Nick Bosa and RB Devin Singletary rookie cards too! Nick Bosa is one of my favorite players in the NFL right now. He is a huge reason the 49ers defensive line was ridiculously dominant in 2019. Bosa was Defensive Rookie of the Year, Rookie of the Year, and an NFC Champion in 2019. He had a legendary rookie year and I am super happy I own this card! Devin Singletary had a nice rookie season and I think he will get better. I think he will have a nice career, and plus I like running bscks.
These are three solid rookie cards to have and I'm glad I own them! Solid!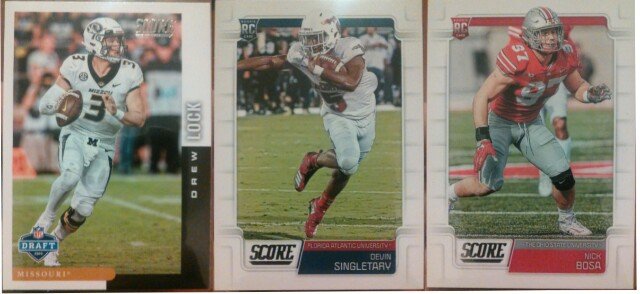 These next couple of cards are just some that I thought looked really cool! Good players too.
Always happy to get a Titans player! Linebacker Jayon Brown is a really good player. I think I would love to one day have a crazy amount of Titans cards. Maybe own a copy of every one ever, who knows.
The Big Ben card is cool in person, its got like a reflective rainbow look to it.
The Von Miller one is cool since he's wearing the Broncos throwback jersey in the card.
Each one of these cards are cool in their own way in my opinion.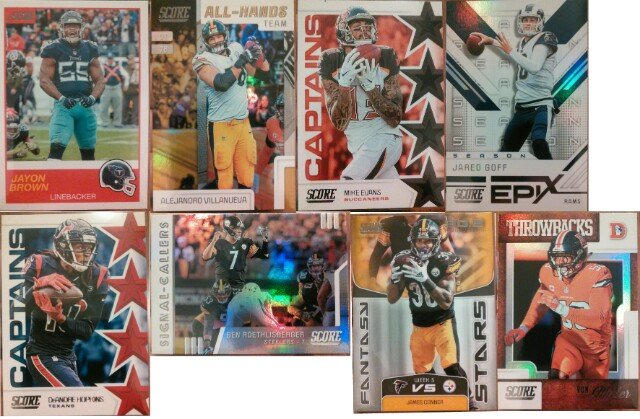 I bought forty-eight cards in total and I got a lot of other good ones too. Overall I am happy I am continuing my collection.
What do you guys think of these cards?
Anyone have a Ryan Tannehill or a Jeffery Simmons card to trade?
Stay safe and Hive on everyone.