I love cards. I really do. I just wanted to show off these bad boys quick. Titans fans, sports/NFL fans and sports cards fans will appreciate it.
Ryan Tannehill as far as I'm concerned played lights out football for most of his thirteen games (including playoffs) as the Titans starter in 2019. The 'Under The Radar' set of cards, actually has a blue background for the entire set. Like a Cardinals player would also have a blue background as well. It's cool to me that the background is highly similar to the Titans blue too.
The Titans drafted Kristian Fulton in the second round of the 2020 NFL Draft. I believe that the Titans really got a steal with him in the second round. The guy is a first round talent in my opinion. Of course we won't know if I'm right until he actually performs as a pro. Somewhat unfortunately though the actual image of Kristian is surprisingly fuzzy. Oh well though I am still very much glad to own it and the flaw isn't even all that bad.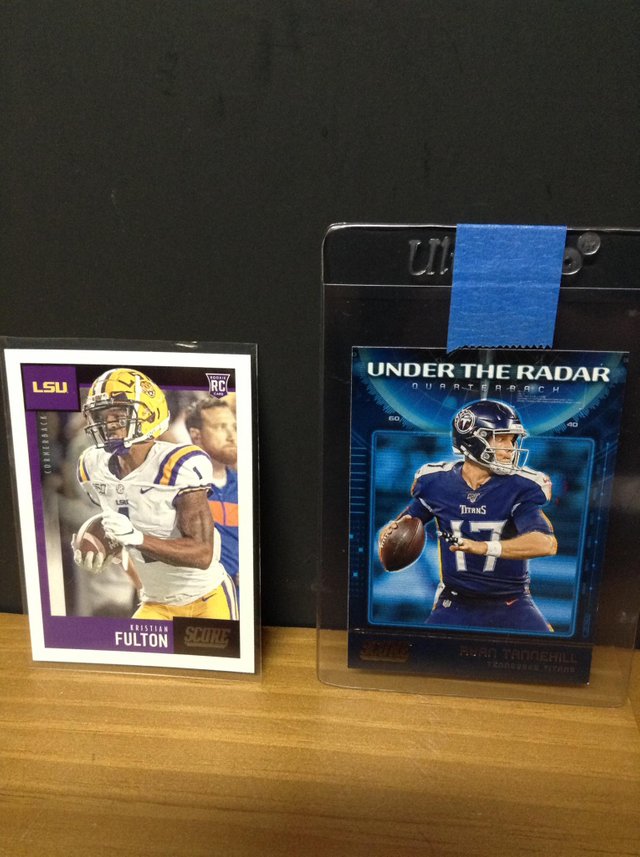 Despite me going through some tough times personally, I have made more progress when it comes to actually listing cards for sale online. My sister in-law really helped me a lot. Check out some of my stuff if you'd like.
I've just started and it feels great. I've got 2 watchers on two different cards so that's pretty awesome.
Baby steps!!