So far I've mainly been showing a few cards of my favorite player, Ken Griffey Jr. but I have thousands and thousands of cards so today I wanted to show off a few of my older ones.
1980 Topps Nolan Ryan/JR Richard and 1970 Topps Nolan Ryan Mets Celebrate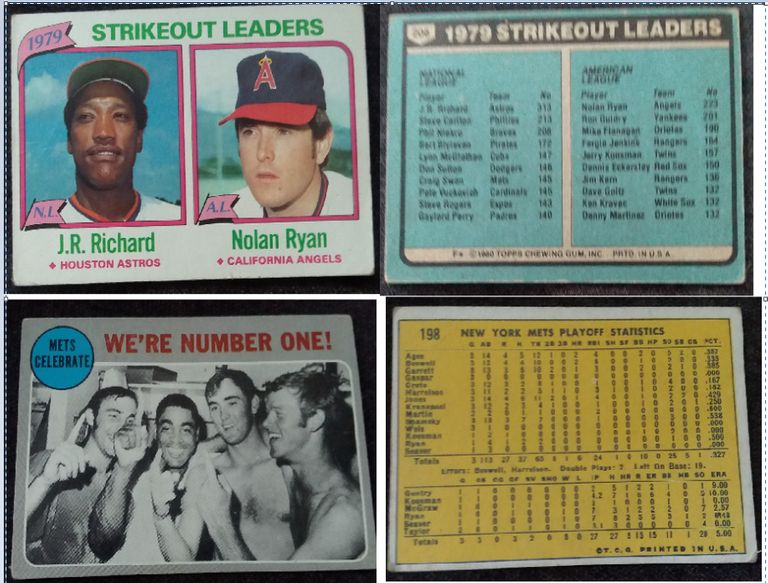 Nolan Ryan is probably the most iconic pitcher of all time. He is the all time strikeout leader, threw 7 no hitters, and pitched in the 60's, 70's, 80's and 90's. I think these cards show a good contrast of how he started to evolve over the years. The older card shows a baby faced Ryan celebrating the 1969 Mets world series win. He wasn't yet the pitcher he would be at that point, only appearing in 10 games and playing a bit part on the team.
He really got rolling in 1972 and led the league in strikeouts, from then on he was the Nolan Ryan that everyone remembers now. He led the league in K's in 1972, 73, 74, 76, 77, 78, and 79 as the later card shows. He was 32 in 1979 and wouldnt lead the league in K's again until 1987 at the age of 40, though he would go on to win the strikeout crown again in 88. 89, and 1990.
Neither of these cards are in great shape or particularly valuable but I do think its cool having one of the earlier cards there is to feature arguably the most dominant pitcher of all time.