'Checo' Pérez capitaliza en el caos de Baku — Perez capitalizes on Baku chaos [ESP-ENG]
Si hay un piloto que sabe sacar ventaja de las carreras caóticas es precisamente Sergio Pérez. La pelea por el campeonato de pilotos se posterga a Francia en una carrera donde ni Lewis Hamilton ni Max Verstappen lograron puntuar, dejando espacio libre para un podio distinto al que estamos acostumbrados en este año 2021.
If there is a driver who knows how to take advantage of chaotic races, it is precisely Sergio Perez. The fight for the drivers' championship was postponed to France in a race where neither Lewis Hamilton nor Max Verstappen managed to score, leaving room for a different podium than the one we are used to in this year 2021.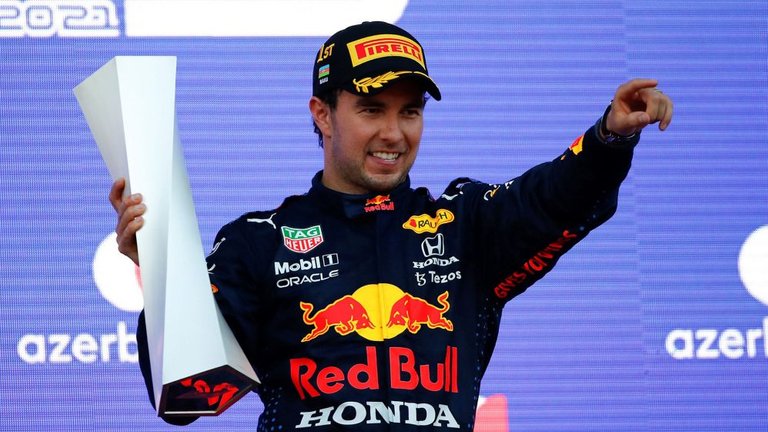 Formula1.com
Las carreras en Baku suelen traer cierto espectáculo e impredictibilidad. La carrera de 2021, sin embargo, fue algo extraña. Por una parte fue bastante lineal y poco movida, pero por el otro lado se convirtió en una carrera con un resultado abierto una vez nos fuimos acercando al final. Los pilotos fueron bastante precavidos en sus maniobras, a diferencia de años anteriores donde incluso hubo choques durante el régimen de Safety Car.
Races in Baku usually bring a certain level of spectacle and unpredictability. The 2021 race, however, was somewhat strange. On the one hand it was quite linear and not very busy, but on the other hand it turned into a race with an open result once we got closer to the end. The drivers were quite cautious in their maneuvers, unlike in previous years where there were even crashes during the Safety Car regime.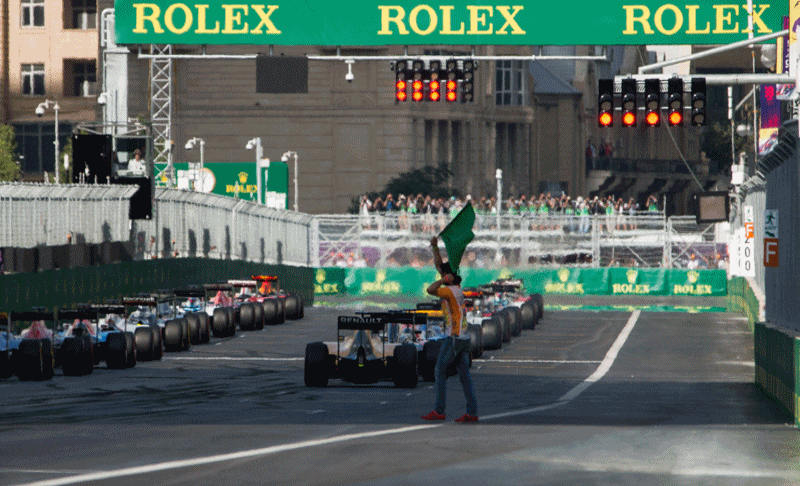 Post
Antes de la carrera parecía poco probable que Sergio Pérez partiendo del 6° lugar lograra la victoria. Pero la Fórmula 1 nos demuestra que cualquier cosa puede pasar. El piloto mexicano pidió 5 carreras para adaptarse al Red Bull, y a la sexta logra una victoria que pone muy felices a los directivos del equipo. A pesar de la victoria se la merecía Max Verstappen, quien abandonó por una falla en el neumático trasero, Pérez obtuvo una victoria por mérito propio, conteniendo a Hamilton detrás y siguiendo muy de cerca a Max durante toda la carrera.
Before the race it seemed unlikely that Sergio Perez, starting from 6th place, would achieve victory. But Formula 1 shows us that anything can happen. The Mexican driver asked for 5 races to adapt to Red Bull, and in the sixth race he achieved a victory that made the team management very happy. Although the victory was deserved by Max Verstappen, who abandoned due to a rear tire failure, Perez got a victory on his own merit, holding Hamilton behind and following Max closely during the whole race.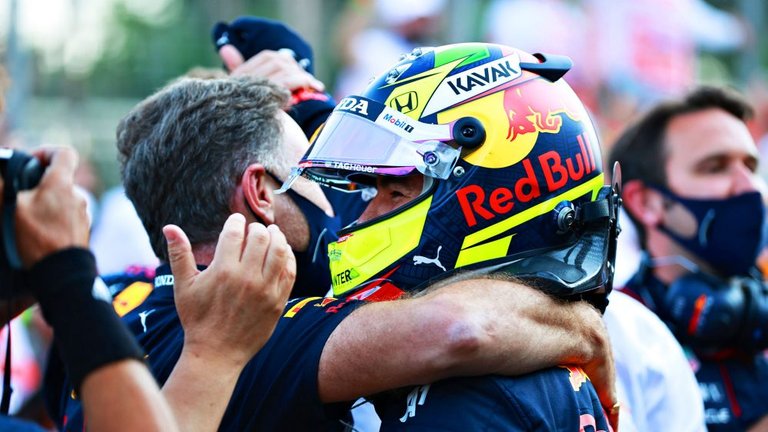 Formula1.com
Ferrari partía con Leclerc en la Pole Position y Sain en el 5° lugar. Pero el ritmo de ambas Ferrari en carrera no era suficiente para lograr mantener el podio. Leclerc perdió posiciones ne las primeras vueltas, mientras que Sainz tuvo una carrera difícil luego de cometer un error en la curva 8 y perdiendo varias posiciones. Ambas Ferrari, sin embargo, lograrían puntuar, con Leclerc en el 4° lugar. Parece que Ferrari no logra consolidarse en carrera, aunque es destacable el salto de calidad respecto al año pasado.
Ferrari started with Leclerc in Pole Position and Sain in 5th place. But the pace of both Ferraris in the race was not enough to keep the podium. Leclerc lost positions in the first laps, while Sainz had a difficult race after making a mistake in turn 8 and losing several positions. Both Ferraris, however, managed to score points, with Leclerc in 4th place. It seems that Ferrari does not manage to consolidate in the race, although it is remarkable the jump in quality compared to last year.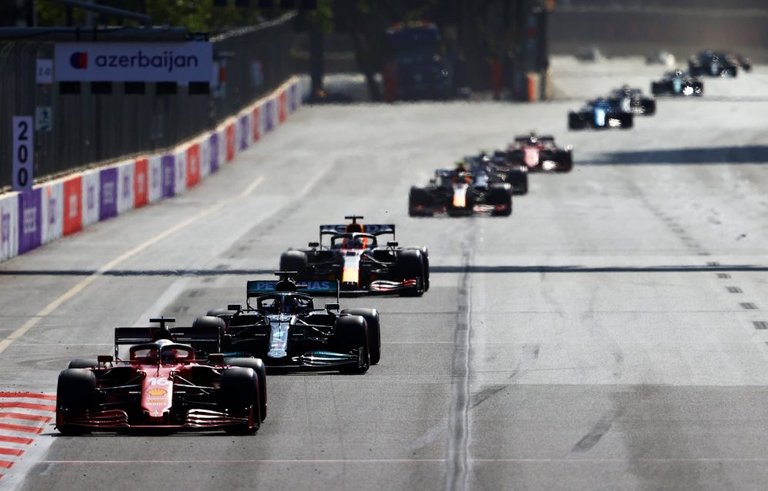 Formula1.com
La carrera cambiaría su dinámica con el accidente de Lance Stroll en plena aceleración de entrada a la recta principal, causando la salida del Safety Car. El coche Aston Martin quedaría destrozado, pero la gran duda era ¿Qué desencadenó un accidente en plena aceleración? Solo un toque con otro auto o un pinchazo podrían haber causado esto. Para sorpresa del piloto canadience, su llanta trasera se rompió repentinamente, haciéndolo perder el control. Que haya sucedido una vez es aceptable, pero que se haya repetido vueltas más tardes en el auto de Max Verstappen es señal de algo extraño.
Pirelli aún no ha revelado detalles acerca de las posibles causas de esta rotura repentina sin señales previas en plena recta, varias vueltas antes de alcanzar la vida útil del neumático duro.
The race would change its dynamics with the accident of Lance Stroll in full acceleration at the entrance to the main straight, causing the Safety Car to come out. The Aston Martin car would be destroyed, but the big question was what triggered an accident in full acceleration? Only a touch with another car or a puncture could have caused this. To the canadience driver's surprise, his rear tire suddenly broke, causing him to lose control. That it happened once is acceptable, but that it was repeated laps later on Max Verstappen's car is a sign of something strange.

Pirelli has not yet disclosed details about the possible causes of this sudden breakage with no previous signs in the middle of the straight, several laps before reaching the useful life of the hard tire.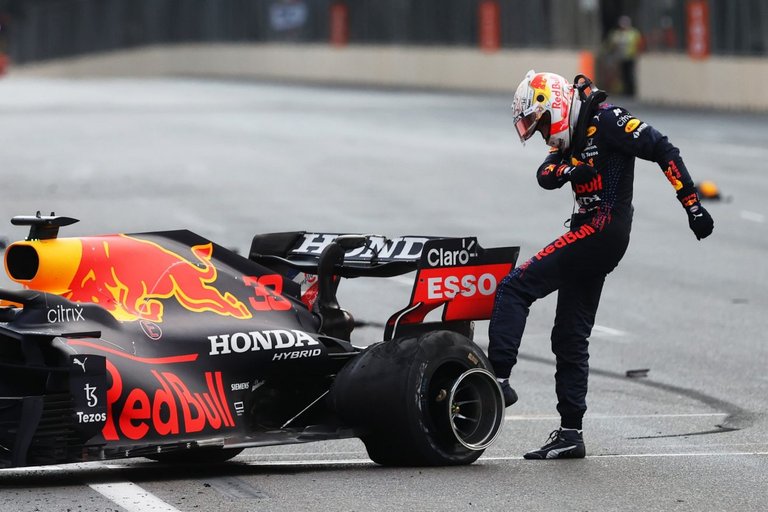 Formula1.com
El equipo Mercedes estuvo luchando todo el fin de semana por conseguir un coche equilibrado, pero al parecer solo Hamilton lo lograría para situarse 2° en la clasificación, y lograr un buen ritmo en carrera. Bottas por el contrario no logró encontrar el balance en su auto, mostrando un rendimiento pobre en carrera. Hamilton no tenía ritmo para adelantar a los Red Bull, a pesar de la mayor potencia de su motor Mercedes en recta. Esto muestra la ventaja de Red Bull en zonas trabadas, donde se requiere mayor tracción y salir rápido de la curva.
The Mercedes team was struggling all weekend to get a balanced car, but it seemed that only Hamilton was able to do it to place 2nd in qualifying, and achieve a good pace in the race. Bottas on the other hand failed to find the balance in his car, showing poor race performance. Hamilton had no pace to overtake the Red Bulls, despite the greater power of his Mercedes engine on the straights. This shows Red Bull's advantage in tight areas, where more traction is required to get out of the corner fast.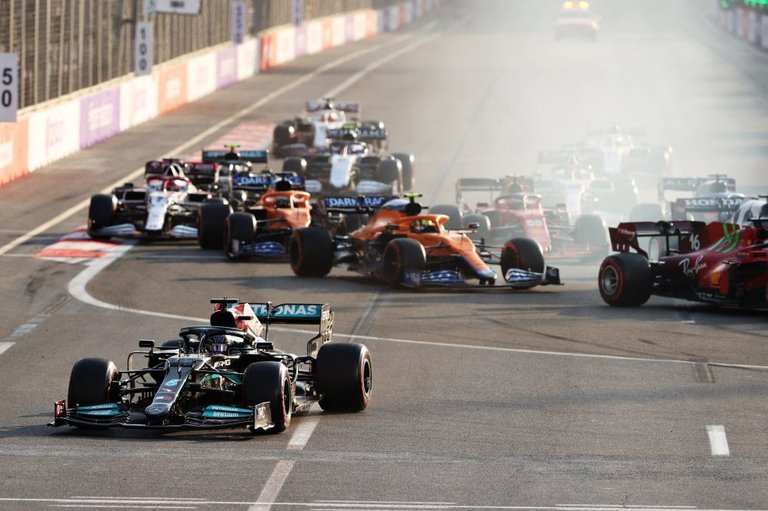 Formula1.com
El accidente de Max generó una nueva salida con partida detenida. El reglamento permite a los oficiales de carrera decidir si relanzarla con partida en movimiento o detenida, luego de una bandera roja. Aunque Hamilton tomó el primer lugar, un extraño problema en sus frenos le impidió tomar la curva, siguiendo de largo mientras el resto de parrilla le adelantaba. Esto se debió aparentemente a un botón que regula la distribución de frenada entre el tren delantero y trasero del auto. Allí se terminó la posibilidad de puntuar y acercarse a Max en el campeonato, dando paso a un podio inédito en esta temporada.
Max's accident generated a restart with a stopped start. The regulations allow the race officials to decide whether to restart the race with a moving or stopped start, after a red flag. Although Hamilton took first place, a strange problem with his brakes prevented him from taking the corner, and he continued on as the rest of the grid overtook him. This was apparently due to a button that regulates the brake distribution between the front and rear of the car. There ended the possibility of scoring points and getting closer to Max in the championship, giving way to an unprecedented podium this season.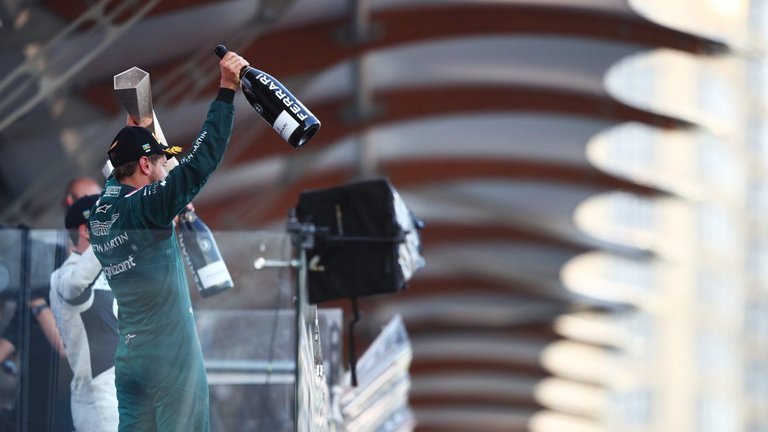 Formula1.com
Si hay un piloto experimentado que está sabiendo aprovechar los circuitos urbanos es Sebastian Vettel. Su segundo lugar brinda buenas sensaciones, ya que da la posibilidad a Aston Martin de acercase a la batalla por la parte media de la parrilla. La estrategia y la perseverancia ayudaron a Vettel a conseguir un 2° puesto que parecía imposible para este equipo. El otro ocupante del podio sería Pierre Gasly, el piloto francés de Alpha Tauri. Logró superar a la Ferrari de Leclerc en las últimas vueltas, demostrando que este equipo está allí cuando Ferrari, McLaren y Alpine no.
If there is an experienced driver who knows how to take advantage of urban circuits, it is Sebastian Vettel. His second place gives a good feeling, as it gives Aston Martin the chance to get closer to the battle for the middle of the grid. Strategy and perseverance helped Vettel to achieve a 2nd place that seemed impossible for this team. The other occupant of the podium would be Pierre Gasly, the French driver of Alpha Tauri. He managed to overtake Leclerc's Ferrari in the final laps, proving that this team is there when Ferrari, McLaren and Alpine are not.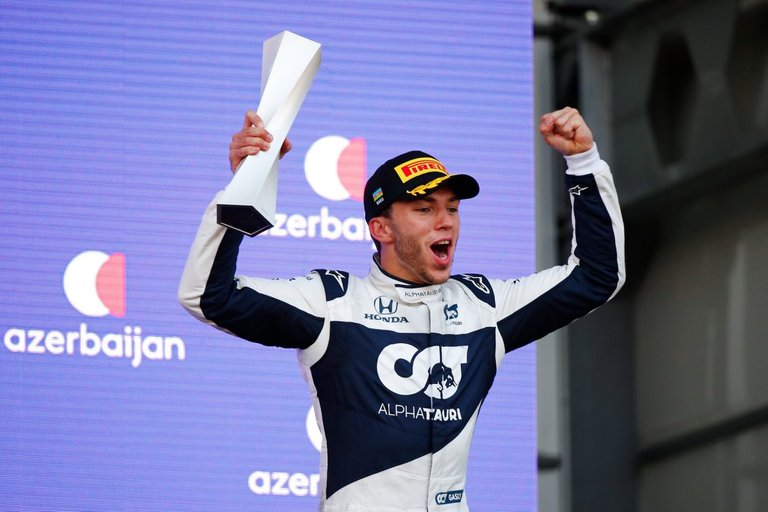 Formula1.com
La siguiente carrera se desarrollará en el circuito de Paul Ricard en Francia. Este circuito podría ser más favorable a Mercedes, y veremos que tan fuerte se encuentra Red Bull en circuitos no urbanos y con largas rectas.
Te recomiendo visitar la siguiente publicación donde realizo un análisis de esta pista: Análisis del circuito de Baku (Azerbaijan).
The next race will be held at the Paul Ricard circuit in France. This circuit could be more favorable to Mercedes, and we will see how strong Red Bull is in non-urban circuits and with long straights.

I recommend you to visit the following publication where I make an analysis of this track: Analysis of the Baku circuit (Azerbaijan)..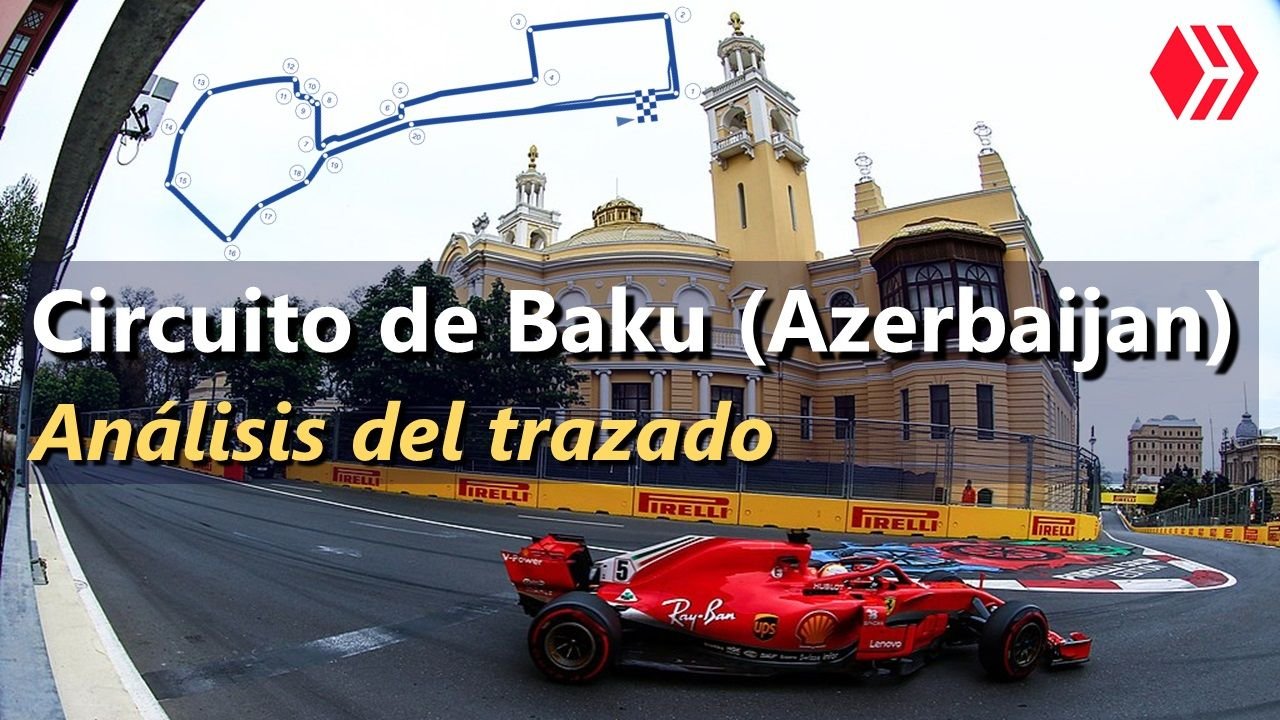 Post
Deja tu comentario o comparte (reblog) esta publicación si te ha parecido interesante.
Leave a comment or share (reblog) this post if you found it interesting.
---
Translated to English language with the help of DeepL.com
¡Gracias por visitar! — Deja tu comentario 🚥🏆

---
---