¡Hola estimados amigos!
La temporada 2021 de la primera división del Fútbol Profesional Venezolano, cada día se pone interesante en cuanto a las contrataciones que están haciendo los diferentes clubes de Venezuela, en donde Monagas Sport Club ya tiene sus tres nuevos fichajes.
Hello dear friends!
The 2021 season of the first division of Venezuelan Professional Soccer, every day gets interesting in terms of the signings that are making the different clubs in Venezuela, where Monagas Sport Club already has its three new signings.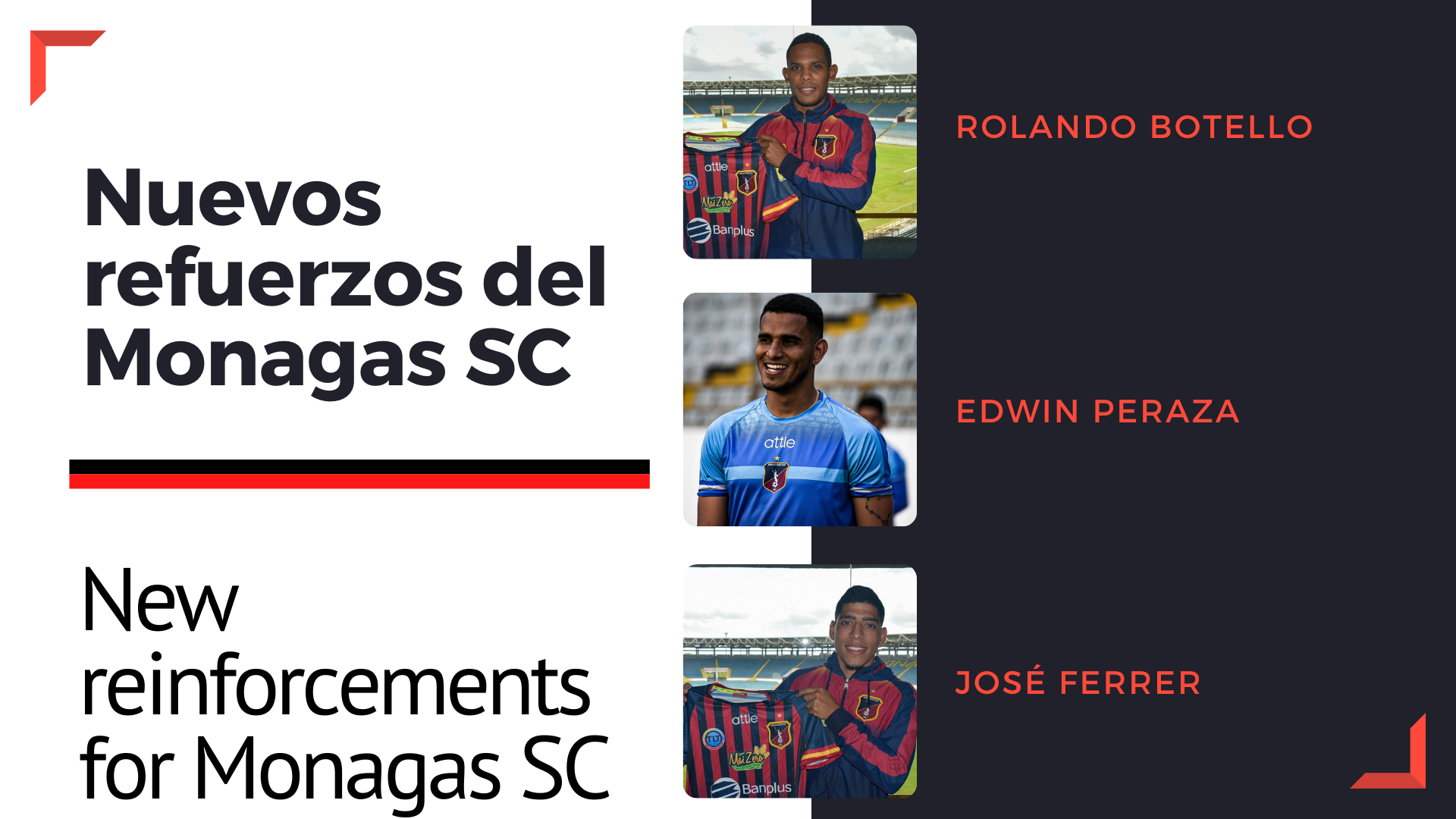 Fuente de las fotos a continuación en Twitter: Rolando Botello, Edwin Peraza y José Ferrer. La edición fue desde canva


El balompié nacional de Venezuela, el cual dará inicio el Domingo 4 de Abril del presente año, contará con la participación de 21 clubes, distribuido en tres grupos, occidental, oriental y central, donde Monagas Sport Club se encuentra ubicado en la llave oriental, con equipos como Caracas Fútbol Club, UCV Fútbol Club, Mineros de Guayana, Atlético Venezuela, Metropolitanos Fútbol Club y Lala Fútbol Club.
The Venezuelan national football, which will start on Sunday, April 4 of this year, will have the participation of 21 clubs, distributed in three groups, western, eastern and central, where Monagas Sport Club is located in the eastern key, with teams such as Caracas Fútbol Club, UCV Fútbol Club, Mineros de Guayana, Atlético Venezuela, Metropolitanos Fútbol Club and Lala Fútbol Club.
De igual manera, para esta campaña 2021, el elenco de Maturín entiende el significado de hacer un buen torneo y sacar puntos importantes. Además, con estos refuerzos que van hasta ahora, se piensa en un mediocampo solvente y con mucha solidez defensiva.
Likewise, for this 2021 campaign, the team from Maturín understands the meaning of having a good tournament and getting important points. In addition, with these reinforcements so far, they are thinking of a solvent midfield with a lot of defensive solidity.
Un panameño se convierte en azulgrana // A Panamanian becomes a Azulgrana
El mediocampista panameño, Rolando Botello, de 29 años, firmo contrato con el equipo del Monagas Sport Club para respaldar el mediocampo y darle más salida en ese sector al cuadro de Jhonny Ferreira. Botello, con trayectoria en Tauro Fútbol Club y Sporting San Miguelito Fútbol Club, ambos de Panamá, llega a la institución azulgrana, con el fin de hacerse un lugar en el once titular de Ferreira, quien en el Torneo de Normalización del año 2020 termino mal con el elenco oriental, equipo que para esta temporada tendrá que saber mover las piezas (jugadores) para afrontar innumerables de partidos, que serán complicados y difíciles en el sentido fútbolístico de la palabra, ya que clubes como Caracas Fútbol, Mineros de Guayana y el recién ascendido a la primera categoría, UCV Fútbol Club, no darán oportunidad alguna durante los 90' minutos de cada encuentro. Ciertamente, Botello, tiene a su favor el haber jugador con la selección absoluta de Panamá, aunque, esta liga para él será un nuevo reto como futbolista profesional, en donde debe adaptarse al clima y al planteamiento de juego del estratega.
Panamanian midfielder Rolando Botello, 29, signed a contract with the Monagas Sport Club team to support the midfield and give more output in that sector to Jhonny Ferreira's team. Botello, with trajectory in Tauro Fútbol Club and Sporting San Miguelito Fútbol Club, both from Panama, arrives to the azulgrana institution, in order to make a place in the starting eleven of Ferreira, who in the 2020 Normalization Tournament finished badly with the eastern team, For this season, the team will have to know how to move the pieces (players) to face countless matches, which will be complicated and difficult in the soccer sense of the word, since clubs such as Caracas Fútbol, Mineros de Guayana and the recently promoted to the first category, UCV Fútbol Club, will not give any chance during the 90' minutes of each match. Certainly, Botello has in his favor the fact of having played with the senior national team of Panama, although, this league will be a new challenge for him as a professional soccer player, where he must adapt to the climate and the game approach of the strategist.
Peraza vuelve al Monagas SC // Peraza returns to Monagas SC
Edwin Peraza, defensor central de nacionalidad Venezolana, que cuenta con 27 años de edad, aterriza en el Monagas Sport Club, en donde ya estuvo una vez en el año 2019, quedando en deuda con la fanaticada azulgrana, debido a su bajo rendimiento en la defensa. Peraza, con recorrido en el Caracas Fútbol Club, Carabobo Fútbol Club, Zamora Fútbo Clubl, Rionegro Águilas (colombia) y Deportivo la Guaira, firmo por un (1) año con el club monaguense. Por su parte, desde mi análisis, les puedo decir, que es futbolista inteligente, que sabe leer las jugadas, tiene buena precisión en sus pases, una excelente comunicación en la parte defensiva y voz de mando para acomodar la saga central del equipo. En términos fútbolísticos, Peraza, tendrá que esforzarse por ganarse nuevamente el puesto en la formación titular, la cual cuenta con pocos defensores hasta ahora en el elenco maturinés.
Edwin Peraza, central defender of Venezuelan nationality, who is 27 years old, lands in Monagas Sport Club, where he was already once in 2019, remaining in debt with the azulgrana fans, due to his poor performance in defense. Peraza, who has played for Caracas Fútbol Club, Carabobo Fútbol Club, Zamora Fútbo Clubl, Rionegro Águilas (Colombia) and Deportivo la Guaira, signed for one (1) year with the Monagas club. From my analysis, I can tell you that he is an intelligent player, who knows how to read the plays, has good precision in his passes, excellent communication in the defensive part and a commanding voice to accommodate the central saga of the team. In soccer terms, Peraza will have to make an effort to earn his place again in the starting lineup, which so far has few defenders in the team from Maturín.
Más músculo en el mediocampo // More muscle in the midfield
Con cualidades y características de sacrificio y entrega en cada partido, José Ferrer, llega al conjunto oriental, con la satisfacción e ilusión de vestir los colores del Monagas Sport Club en la categoría de oro durante un año. Ferrer, es un mediocampista de 23 años de edad, que tiene recorrido en el Carabobo Fútbol Club, en donde fue dirigido por El Arquitecto Jhonny Ferreira en el año 2019. Pese a su corta edad, su manera de entender el juego y su ubicación en sectores puntuales de la cancha, lo hacen un jugador importante en la zona medular, ya que puede ayudar y ser polivalente para robar balones en el mediocampo. Con la baja de Carlos "Mono" Suárez, Botello y Ferrer, tendrán que tener una buena comunicación e ir variando al momento de marcar a un jugador.

With qualities and characteristics of sacrifice and dedication in every game, José Ferrer, arrives to the eastern team, with the satisfaction and illusion of wearing the colors of Monagas Sport Club in the gold category for a year. Ferrer, is a 23-year-old midfielder, who has a career in Carabobo Fútbol Club, where he was coached by The Architect Jhonny Ferreira in 2019. Despite his young age, his way of understanding the game and his location in specific sectors of the field, make him an important player in the midfield, as he can help and be versatile to steal balls in the midfield. With the loss of Carlos "Mono" Suárez, Botello and Ferrer will have to communicate well and vary when marking a player.
---