¡Hola compañeros de Hive!
El día de hoy, estaré escribiendo acerca de la clasificación del Granada Club de Fútbol a los octavos de final de la UEFA Europa League, en donde se encuentran los Venezolanos Yangel Herrera y Darwin Machís.
Hello fellow Hive fans!
Today, I will be writing about Granada Club de Fútbol's qualification to the round of 16 of the UEFA Europa League, featuring Venezuelans Yangel Herrera and Darwin Machís.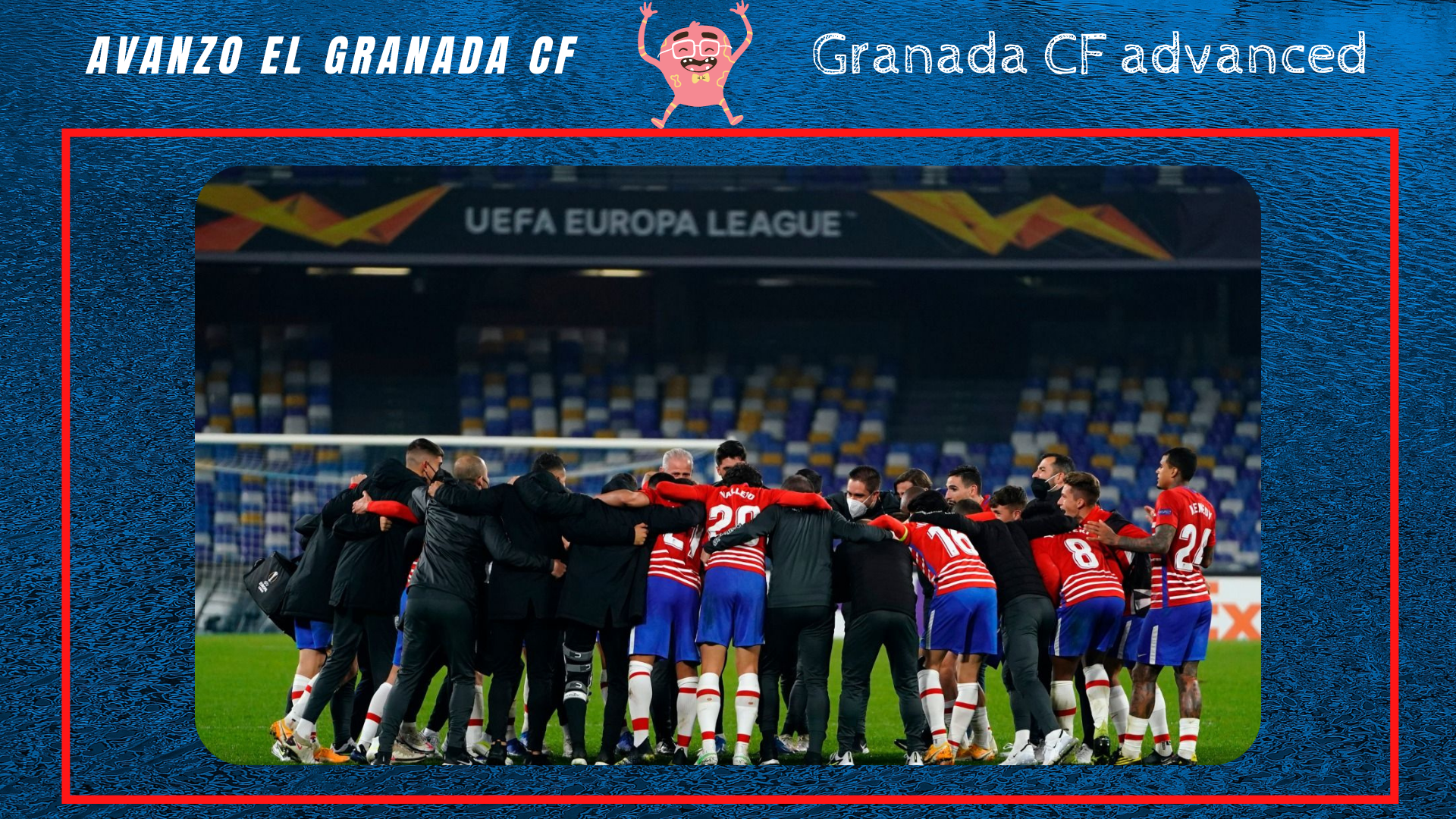 Fuente: Twitter. Edición desde canva


El Granada Club de Fútbol, de los criollos Yangel Herrera y Darwin Machís, sigue haciendo historia en la UEFA Europa League, gracias a su potencial y su eficacia en cada uno de los partidos que disputan en esta competición.
Granada Club de Fútbol, of the criollos Yangel Herrera and Darwin Machís, continues to make history in the UEFA Europa League, thanks to their potential and efficiency in each of the matches they play in this competition.
Igualmente, es de admirar el compromiso y la actitud con la que estos jugadores del rojiblanco juegan cada encuentro, en donde se observa el amor por los colores de esta institución que viene en crecimiento.

Likewise, it is worth admiring the commitment and attitude with which these rojiblanco players play every game, where the love for the colors of this growing institution can be seen.
Un primer tiempo con dos goles // A first half with two goals
El encuentro de vuelta, disputado ayer Jueves 25 de Febrero del presente año en el Estadio Diego Armando Maradona, de Italia, empezó con la temprana anotación del mediocampista polaco Piotr Zieliński al minuto 3', luego un centro por el costado derecho de Dimitri Foulquier, vio la aparición en el punto penal de Ángel Montoro Sánchez, quien anotó de cabeza en la fracción 25' para igualar las acciones en el marcador. Seguidamente, el Granada Club de Fútbol, siguió llegando al arco del portero, Alex Meret, quien en la jugada del gol de Montoro no pudo hacer absolutamente nada, debido al buen cabezazo que conecto el mediocampista de nacionalidad Española. Aún así, los de Gennaro Gattuso, fueron en busca de anotar el segundo gol, pero desafortunadamente, el equipo visitante se vio solvente en la defensa y con mucha concentración en todas sus líneas durante el primer periodo.

The second leg, played yesterday, Thursday, February 25 of this year at the Estadio Diego Armando Maradona, in Italy, started with an early goal by Polish midfielder Piotr Zieliński at minute 3', then a cross from the right flank by Dimitri Foulquier, saw the appearance at the penalty spot of Ángel Montoro Sánchez, who scored a header at minute 25' to equalize the actions on the scoreboard. Then, Granada Club de Fútbol continued to reach the goal of goalkeeper Alex Meret, who in the play of Montoro's goal could do absolutely nothing, due to the good header of the Spanish midfielder. Even so, Gennaro Gattuso's team went in search of the second goal, but unfortunately Unfortunately, the away team looked solid in defense and with a lot of concentration in all their lines during the first half.
Segundo tiempo con mayor nerviosismo // Second half with more nervousness
En la entrada en calentamiento, el Venezolano Darmin Machís se lesionó y no pudo ser de la partida ante el Napoli, de Italia. Maxime Gonalons, mediocampista del cuadro visitante, tuvo que dejar la cancha por problemas musculares y darle ingresó a Víctor Díaz Miguel al minuto 45+2'. Pese a esto, lamentablemente en la segunda etapa, Carlos Neva y Germán Sánchez Barahona, tuvieron que salir por lesión, dándole ingresó a Nahuén Pérez y Yangel Herrera, quienes fueron importantes para mantener la serie cerrada y ocupar espacios en algunos sectores de la cancha. Napoli, con mayor ímpetu que fútbol, adelanto sus líneas y aprovecho una mala comunicación en la defensa granadinista, para anotar el segundo gol en la pierna izquierda del jugador español Fabián Ruiz Peña, adelantando de esta manera al equipo local al minuto 59' del compromiso. Cada minuto que avanzaba, la ansiedad se hacia presente en los jugadores azules, ya que veían que el tercer y cuarto gol no llegaba, mientras que Rui Silva se agigantaba en el arco nazarí tapando cualquier remate de los futbolistas locales. Finalmente, de tanto intentarlo, terminó el encuentro, con victoria de dos goles por uno del Napoli, con un global de (3-2) favorable al Granada Club de Fútbol, de España, clasificándose a los octavos de final de la UEFA Europa League.

During the warm-up, Venezuelan Darmin Machís was injured and could not play against Napoli, from Italy. Maxime Gonalons, midfielder of the visiting team, had to leave the field due to muscular problems and was replaced by Víctor Díaz Miguel at minute 45+2'. Unfortunately, in the second half, Carlos Neva and Germán Sánchez Barahona had to leave the field due to injury, giving way to Nahuén Pérez and Yangel Herrera, who were important to keep the series close and occupy spaces in some sectors of the field. Napoli, with more impetus than soccer, advanced their lines and took advantage of a miscommunication in the defense granadinista, to score the second goal in the left leg of the Spanish player Fabián Ruiz Peña, thus advancing the local team at minute 59' of the commitment. Every minute that passed, the blue players became anxious, as they saw that the third and fourth goals were not coming, while Rui Silva stood out in the nazari goal, blocking any shot from the local players. Finally, after trying so hard, the match ended with a two goals to one victory for Napoli, with a 3-2 aggregate score in favor of Granada Club de Fútbol, from Spain, qualifying to the round of 16 of the UEFA Europa League.
Lo que viene para el Granada en los octavos de final // What's next for Granada in the Round of 16
El Granada Club de Fútbol, de España, se medirá ante un equipo chico como el Molde FK, de Noruega. Aunque, el equipo blanquiazul, viene de dar la sorpresa, luego de eliminar en los dieciseisavos de final de la Europa League al TSG 1899 Hoffenheim, en una serie que terminó (5-3). Para el partido de ida de los octavos de final a disputarse el Jueves 11 de Marzo del presente año, en el Nuevo Estadio de Los Cármenes, de España, los dirigidos por Diego Martínez Penas, no podrán contar con Germán, Herrera y Montoro, debido a la acumulación de tarjetas amarillas que presentan estos tres jugadores. Desde ahora, todo está cuesta arriba, pero ellos confían en su fútbol y en lo que pueden dar en cada cotejo, en donde han salido victorioso y demostrando habilidades sorprendentes.

Granada Club de Fútbol, from Spain, will face a little team like Molde FK, from Norway. However, the blue-and-white team comes from a surprise, after eliminating TSG 1899 Hoffenheim in the round of 32 of the Europa League, in a series that ended (5-3). For the first leg of the round of 16 to be played on Thursday, March 11 at the Nuevo Estadio de Los Cármenes in Spain, the team coached by Diego Martínez Penas will be without Germán, Herrera and Montoro, due to the accumulation of yellow cards that these three players have. From now on, everything is uphill, but they are confident in their soccer and in what they can give in each match, where they have been victorious and have shown surprising skills.
---
¿Hasta donde llegará este Granada CF? - How far will Granada CF go?
---