¡Hola querida comunidad de Hive!
La Serie A de Italia, cada día se pone más emocionante, debido a que el AC Milan está perdiendo puntos contra equipos directos de la tabla de clasificación, como el Inter de Milán, quien ahora se encuentra como líder del Fútbol Italiano.
Hello dear Hive community!
Italy's Serie A is getting more exciting by the day, as AC Milan is losing points against direct teams in the standings, such as Inter Milan, who are now the leaders of Italian soccer.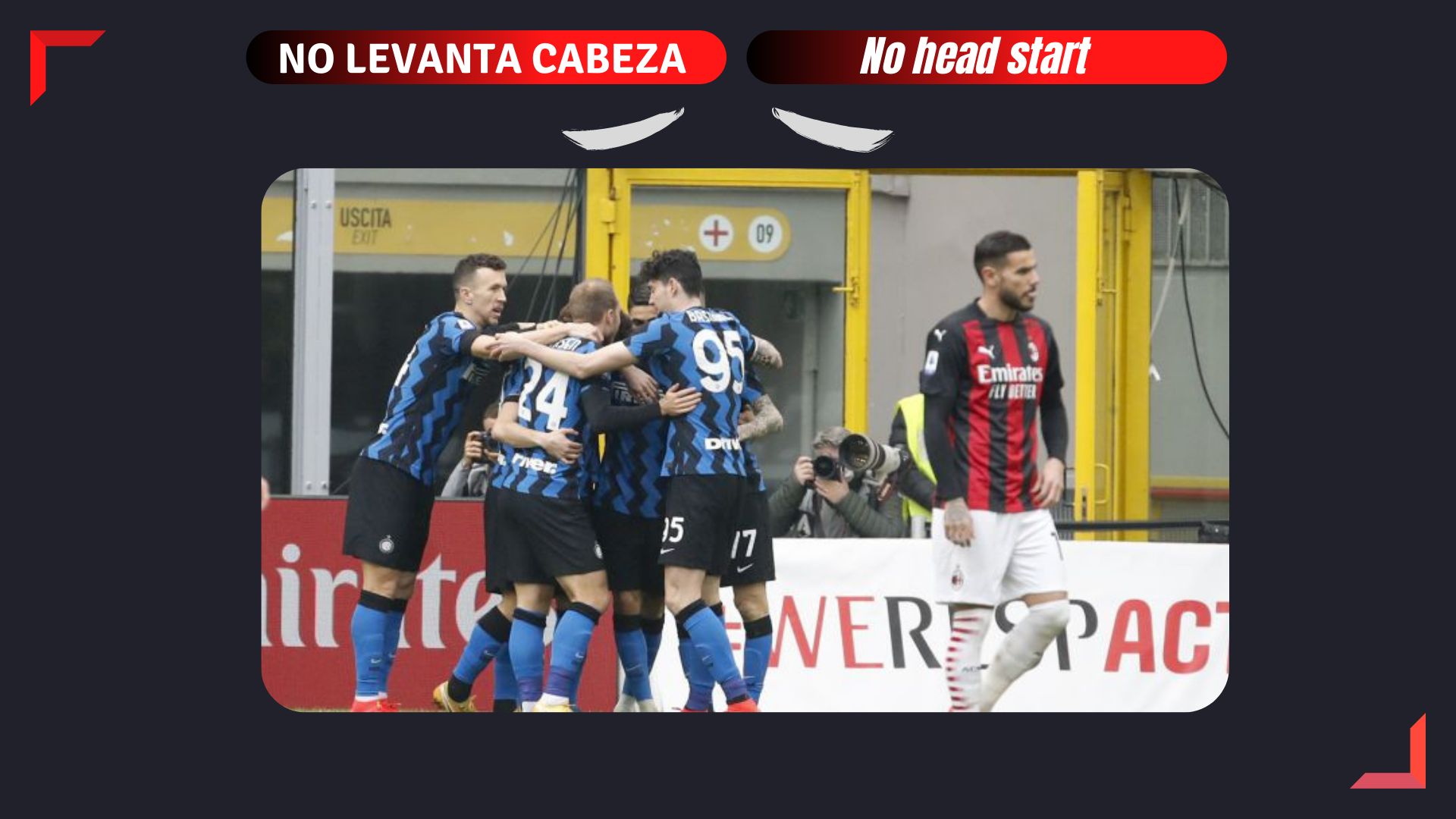 Fuente: AS Chile - Diario AS y edición desde canva


La primera división del Fútbol Italino, con sus equipos de jerarquía y jugadores estelares en cada club, dan lo mejor en cada jornada de la Seria A, en donde saben que tienen ganar a como de lugar, ya que estarían dejando puntos valiosos, de cara al título.
The first division of Italian soccer, with its hierarchy teams and stellar players in each club, give their best in each day of the Seria A, where they know they have to win at all costs, as they would be leaving valuable points, facing the title.
De igual manera, Associazione Calcio Milan e Inter de Milán, son dos equipos que tienen mucha historia en el balompié de Italiano, debido a sus arduos enfrentamientos, los cuales dejan sensaciones increíbles en cuantos a goles y el factor individual de cada futbolista.
Likewise, Associazione Calcio Milan and Inter Milan are two teams that have a long history in Italian football, due to their arduous confrontations, which leave incredible sensations in terms of goals and the individual factor of each player.
Un AC Milan sin reacción en partidos importantes // An AC Milan with no reaction in important matches
Con la derrota del AC Milan en condición de local ante el Inter de Milán, por marcador de tres goles a cero, los de Stefano Pioli no levantan cabeza en la Seria A de Italia ante equipos directos de la tabla de clasificación, dejando a entender que tiene que mejorar en cuanto a la proyección de sus laterales, en la defensa, en clarificar más las ideas futbolísticas para encontrar al Sueco Zlatan Ibrahimović en el frente del ataque, tener tranquilidad y manejar el partido a su favor. Además, pude apreciar ante el Inter de Milán, que el cuadro Rojinegro, le falta más profundidad en el ataque, ya que en muchas oportunidades buscaron desde el juego aéreo a Ibrahimović, donde el delantero de 39 años de edad tuvo que ingeniárselas ante los defensores rivales, como el Holandes Stefan de Vrij, Alessandro Bastoni y Milan Škriniar. Pienso, que desde mi análisis, AC Milan, esta jugando a un nivel muy bajo como para competir por el título, debido a que tiene mucho por mejorar cuando se enfrenta a equipos directos de la Liga.

With the defeat of AC Milan at home against Inter Milan, by a score of three goals to zero, Stefano Pioli's team has not raised its head in the Italian Seria A against direct teams in the standings, leaving to understand that it has to improve in terms of the projection of its wingers, in defense, in clarifying more soccer ideas to find the Swede Zlatan Ibrahimović in front of the attack, have tranquility and manage the game in their favor. In addition, I could see against Inter Milan, that the Rojinegro team lacks more depth in attack, as on many occasions they looked for Ibrahimović from the air, where the 39-year-old striker had to find his way against the opposing defenders, such as the Dutch Stefan de Vrij, Alessandro Bastoni and Milan Škriniar. I think, from my analysis, AC Milan is playing at too low a level to compete for the title, as they have a lot of room for improvement when facing direct League teams.
Rebić, demuestra estar sintonía en cada partido // Rebić, proves to be in tune in every match
El extremo Ante Rebić, jugador de 27 años de edad, ha sido polivalente en tareas defensivas, demostrando tener condiciones físicas para marcar y atacar al mismo tiempo, dando virtudes de un futbolista super dotado. Rebić, de nacionalidad Croata y con paso en el Eintracht Frankfurt de Alemania, sabe lo que es sacrificarse en labores defensivas y gambetear a sus adversarios, quienes tienen la difícil misión de marcar a un futbolista ambidiestro y con una destreza sorprendente. Aparte de su habilidad, su fortaleza es el remate de larga distancia y la lectura de juego para llegar al área chica del equipo rival, en donde ha marcado goles decisivos y vitales en cada club. Con AC Milan, el ex Fiorentina, lleva 4 anotaciones en 20 partidos jugados en la Seria A de Italia, dando a valer que es crucial en la plantilla del estratega, Stefano Pioli, de 55 años de edad.

The winger Ante Rebić, a 27-year-old player, has been versatile in defensive tasks, demonstrating physical conditions to score and attack at the same time, giving virtues of a super gifted player. Rebić, of Croatian nationality and with Eintracht Frankfurt of Germany, knows what it is to sacrifice himself in defensive tasks and to dribble his opponents, who have the difficult mission of marking an ambidextrous player with a surprising skill. Apart from his skill, his strength is his long distance shooting and his ability to read the game to reach the opponent's penalty area, where he has scored decisive and vital goals in every club. With AC Milan, the former Fiorentina player has scored 4 goals in 20 games played in the Italian Seria A, proving that he is a crucial part of the 55-year-old coach Stefano Pioli's squad.
Vienen partidos difíciles // Tough games ahead
Este Jueves 25 de Febrero, AC Milan, estará jugando el partido de vuelta contra Estrella Roja, de Serbia, en los dieciseisavos de final de la UEFA Europa League (2-2 quedo el de ida). Tres días después, se enfrentara a AS Roma por la jornada 24 del Fútbol Italiano. Luego, el Miércoles 3 de Marzo del presente año, jugará frente al Udinese, equipo complicado y que desde visitante hace buenos partidos, más que todo, a los clubes de historia, como el Rossoneri (AC Milan). Pioli y compañía, tienen que lidiar con la preocupación y el nerviosismo de poder sumar en estos tres encuentros determinaste para el club.

This Thursday, February 25, AC Milan will play the second leg against Red Star of Serbia in the round of 32 of the UEFA Europa League (2-2 in the first leg). Three days later, they will face AS Roma in the 24th round of Italian soccer. Then, on Wednesday, March 3 of this year, they will play against Udinese, a complicated team that plays good away games, especially against clubs with a long history, such as Rossoneri (AC Milan). Pioli and company have to deal with the worry and nervousness of being able to win in these three decisive matches for the club.
---
¿En qué debe mejorar el AC Milan? - Where does AC Milan need to improve?
---