¡Hola amigos futboleros!
La UEFA Champions League, en su etapa de Cuartos de Final, tuvo este Martes y Miércoles partidos de suma importancia y que fueron interesantes en el factor colectivo, individual y en la destreza de cada jugador.
Hello soccer friends!
The UEFA Champions League, in its Quarter-Final stage, had this Tuesday and Wednesday matches of utmost importance and that were interesting in the collective factor, individual and in the skill of each player.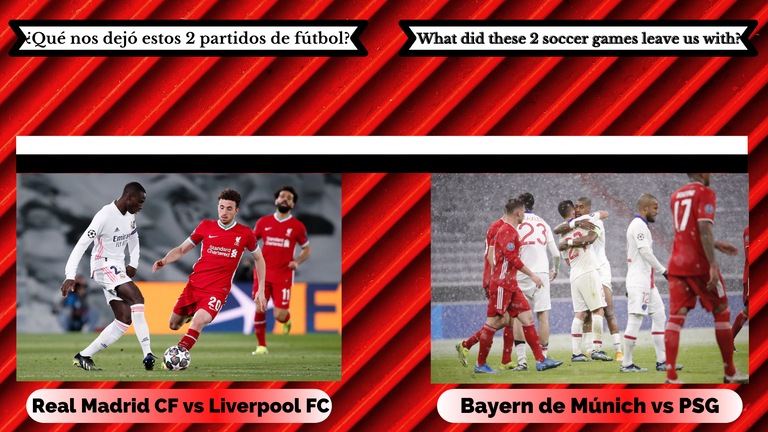 Fuente la imagen número 1 y la 2. Edición desde canva


Este Martes 06 y Miércoles 07 de Abril del presente año, se llevó a cabo los partidos de los cuartos de final de la La UEFA Champions League, en donde 8 clubes de Europa batallaron de principio a fin durante los 90' minutos.
This Tuesday April 6th and Wednesday April 7th of this year, the quarter final matches of the UEFA Champions League took place, where 8 European clubs battled from start to finish during the 90' minutes.

Asimismo, en estos 4 encuentros de alta intensidad, sólo dos juegos estuvieron a la expectativa del amante del fútbol, debido a la historia y la calidad de jugadores que tienen estos equipos.
Likewise, in these 4 high intensity matches, only two games were at the expectation of the soccer lover, due to the history and the quality of players that these teams have.

Un partido de muchas ocasiones de gol // A game with many scoring chances
Este Martes 06 de Abril del año en curso, se jugo el partido entre el Madrid Club de Fútbol, de España y Liverpool Football Club, de Inglaterra, por la Ida de los cuartos de final de la UEFA Champions League, en el Estadio Alfredo Di Stefano, con el arbitraje del Alemán, Felix Brych, quien estuvo correcto y al lado de cada una de las jugadas del encuentro, mostrando que sí estaba a la altura de este cotejo de tanta envergadura. Al comienzo de los primeros pasajes del encuentro, se vio a un cuadro Merengue más dominador y con más posesión del balón, aunque, en ocasiones el conjunto Inglés demostraba solidez en el mediocampo y profundidad en el frente del ataque.
La jugada del primer gol: Al minuto 27' del primer tiempo, el mediocampista Alemán Toni Kroos, hizo un cambio de frente, en donde localizo la aparición del extremo y habiloso Vinícius Júnior, quien de pecho controlo un pase difícil de Kroos. Vinícius, con mucha tranquilidad y frialdad ante la humanidad de Alisson Becker, definió en carrera de pierna derecha, con un remate rasante, que dejó sin oportunidad al guardameta Brasileño.
Y en la fracción 36', ¿qué paso?. Nuevamente, el centrocampista Toni Kroos, envía un pase largo por el costado derecho del equipo visitante, en donde Trent Alexander-Arnold se equivoca y le entrega de cabeza el balón al Marco Asensio, este último, sin mucho nerviosismo y con una delicadeza increíble, termina haciéndole una vaselina al portero Carioca y definiendo a puerta vacía con su pierna izquierda.
Llegó el descuento: En la fracción 51' del compromiso, Los Rojos descontarían en el marcador, luego de una jugada colectiva que inicia desde el mediocampo el capitán Georginio Wijnaldum. El Holandés, enseguida asiste al Portugués Diogo Jota, quien engancha con su pierna izquierda y remata con la derecha, en donde el disparo sale desviado en el área chica, pero para fortuna del Liverpool Football Club, Mohamed Salah, se encontró con un regalo, el cual terminaría transformando en gol con su pierna más hábil, es decir, la izquierda.
Otro gol del Real Madrid Club de Fútbol: Desde un saque lateral que inicia Lucas Vázquez, nace la tercera anotación de los Blancos, por intermedio de Karim Benzema y Luka Modrić, este último, termina asistiendo en el corazón del área a Vinícius Júnior. El Brasileño, de 20 años de edad, define de primera intención con su pierna derecha, batiendo la humanidad del cancerbero visitante al minuto 65'.
Todo se define en la vuelta: Con el tanto de Vinícius, las esperanzas de los dirigidos por Jürgen Klopp fueron en vano. Los de Anfield, dejaron mucho espacio para el contragolpe y el Real Madrid Club de Fútbol tuvo para ampliar el marcador a su favor en la Ida. Afortunadamente, esto terminaría 3-1, favorable a los locales, esperando que en la vuelta el Liverpool Football Club demuestre todo su potencial, para poder revertir la serie.
This Tuesday, April 6th of this year, the match between Madrid Football Club, from Spain and Liverpool Football Club, from England, for the First leg of the quarterfinals of the UEFA Champions League, was played at the Alfredo Di Stefano Stadium, with the German referee, Felix Brych, who was right on the side of each of the plays of the match, showing that he was up to the task of this match of such importance. At the beginning of the first passages of the match, the Merengue team was more dominant and with more ball possession, although, at times, the English team showed solidity in midfield and depth in front of the attack.
The play of the first goal: At minute 27' of the first half, the German midfielder Toni Kroos, made a forward change, where he located the appearance of the winger and skilled Vinícius Júnior, who controlled with his chest a difficult pass from Kroos. Vinícius, with great calm and coolness in front of Alisson Becker's humanity, defined on the run with his right foot, with a low shot, which left the Brazilian goalkeeper with no chance.
And in the 36th minute, what happened? Again, midfielder Toni Kroos sent a long pass down the right flank of the visiting team, where Trent Alexander-Arnold made a mistake and headed the ball to Marco Asensio, the latter, without much nervousness and with incredible finesse, ended up making a lob to the Carioca goalkeeper and scoring an empty goal with his left foot.
The discount arrived: In the 51st minute of the match, The Reds scored the equalizer after a team move started in midfield by captain Georginio Wijnaldum. The Dutchman, then assists the Portuguese Diogo Jota, who hooks with his left foot and shoots with his right, where the shot goes wide in the small area, but fortunately for Liverpool Football Club, Mohamed Salah, found himself with a gift, which he would end up transforming into a goal with his more skilled leg, that is, the left.
Another goal for Real Madrid Club de Fútbol: From a side kick started by Lucas Vázquez, the third goal for Los Blancos was scored by Karim Benzema and Luka Modrić, who ended up assisting Vinícius Júnior in the heart of the box. The Brazilian, 20 years old, scored with his right foot, beating the visiting goalkeeper in the 65th minute.
Everything will be decided in the second leg: With Vinícius' goal, the hopes of Jürgen Klopp's men were in vain. The Anfield side left plenty of space for the counter-attack and Real Madrid Club de Fútbol had the chance to extend the score in their favor in the First Leg. Fortunately, this would end 3-1, in favor of the locals, hoping that in the second leg Liverpool Football Club would show all its potential, to be able to reverse the series.
¿Qué sucedió en este encuentro? // What happened at this meeting?
La jornada de la Liga de Campeones de la UEFA continuo al día siguiente, con el interesante y emoción partido entre el Bayern de Múnich, de Alemania, contra el poderoso y ansioso, Paris Saint-Germain Football Club, de Francia, dos equipos que en papel tenían que demostrar toda su destreza, lectura de juego, tranquilidad, concentración y jerarquía en todas las líneas. Pese a todo lo mencionado, sabíamos que el Bayern de Múnich por ser local y ser un club goleador en todas las competiciones, el deber era ganar y ser contundente. Aunque, el PSG, no se dejaría y demostraría su potencial en el frente del ataque, con Neymar y Kylian Mbappé como referentes.
Un análisis de todo lo sucedido en este juego: El 3-2, favorable al Paris Saint-Germain Football Club en la Ida de los cuartos de final de la competición, demostraría que en el Estadio Allianz Arena todo seria diferente y que en el contraataque todo se decidiría. Kylian Mbappé, con su velocidad e inteligencia, demostró actitud para afrontar este juego y anotar el primer tanto del encuentro al minuto 3', en un remate directo al cuerpo de Manuel Neuer, el cual no pudo contener y termino en la anotación del Francés. Seguidamente, en el 28', llegaría la segunda diana de la visita, en las piernas del zaguero central, Marquinhos, luego de recibir un pase magistral de Neymar. Marquinhos, con mucha tranquilidad, definió con el borde interno y anoto el dos por cero. Luego de un 2-0 aplastante en media hora de partido, el descuento se haría presente en la fracción 37', gracias a la asistencia del lateral derecho, Benjamin Pavard, quien tiro un centro impecable en el punto del penal, para que el delantero Eric Maxim Choupo-Moting anotará de cabeza el 2-1. Thomas Müller al 60', empataría las acciones, dejando el enfrentamiento con un expectativa alta de lo que podía pasar en lo que quedaba de minutos. Lamentablemente, al minuto 68', Kylian Mbappé, apagaría las esperanzas de los bavaros y pondría cifras definitivas con un contundente remate de pierna derecha al primer palo de Neuer.
Finalmente, con el tres por dos, el PSG, sacaría un resultado de oro en condición de visitante y a la espera del compromiso de vuelta, el cual será decisivo y decidirá el futuro de estos dos clubes.
The UEFA Champions League match continued the next day, with the interesting and exciting match between Bayern Munich, from Germany, against the powerful and eager Paris Saint-Germain Football Club, from France, two teams that on paper had to show all their skill, reading of the game, tranquility, concentration and hierarchy in all lines. Despite all of the above, we knew that Bayern Munich, being the home team and a top scorer in all competitions, had to win and be convincing. Although, the PSG, would not be left and would demonstrate its potential in front of the attack, with Neymar and Kylian Mbappé as referents.
An analysis of everything that happened in this game: The 3-2, favorable to Paris Saint-Germain Football Club in the Ida of the quarterfinals of the competition, would show that at the Allianz Arena Stadium everything would be different and that in the counterattack everything would be decided. Kylian Mbappé, with his speed and intelligence, showed attitude to face this game and scored the first goal of the match in the 3rd minute, with a direct shot to the body of Manuel Neuer, which he could not contain and ended in the Frenchman's goal. Then, in the 28th minute, came the second goal for the visitors, in the legs of central defender Marquinhos, after receiving a masterful pass from Neymar. Marquinhos, with great composure, scored with his inside edge to make it two-nil to nil. After a crushing 2-0 lead in the first half-hour of the match, the breakthrough came in the 37th minute, when right-back Benjamin Pavard delivered an impeccable cross from the penalty spot for striker Eric Maxim Choupo-Moting to head home to make it 2-2-1. Thomas Müller equalized in the 60th minute, leaving the match with a high expectation of what could happen in the remaining minutes. Unfortunately, in the 68th minute, Kylian Mbappé, would extinguish the hopes of the bavarians and put final figures with a powerful right-footed shot at Neuer's near post.
In the end, with the three goals to two, PSG would take a golden away result and await the second leg, which will be decisive and will decide the future of these two clubs.
---
De estos dos partidos, ¿cuál te gusto y por qué?

⏏

Of these two games, which one did you like and why?

---

---