No nos cansamos escribir sobre béisbol, porque es algo que nos apasiona en demasía. Además, la posibilidad cierta de una recompensa baja no nos amilana, porque jamás ha sido el fin de lo que nos trajo acá. Dicho esto, por vez primera escribiré en días consecutivos para @fulldeportes, porque es digno dar reconocimiento a quien lo merece y como hoy es Viernes, la nota puede ser leída cómodamente el fin de semana.
We don't get tired of writing about baseball, because it's something we're very passionate about. Moreover, the certain possibility of a low reward does not deter us, because it has never been the end of what brought us here. Having said that, for the first time I will write on consecutive days for @fulldeportes, because it is worthy of giving recognition to those who deserve it and since today is Friday, the note can be read comfortably over the weekend.
     Sporting News es una prestigiosa revista deportiva estadounidense que entrega premios, al finalizar la temporada de la Major League of Baseball (M.L.B.), por medio de una votación entre fanáticos, coaches y jugadores a los más destacados toleteros y pitchers. Dada la naturaleza del premio, se puede afirmar que tal reconocimiento proviene de las persona que tienen un profundo conocimiento de este deporte. Y ésta temporada fueron favorecidos tres Venezolanos.
Sporting News is a prestigious American sports magazine that gives out awards at the end of the Major League of Baseball (M.L.B.) season by means of a vote among fans, coaches and players to the most outstanding players and pitchers. Given the nature of the award, it can be said that such recognition comes from people who have a deep knowledge of the sport. And this season three Venezuelans were favored.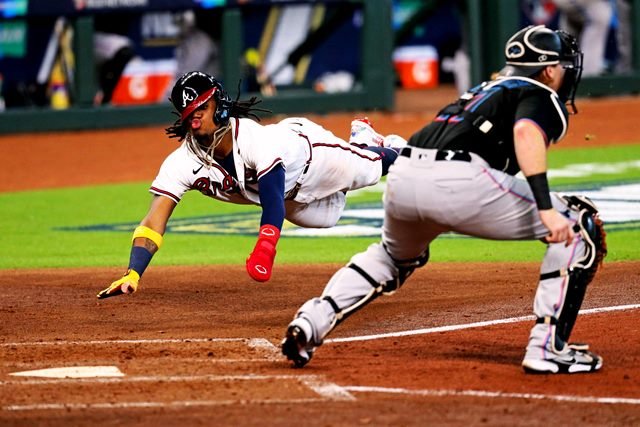 Ronald Acuña Jr.; fuente: Getty images in Versión Final

Ronald Acuña Jr.
     ¿Qué podemos decir sobre Ronald que ya no hayamos escrito? Este orgullo Venezolano nacido en La Guaira, fue seleccionado como outfielder en el Todos Estrellas de la Liga Nacional por votación. Con una línea ofensiva de .250 AVE/.406 OBP/.581 SLG; 14 jonrones; 155 OPS ajustado; 2.1 victorias sobre el reemplazo (WAR). Tales números no serían muy extraordinarios que digamos, sobre todo el averaje.
What can we say about Ronald that we have not already written? This proud Venezuelan born in La Guaira, was selected as an outfielder in the National League All Stars by vote. With an offensive line of .250 AVE/.406 OBP/.581 SLG; 14 home runs; 155 tight OPS; 2.1 wins over replacement (WAR). Such numbers would not be too extraordinary, especially the average.
     Muy bajo para un toletero estacionado en los jardines, el average no dice lo oportuno que fueron sus batazos y es ahí donde radicó la elección de quienes saben. Una vieja estadística desaparecida del mapa es la del batazo productor de la carrera ganadora del juego que, seguro estamos, pondría lo hecho por el guaireño en perspectiva. De allí su escogencia.
Very low for a towel rack parked in the gardens, the average doesn't say how timely his hits were and that's where the choice lies for those who know. An old statistic that has disappeared from the map is that of the hit that produced the winning race of the game, which, we are sure, would put what was done by the Guaireño into perspective. Hence his choice.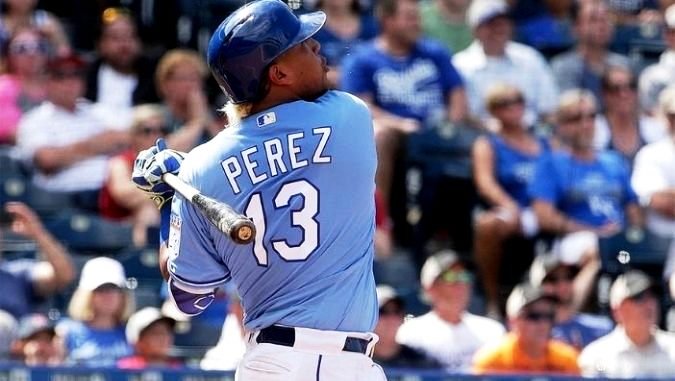 Salvador Pérez; fuente: Meridiano in A punto en línea

Salvador Pérez
     Savy como le llaman cariñosamente los estadounidenses a Pérez, fue escogido en la receptoría Todos Estrellas de la Liga Americana de Sporting News por los votantes. Y, de hecho, también quedó segundo en la votación de "Regreso del año" con 18 votos. Un mediocre 2.019 le hizo merecedor de la mención, pero este 2.020 fue diferente: .333 AVE/.353 OBP/.633 SLG; 11 jonrones; 161 OPS ajustado; 1.9 victorias sobre el reemplazo (WAR)
Savy, as Perez is affectionately called by Americans, was chosen in Sporting News's All-Star Receipt of American League by voters. And, in fact, he also came in second in the "Comeback of the Year" vote with 18 votes. A mediocre 2,019 earned him the mention, but this 2,020 was different: .333 AVE/.353 OBP/.633 SLG; 11 home runs; 161 OPS adjusted; 1.9 wins over replacement (WAR)
     Lo que llama la atención de Salvador fue el porcentaje de slugging, alto para un catcher y que da una idea de lo bueno que es. Esta estadística indica a un pelotero productivo que es muy efectivo cuando toma turnos al bate. Además es bien sabida la sapiencia con la que llama al juego, aunque este año la malograda rotación de los Reales fuera tan mala.
What caught Salvador's attention was the slugging percentage, which is high for a catcher and gives an idea of how good he is. This statistic indicates a productive baseball player who is very effective when taking turns at bat. Besides, it is well known the wisdom with which he calls the game, even if this year the bad rotation of the Royals was so bad.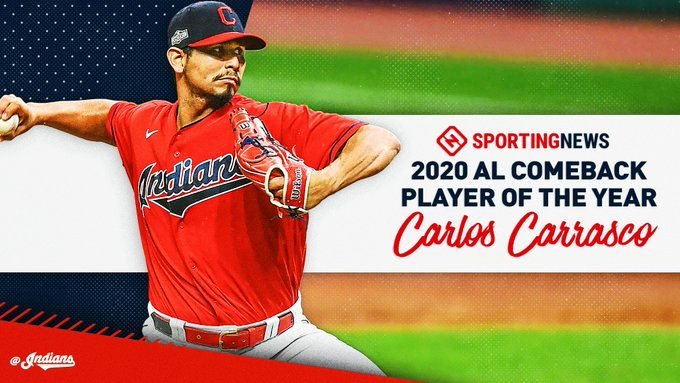 Carlos Carrasco, fuente: Tweet de los Indians

Carlos Carrasco
     Carlos tuvo una historia triste la temporada pasada, cuando fue diagnosticado con leucemia. Es el segundo Venezolano que regresa al juego luego de una enfermedad como esa, recordando al "Big Cat" Galarraga. De allí que había expectativa por lo que podía hacer esta temporada y no defraudó para nada: En 12 aperturas tuvo récord de 3-4 con efectividad de 2.91 y ponchó a 82 bateadores en 68 entradas de trabajo. Tuvo una efectividad ajustada de 1.59 y 1.6 victorias sobre el reemplazo (WAR)
Carlos had a sad story last season when he was diagnosed with leukemia. He is the second Venezuelan to return to the game after a disease like that, remembering "Big Cat" Galarraga. Hence, there was expectation for what he could do this season and he didn't disappoint at all: In 12 openings he had a 3-4 record with an effectiveness of 2.91 and struck out 82 stroke outs in 68 working innings. He had a tight 1.59 adjusted effectiveness and 1.6 win over replacement (WAR)
     Toda una novela con final feliz, al punto que los Mets de Nueva York andan detrás de su contrato. Dudamos que los Indios lo dejen ir, a menos que decidan reestructurar y deshacerse de su costosa firma. Con el "Regreso del Año" Carrasco se une a Andre Thornton (1.982) y Cliff Lee (2.008) como los únicos otros indígenas en recibir el premio. Honor a quien honor merece.
A whole novel with a happy ending, to the point that the New York Mets are behind their contract. We doubt the Indians will let him go, unless they decide to restructure and get rid of his expensive firm. With the "Return of the Year" Carrasco joins Andre Thornton (1982) and Cliff Lee (2008) as the only other Indians to receive the award. Honor to whom honor deserves.
P.S. English is not my native language, apologize for that.
I used a web translator for english text (DeepL)
     ¡Gracias por leer..! // Thanks for read..!

¿Quieres tener tu propio blog y la libertad financiera que significa
el mundo cripto? ¡Haz clic en la firma!
---
My social networks