Filadelfia sufre al "abusador" [ESP] // [ENG] Philadelphia suffers the "abuser" || OPINION

      Hay peloteros que causan intimidación con su sola presencia en home plate ¿Recuerda alguien a un tal Barry Bonds? Hubo un momento en su carrera en el que lo pasaban con tres compañeros en base, para no lanzarle. Así de intimidante era. Y no era para menos. Aunque manchó su hoja de vida con el problema de los esteroides, nadie podrá poner en duda que fue uno de esos peloteros que cualquiera quiere tener por compañero y jamás como oponente.
There are players who cause intimidation with their mere presence at home plate. Do you remember a certain Barry Bonds? There was a time in his career when he was passed with three teammates on base, so they wouldn't pitch to him. That's how intimidating he was. And no wonder. Although the stained his resume with the steroid problem, no one can doubt that he was one of those players that anyone would like to have as a teammate and never as an opponent.
      Pueden pensar que exagero y tendrían algo de razón ¿por qué? Bueno, éstos tipos por mucho que bateen, siempre fallarán al menos en 7 turnos al bate de cada 10 presentaciones en la caja de bateo. Y esto es así por estadística: ningún hombre en la historia ha bateado de por vida para .400 de average. Sin embargo, el asunto estadístico pasa a un segundo plano cuando de percepciones se trata. La estampa de un pelotero parado en la goma, puede poner a pensar de más a un lanzador. Recuerden que lo psicológico también juega un papel importante a favor de uno (bateador) u otro (lanzador).
You may think I'm exaggerating and you would be somewhat right why? Well, these guys, no matter how much they hit, will always miss at least 7 at-bats out of every 10 appearances in the batter's box. And this is statistically true: no man in history has ever hit for a lifetime .400 average. However, the statistical issue takes a back seat when it comes to perceptions. The sight of a player standing on the rubber can make a pitcher think too much. Remember that psychological factors also play an important role in favor of one (batter) or the other (a pitcher).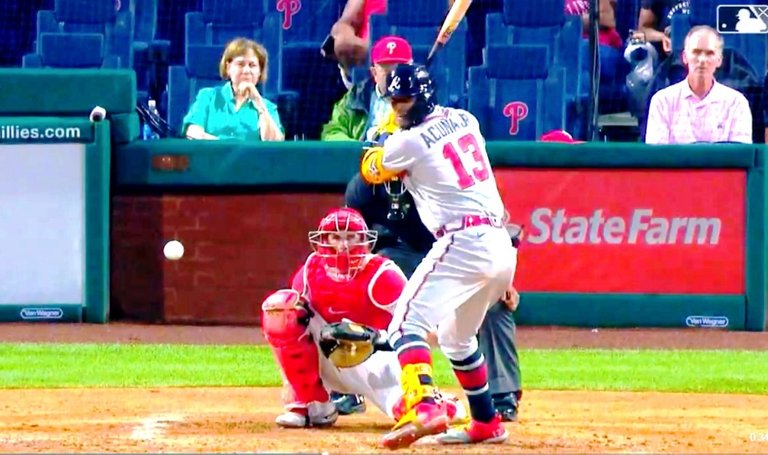 Screenshot from video by MLB

      Esta introducción es necesaria para entender cuanto de ello existe en Ronald Acuña Jr. Sin querer acortar distancias entre Barry y el "abusador" (mote con el cual es conocido Ronald en Venezuela), piensen en un momento la estampa del tipo acercándose a home. Es verdad, Acuña le falta mucho por demostrar, apenas comienza su carrera y jamás ha bateado para .300. Así, puede ser que ningún lanzador se intimide, pero el turno de anoche en Filadelfia pondría a pensar a cualquiera.
This introduction is necessary to understand how much of it there is in Ronald Acuña Jr. Without wanting to close the gap between Barry and the "abuser" (a nickname with which Ronald is known in Venezuela), think for a moment the stamp of the guy approaching home. It's true, Acuna has a lot to prove, he's just starting his career and has never hit .300. So, it may be that no pitcher is intimidated, but last night in Philadelphia would make anyone think.
      Cualquier lanzador que tenga enfrente un tipo de éstas características, querrá abrir el turno con strike porque así se pondría en ventaja en el conteo y bajaría la presión en su mente. Digamos que el abridor de Filadelfia tenía esto en mente y le lanzó una cutter para abrir el turno la cual se quedó en el medio del plato. A continuación el swing de gradas que hizo Ronald, envió la pelota a una distancia de 460 pies del home plate, en la penúltima fila de asientos en las gradas del Citizens Bank Park.
Any pitcher facing such a guy would want to open the inning with a strike because it would put him ahead in the count and take the pressure off his mind. Let's say the Philadelphia starter had this in mind and threw him a cutter to open the shift which stayed in the middle of the plate. Next Ronald's bleacher swing sent the ball 460 feet away from home plate, into the next-to-last row of seats in the bleachers at Citizens Bank Park.
      Con el batazo, empató el liderato de jonrones en las Grandes Ligas. Pero queda para el registro su excepcional swing y una actuación que ayudó a los Bravos a continuar su persecución de los líderes Mets: le faltó solamente el triple para batear el ciclo con 3 hits en cuatro turnos, remolcó tres carreras y obtuvo una base por bolas. En los últimos 7 juegos batea para una línea de .320 AVE / .485 OBP / .640 SLG
With the hit, he tied the major league home run leader. But it remains for the record his exceptional swing and performance that helped the Braves to continue their chase of the leaders Mets: he just missed the triple to hit the cycle with 3 hits in four innings, towed three runs and got a base on balls. In the last 7 games he is hitting for a .320 AVE / .485 OBP / .640 SLG line.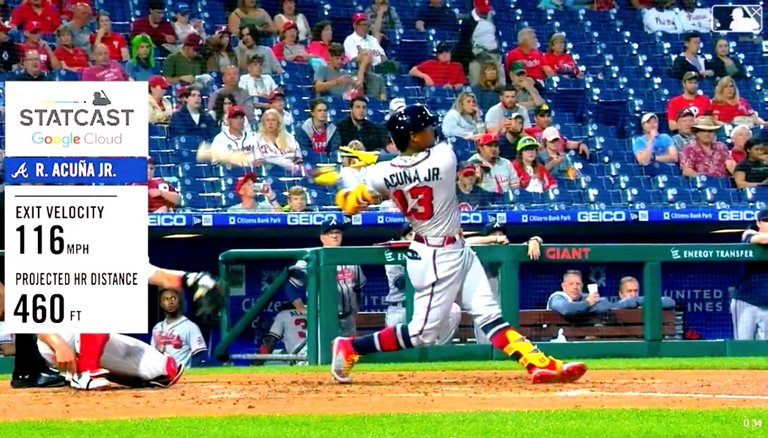 Screenshot from video by MLB

      Y ésta serie en Filadelfia es importante porque es un rival de la división que, a su vez le persigue. Hay dos problemas, sin embargo, que sigue aquejando la ofensiva de Acuña: la regularidad o consistencia porque tiende a caer en baches ofensivos y antes del jonrón de ayer, tenía varios juegos sin sacarla del parque; además, su baja en el renglón de bases robadas estacionado en 11 cuando ya van dos meses y una semana de temporada transcurrida. Y ya el frío no sería una excusa.
And this series in Philadelphia is important because it is a division rival that, in turn, is chasing him. There are two problems, however, that continue to plague Acuña's offense: regularity or consistency because he tends to fall into offensive slumps and before yesterday's home run, he had several games without knocking it out of the park; also, his drop in stolen bases is at 11 when two months and one week of the season have elapsed. And the cold would no longer be an excuse.
      De cualquier modo, el chico está llamado a buscar mejor rendimiento, las condiciones las tiene y luego de verlo sacar esa pelota de jonrón anoche, no me queda dudas que solo el tiempo de maduración de alguien todavía joven, hará que llegue a esa etapa donde se convertirá en el terror de los lanzadores, si es que ya no lo es. Hasta la próxima entrega.
Anyway, the kid is called to look for better performance, he has the conditions and after seeing him hit that home run ball last night, I have no doubt that only the maturation time of someone still young, will make him reach that stage where he will become the terror of pitchers if he is not already. Until the next delivery.
ACTUALIZACION // UPDATE
Sobre el jonrón de Acuña en twitter // About Acuña's home run at twitter
MLB // NASA
https://twitter.com/NASA_es/status/1402633105773678593
P.S. English is not my native language, apologize for that.
I used a web translator for english text (DeepL)
---
---