Somos de los que piensan: "Si el 100% de las personas en el mundo conocieran el béisbol, la humanidad tendría una oportunidad" Una frase apócrifa que se nos ha ocurrido para ilustrar las emociones que brinda el juego de pelota. Y aunque pueda resultar banal, también indica los sesudos debates a los que llegan ambas ramas de los analistas sobre el juego de béisbol: los conservadores y los sabermetricos.
We are the ones who think: "If 100% of the people in the world knew about baseball, humanity would have a chance " An apocryphal phrase that has occurred to us to illustrate the emotions that the ball game offers. And although it may seem banal, it also indicates the heated debates that both branches of analysts reach about the game of baseball: the conservatives and the sabermetrics.
     Para colocar en perspectiva el tema, digamos que los conservadores son aquellos analistas que prefieren dejarse guiar por la experiencia y el "sexto sentido" cuando se trata de juzgar la labor de un hombre en el campo de juego; por el contrario, los analistas sabermetricos prefieren la "frialdad" de las estadísticas y los números expresados en índices creados recientemente con la finalidad de dar una justa dimensión al desempeño del profesional de ligas mayores.
To put the issue in perspective, let's say that conservatives are those analysts who prefer to be guided by experience and the "sixth sense" when it comes to judging a man's work on the field; on the contrary, sabermetric analysts prefer the "coldness" of statistics and numbers expressed in recently created indexes in order to give a fair dimension to the performance of the major league professional.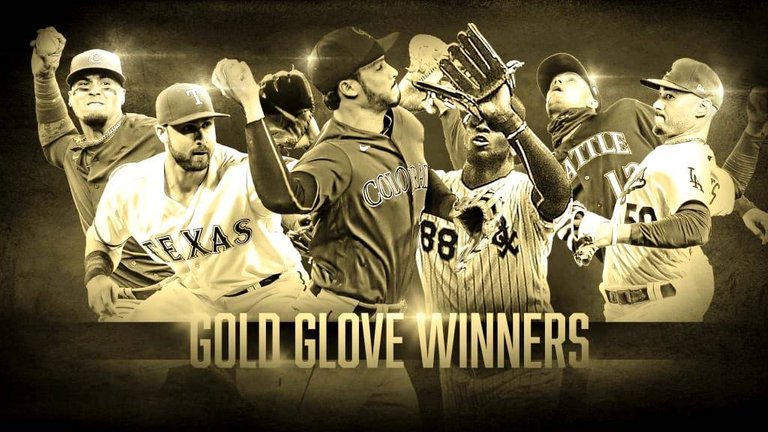 Aclarado el tema, la empresa Rawlings -fabricante de implementos deportivos- anunció los ganadores del premio que patrocinan cada año el día de ayer: El Guante de Oro en su edición 2.020. Y es la manera como se eligió éste año a los jugadores ganadores, lo que ha encendido el debate de ambas corrientes de analistas: los laureados fueron aquellos fildeadores que encabezaron el índice Defensivo de la Sociedad para la investigación del Béisbol estadounidense.
Having clarified the subject, the company Rawlings -sports equipment manufacturer- announced the winners of the prize that they sponsor every year yesterday: The Golden Glove in 2.020 edition. And it is the way in which the winning players were chosen this year, which has ignited the debate of both currents of analysts: the laureates were those players who headed the Defensive Index of the Society for the research of the American Baseball.
     ¿Por qué? Baste saber que hasta el año pasado, los jugadores managers y coaches votaron para elegir y el índice mencionado sólo representaba el 25% del peso del voto total. Justo es decir también, que los impedimentos para reunir los votos de todos los involucrados, vieron en la pandemia y las medidas de cuarentena su peor enemigo. Al acortar la campaña de béisbol, tampoco se tuvo el tiempo necesario para recurrir al mecanismo tradicional.
Why? Suffice it to say that until last year, players, managers and coaches voted to choose and the aforementioned rate only represented 25% of the total vote. It is also fair to say that the impediments to gather the votes of all involved, saw the pandemic and quarantine measures as their worst enemy. By shortening the baseball campaign, there was also not enough time to resort to the traditional mechanism.
     Así que la citada empresa decidió apelar a la menos problemática de las soluciones y basó la escogencia que nos entregó a un solo Venezolano dentro de los escogidos: el segunda base de los Indios de Cleveland César Hernández, quien solo pifió 4 veces a lo largo de 58 partidos jugados en esa posición del terreno. Otros candidatos de la tierra de Bolívar fueron: los jardineros Ronald Acuña y David Peralta, el catcher Willson Contreras, los infielders Miguel Rojas y Anthony Santander.
So the company decided to appeal to the least problematic of solutions and based its choice on one Venezuelan among those chosen: the second baseman of the Cleveland Indians, César Hernández, who only missed four times in 58 games played in that position. Other candidates from Bolivar's homeland were outfielders Ronald Acuña and David Peralta, the catcher Willson Contreras, infielders Miguel Rojas and Anthony Santander.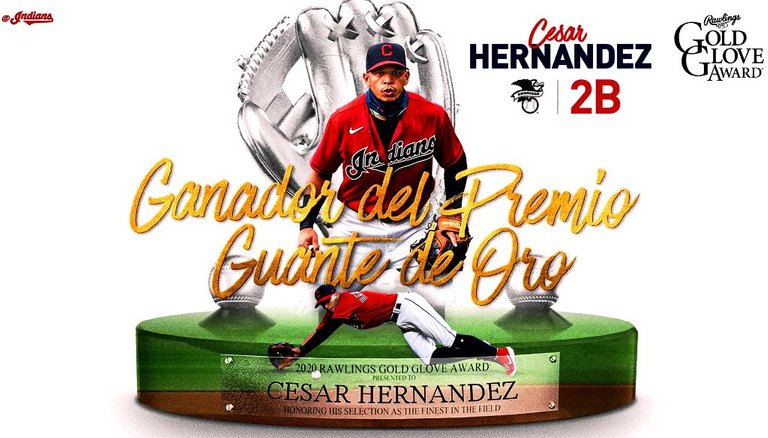 No nos corresponde juzgar a alguien que patrocina el premio entregado. La manera como desea hacerlo es de su sola incumbencia. Creemos en los mecanismos de participación que le entrega un sesgo menos "frío" al resultado, pero está más que justificado -por éste año- el mecanismo de escogencia. Lamentamos dar cuenta de la pérdida de protagonismo de los Venezolanos en el shortstop, una posición en la cual habían reinado por décadas.
It is not our place to judge someone who sponsors the prize given. How you wish to do so is entirely up to you. We believe in the mechanisms of participation that give a less "cold" bias to the result, but it is more than justified - for this year - the mechanism of selection. We regret to note the loss of prominence of Venezuelans in the shortstop, a position in which they had reigned for decades.
     Nos parece interesante uno de los índices aceptados y es el de número de carreras evitadas con los lances de los fildeadores; cualquiera estará de acuerdo que es un número inequívoco de la calidad de un jugador a la defensa. Quizás las elecciones del pasado fueron privilegiadas por lo mediático del jugador y esa es la parte que aplaudimos de los resultados de este año. En el siguiente enlace consigue la lista entera de ganadores.
We find one of the accepted indices interesting and that is the number of runs avoided with the shooters' throws; anyone will agree that it is an unmistakable number of a player's quality to the defense. Perhaps the choices of the past were privileged by the media of the player and that is the part that we applaud of the results of this year. At next link get the entire list of winners.
P.S. English is not my native language, apologize for that. I used a web translator
for english text (DeepL), the fonts are embedded in the images
     ¡Gracias por leer..! // Thanks for read..!
Las fuentes están incrustadas en las imágenes

¿Quieres tener tu propio blog y la libertad financiera que significa
el mundo cripto? ¡Haz clic en la firma!
---
My social networks