Debo confesar algo que me atormenta cuando veo una serie mundial sin la participación o con muy poco protagonismo de los Venezolanos: me fastidia. Puede parecer nihilista o banal, como quieran ponerlo. Sin embargo, decidí echar a un lado ese sentimiento y nos hemos sentado a ver los juegos. En primer lugar, porque me encanta el béisbol y en segundo lugar, porque siempre he sentido predilección por los equipos del estado de la Florida.
I must confess something that torments me when I watch a world series without the participation or with very little protagonism of the Venezuelans: it bothers me. It can seem nihilistic or banal, as you want to put it. However, I decided to put that feeling aside and we sat down to watch the games. First, because I love baseball and second, because I have always had a predilection for Florida state teams.
     Los Dodgers de Los Ángeles asisten por cuarta vez en los últimos 10 años al clásico de Octubre y los Rays de Tampa Bay al segundo clásico de su corta historia. Recuerden éste último equipo debutó con la última expansión de las Grandes ligas. El favorito de las casas de apuestas es el equipo angelino por un amplio margen. Sin embargo, lo que vimos en los dos primeros juegos, dice mucho sobre una serie que se encuentra más nivelada de lo que parece.
The Los Angeles Dodgers attend the October classic for the fourth time in the last 10 years and the Tampa Bay Rays attend the second classic in their short history. Remember this last team debuted with the last major league expansion. The favorite of the bookmakers is the Angelino team by a wide margin. However, what we saw in the first two games, says a lot about a series that is more level than it seems.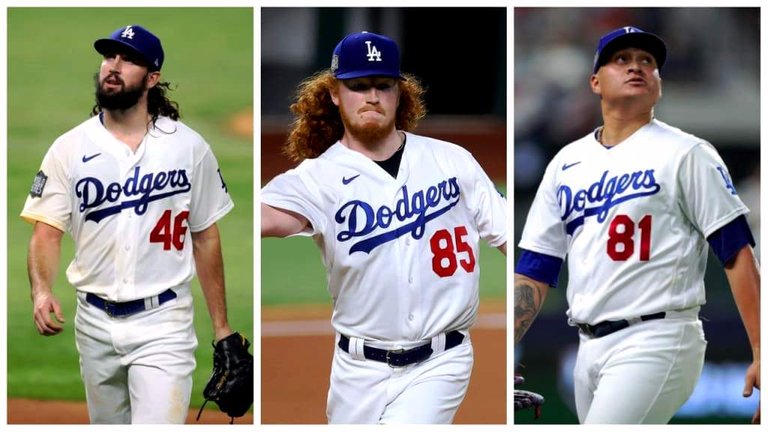 Fuente / Source: M.L.B.

     Y para quienes creen que es una cuestión de dinero, estar entre los grandes, sólo diremos que dos peloteros de Los Ángeles tienen un valor por su firma, mayor al que tiene toda la nómina de los Rays ¿Cuestión de dinero? Veamos.
And for those who think it's a question of money, to be among the greats, we'll just say that two Los Angeles ballplayers have a signature value greater than the entire Rays' roster. Money's question? Let's see.
     En el primer juego de la serie, el dinero funcionó. Un discreto Kershaw, junto al bullpen diseminaron 3 carreras del equipo contrario y la toletería de Los Ángeles encabezada por Bellinger, hizo de las suyas para colocar ocho carreras en el marcador. Aún así, la pregunta que se hizo un analista de MLB fue ¿Puede el pitcheo abridor de los Dodgers, aguantar los bates de Tampa?
In the first game of the series, the money worked. A discreet Kershaw, along with the bullpen, scattered three runs from the opposing team and the Los Angeles touchdown led by Bellinger, did its part to put eight runs on the scoreboard. Still, the question one MLB analyst asked himself was, can the Dodgers' opening pitch hold the Tampa bats?
     En el segundo juego, la torta cambió de sitio y la toletería de los Rays impusieron un récord de jonrones en postemporada, el bullpen del equipo aguantó y las Rayas se llevaron el partido con un marcador de seis carreras por cuatro. Otro avezado analista de ESPN se preguntó ¿Podrá Tampa llevarse la serie a punta de batazos de circuito completo?
In the second game, the cake shifted and the Rays' touchdown set a record for home runs in the postseason, the team's bullpen held out and the Rays took the game by a score of six runs to four. Another seasoned ESPN analyst wondered if Tampa could take the series on full circuit hits?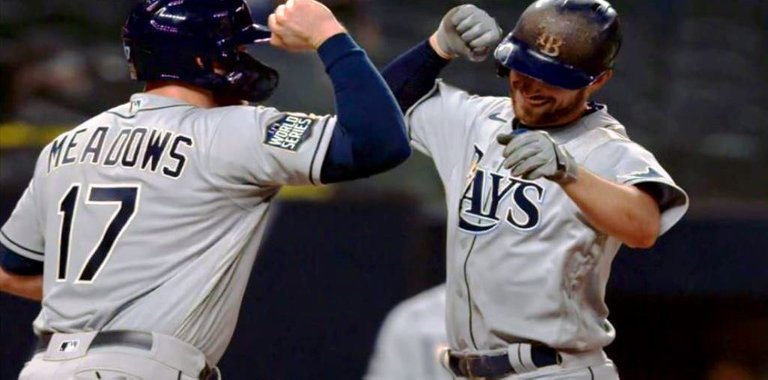 Fuente / Source: Captura de pantalla a partir de un vídeo de M.L.B.
Screenshot from a video of M.L.B.

     Y no es que Mookie Betts y compañía no tengan lo suyo, pero habiendo tantas dudas sembradas en el pitcheo de Los Ángeles, preguntas que no estaban planteadas ANTES de comenzar la serie y demostrada como estaba la consistencia del cuerpo abridor, pues, digamos, que la casas de apuestas ya no están tan seguras de lo que pueden lograr los Dodgers.
And it's not that Mookie Betts and company don't have their stuff, but with so many doubts planted in the Los Angeles pitching, questions that weren't asked BEFORE the series began and demonstrated how consistent the opening body was. Well, let's just say that the bookmakers are no longer so sure of what the Dodgers can achieve.
     Con Walker Buehler en la lomita por los Dodgers y Charlie Morton por Tampa, el tercer partido se jugará mañana Viernes en estadio neutral, como han sido los playoff, por las medidas del Covid. Y si Charlie lanza como lo ha hecho en postemporada, los bates de los Rays tienen mucha oportunidad contra Buehler. Con lo que la premisa de que el dinero compra todo, incluso una serie mundial, quedaría en entredicho. Con la serie nivelada a 1 por lado, estoy seguro que estas tres entregas (una por cada tercio de la serie) se escribirán.
With Walker Buehler on the mound for the Dodgers and Charlie Morton for Tampa, the third game will be played tomorrow, Friday, in a neutral stadium, as has been the case in the playoffs, due to Covid's measures. And if Charlie throws like he has in the postseason, the Rays' bats have a good chance against Buehler. So the premise that money buys everything, even a world series, would be called into question. With the series leveled at 1 per side, I'm sure these three installments (one for each third of the series) will be written.
P.S. English is not my native language, apologize for that.
I used a web translator for english text (DeepL)
     ¡Gracias por leer..! // Thanks for read..!

¿Quieres tener tu propio blog y la libertad financiera que significa
el mundo cripto? ¡Haz clic en la firma!
---
My social networks