¿Recuerdan el último párrafo de la primera entrega de ésta serie? Hagamos memoria: decía en él que Charlie Morton tenía una estupenda oportunidad de colocar a los Ray adelante en la serie mundial, después de todo, tenía hasta ese momento record de 3-0 y 0.57 de efectividad acumulada en la postemporada (serie divisional y serie de liga). Y como la pelota es redonda, simplemente, nuestros vaticinios se fueron al piso en el juego 3 de este emocionante final de temporada.
Do you remember the last paragraph of the first delivery of this series? Let's remember: it said in it that Charlie Morton had a great opportunity to place the Ray's ahead in the world series, after all, he had until that moment a record of 3-0 and 0.57 of accumulated effectiveness in the postseason (divisional series and league series). And because the ball is round, our predictions simply went down in game 3 of this exciting season finale.
     Y decimos emocionante porque era lo menos que esperábamos, visto el amplio favoritismo del que gozaban los Dodgers antes de comenzar todo. A decir verdad, esperaba que el equipo de Los Ángeles liquidara la serie en cuatros juegos seguidos. Pero eso fue subestimar mucho a Tampa. Menos mal que no me dediqué a ser apostador. Como quiera que termine la serie, en este momento favorable a los Dodgers 3-2 sobre los Rays, algo va a quedar claro: se ratifica el lugar común sobre que nada puede decirse hasta que cae el out 27.
And we say exciting because it was the least we expected, given the widespread favoritism that the Dodgers enjoyed before everything started. To tell you the truth, I expected the Los Angeles team to kill the series in four games in a row. But that was a big underestimate of Tampa. It's a good thing I didn't become a gambler. However the series ends, at this pro-Dodger 3-2 moment over the Rays, one thing will be clear: the commonplace that nothing can be said until out 27 falls is ratified.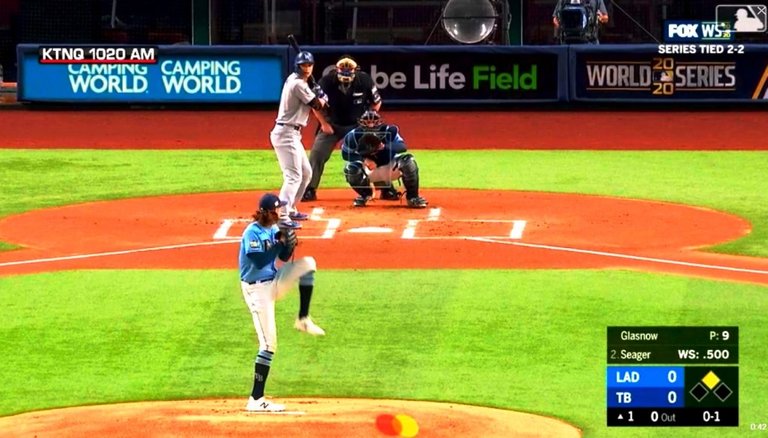 Captura de pantalla en vídeo emitido por FOX y propiedad de M.L.B.
Screenshot in video broadcast by FOX and owned by M.L.B.

     Y es que en el juego 3 los bates de los Dodgers le dijeron a Charlie Morton que su racha no continuaría y lo mandaron a las regaderas con cinco carreras en la gorra en cuatro episodios y un tercio de labor. Bellinger y compañía se encargaron de encaminar a Los Ángeles a una inesperada victoria, teniendo en cuenta los pliegos presentados por el abridor de Tampa. No fue su noche y eso le costó un partido clave a los Rays. Visto en perspectiva, si los Dodgers finalmente se coronan, este juego número tres se convertirá en el partido "bisagra" de la serie. 6-2 fue el marcador final del partido.
In game 3, the Dodger bats told Charlie Morton that his streak would not continue and sent him to the showers with five runs in the cap in four episodes and a third of labor. Bellinger and company set Los Angeles on the road to an unexpected victory, considering the sheets presented by the Tampa opener. It wasn't their night and it cost the Rays a key game. Put in perspective, if the Dodgers are finally crowned, this game number three will become the "hinge" game of the series. 6-2 was the final score of the game.
     ¡Claro! Es muy sencillo analizar luego de los resultados, pero todo indicaba que el juego 4 ratificaría el buen momento de Los Ángeles y si existiría un partido para los Rays donde necesitaban un milagro, sería éste. Y el milagro se dió. No recordábamos finales emocionantes desde la época de la "gran maquinaria roja"; sin embargo, el drama del noveno episodio nos hizo evocar aquella época. Imaginen el escenario: Tampa abajo por una y con hombres en primera y segunda base, además de dos out en la pizarra y el novato Brett Phillips al bate ¿me siguen?
Of course! It is very simple to analyze after the results, but everything indicated that game 4 would ratify the good moment of Los Angeles and if there would be a game for the Rays where they needed a miracle, it would be this one. And the miracle happened. We did not remember exciting endings since the time of the "great red machine"; however, the drama of the ninth episode made us evoke that time. Imagine the scenario: Tampa down by one with men on first and second base, plus two out on the board and rookie Brett Phillips at bat, follow me?
     Lo siguiente que pasa en el juego parece sacado de un libro de novela: en dos strikes, el novato Brett saca un batazo de hit al jardín central y el mánager de Los Ángeles debe haber lamentado el cambio temporal de jardineros, en lugar de Bellinger (quien jugó en el derecho) estaba Mookie Betts en el central y perdió la pelota en el fildeo, el hombre de segunda anota y el tiro de Betts llega a manos del pitcher, entre tanto el cubano Arozarena (quien era el corredor en primera) había cruzado la tercera rumbo a home, pero se cayó en el trayecto agregando drama, inexplicablemente el pitcher le lanza mal la bola al catcher para esperar al corredor y éste la pierde, el cubano se recupera y reinicia la carrera hacia el home, se lanza de cabeza y el partido acaba increíblemente con los Rays dejando en el terreno a los Dodgers 8x7 ¿no es lindo el béisbol?
The next thing that happens in the game looks like something out of a novel: In two strikes, rookie Brett takes a hit to center field and the L.A. manager must have regretted the temporary change of outfielders, instead of Bellinger (who played right) there was Mookie Betts in center and lost the ball on the field, the second-half man scores and Betts' shot goes to the pitcher, Meanwhile, the Cuban Arozarena (who was the runner at first) had crossed the third line to home, but he fell on the way adding drama, inexplicably the pitcher throws the ball badly to the catcher to wait for the runner and the latter loses it, the Cuban recovers and restarts the race to home, throws himself head first and the game ends incredibly with the Rays leaving the Dodgers on the field 8x7, Isn't baseball nice?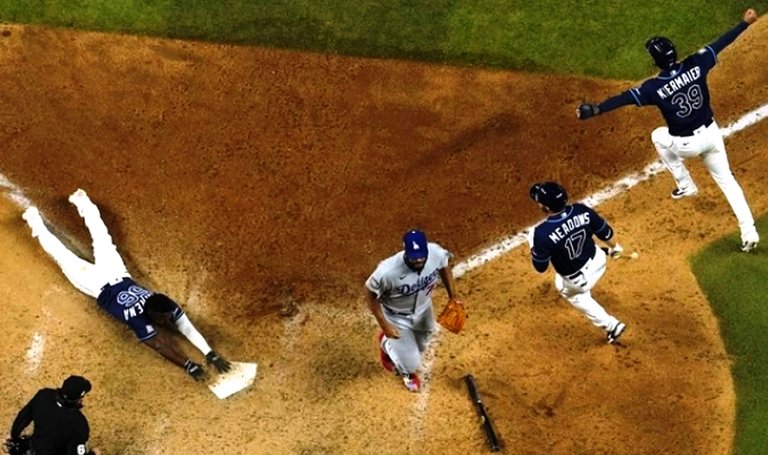 Fuente / Source: Meridiano por AP

     El Global Life Field de Arlington TX, acogió el drama del juego número cinco, significado en la victoria obtenida por Tampa ¿Quién no apostaría por tamaño empujón anímico? Sólo que los Dodgers tenían otros planes y Clayton Kershaw dejó el mal momento que vivió en los playoff, para convertirse en el líder que Los Ángeles firmaron. 5 actos de calidad y un bullpen protagonista, limitaron las posibles amenazas de los bates de Tampa y colocaron a los Dodgers en la puerta de la gloria: 4 carreras por dos y la mesa está servida para el juego 6, mañana Martes con los anunciados abridores Blake Snell(2-2) por Rays y Tony Gonsolin (0-2) por Los Ángeles.
The Global Life Field of Arlington TX, hosted the drama of game number five, meant in the victory obtained by Tampa. Who would not bet on the size of the soul push? Only that the Dodgers had other plans and Clayton Kershaw left the bad timing he experienced in the playoffs, to become the leader Los Angeles signed on to. Five quality acts and a starring bullpen limited the possible threats from the Tampa bats and placed the Dodgers at the gate of glory: four runs for two and the table is set for game 6, tomorrow Tuesday with the announced openers Blake Snell(2-2) by Rays and Tony Gonsolin (0-2) by Los Angeles.
     Tal como confesé en la entrega anterior, sobre la animadversión que sentía por la falta de protagonistas criollos, al momento de escribir esta nota tengo que decir lo contrario: doy gracias por haber tomado la decisión de ver la serie. Me ha traído muy buenos recuerdos y la cantidad de registros rotos parece no detenerse. Es posible que una campaña corta y peloteros menos "cansados" hayan traído estos resultados, puesto que la cantidad de juegos hechos incluyendo la postemporada, no sumaría la mitad de una temporada normal. Tal vez el béisbol, necesitaba una temporada de descanso.
As I confessed in the previous installment, about the animosity I felt for the lack of Creole protagonists, at the time of writing this note I have to say the opposite: I am grateful for having made the decision to watch the series. It has brought back very good memories and the amount of broken records does not seem to stop. It is possible that a short campaign and less tired ballplayers have brought these results, since the amount of games made including the postseason, would not add up to half of a normal season. Perhaps baseball needed a rest season.
P.S. English is not my native language, apologize for that.
I used a web translator for english text (DeepL)
     ¡Gracias por leer..! // Thanks for read..!

¿Quieres tener tu propio blog y la libertad financiera que significa
el mundo cripto? ¡Haz clic en la firma!
---
My social networks