Es sumamente difícil para mí, confesar algo muy íntimo de mi vida a través de un escrito. Es por ello que doy gracias a @gaborockstar por haber sugerido su iniciativa y la oportunidad de quitarme este peso de encima. Escribir suele ser terapéutico y por ello he tomado el atrevimiento de seguir sacando trapos de mi vida personal a mis estimados socios de #Hive, para que puedan juzgar a este servidor.
It is extremely difficult for me to confess something very intimate in my life through writing. That's why I thank @gaborockstar for suggesting their initiative and the opportunity to take this weight off my shoulders. Writing is usually therapeutic and so I have taken the liberty of continuing to remove rags from my personal life to my dear #Hive members, so that they can judge this server.
     Hace muchos años, el "Rey" David Concepción era el pelotero venezolano más destacado en las Grandes Ligas, jugaba para los Rojos de Cincinnati pero, acá en Venezuela, estaba firmado para los Tigres de Aragua. Así que, muchacho como era, el primer equipo del que fui fanático no eran mis gloriosos e inmarcesibles Leones del Caracas, no señor. Cada vez que jugábamos las caimaneras infantiles, todos queríamos ser Concepción. Y esa era la razón de mi fanatismo por los Bengalíes. Pero hubo dos detalles en ese fanatismo.
Many years ago, the "King" David Concepción was the most prominent Venezuelan player in the Major Leagues, he played for the Cincinnati Reds but, here in Venezuela, he was signed to the Aragua Tigers. So, boy as I was, the first team I was a fan of was not my glorious and unfading Caracas Lions, no sir. Every time we played the children's caimaneras, we all wanted to be Concepción. And that was the reason for my fanaticism for the Bengals. But there was a two details in that fanaticism.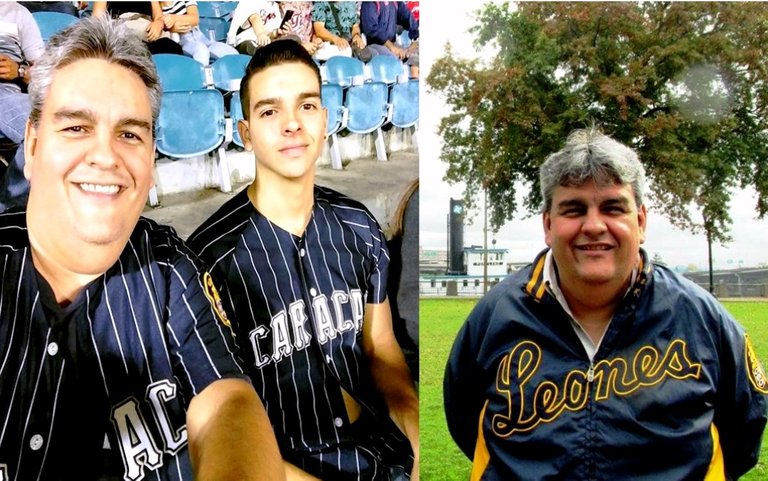 Imágenes editadas en Power Point tomadas por @fermionico y @psico (respectivamente) en el estadio José Pérez Colmenares en Maracay, Aragua, Venezuela y en el Tom McCall Waterfront Park, Portland, OR, U.S.A.

     El primer detalle era que los Tigres no salían de ser un equipo que perdía casi todo el tiempo ¿A que niño le gusta un equipo perdedor? Obviamente, con el tiempo eso cambió...los Tigres fueron el equipo más ganador en la década del 90', pero ya el daño estaba hecho en mi herido orgullo finalizando la década de los 70' e inicios de los 80'; paralelamente, el segundo detalle: comenzaba a despuntar otro pelotero dentro de los Venezolanos en la liga mayor.
The first detail was that the Tigers were a team that was losing almost all the time. What kid likes a losing team? Obviously, with time that changed...the Tigers were the most winning team in the 90's, but the damage was already done to my wounded pride at the end of the 70's and beginning of the 80's; at the same time, the second detail: another ballplayer was beginning to emerge within the Venezuelan group in the major league.
     ¿Su nombre? Antonio "Tony" Armas. Antonio, en su mejor momento, jugaba para los Medias Rojas de Boston, era su cuarto bate y adivinen...sí, en la pelota de invierno, su firma era de los Leones del Caracas. Así que, todavía yo adolescente, fue fácil predecir adonde se inclinaron mis preferencias desde entonces. Los largos batazos por encima del "Monstruo Verde", le dieron vida a una idolatría por "Tony" y por los "Melenudos" que hasta hoy permanece conmigo.
What is your name? Antonio "Tony" Armas. Antonio, in his prime, played for the Boston Red Sox, it was his fourth bat and guess what? yes, on the winter ball, his signature was the Lions of Caracas. So, even as a teenager, it was easy to predict where my preferences would lean from then on. The long hits over the "Green Monster", gave life to an idolatry for "Tony" and for the "Melenudos" that remains with me to this day.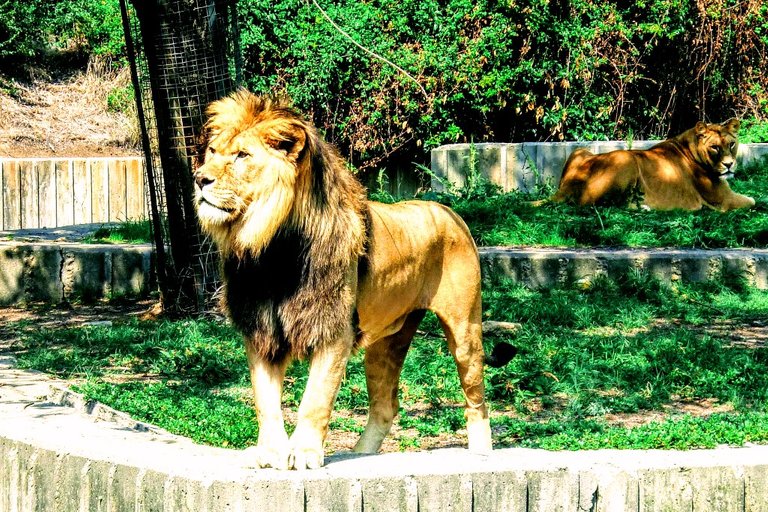 "Leeeón, león,león, león...", capturada por @fermionico con cámara:
Panasonic DMC-S1 en Zoológico de Madrid, Madrid, España

     Tengo un muy largo anecdotario con mi equipo, principalmente, porque siempre he sido alguien que le gusta ir al estadio. En una oportunidad, mi hermano Alberto, fanático de los Tiburones de La Guaira, tenía acceso a la junta directiva de ese equipo y en el Estadio Universitario pude conocer personalmente a "Tony" Armas ¡Imaginen la emoción! El tipo que devolvió 43 pelotas a las gradas, en la temporada 1.984 para quedar líder en las ligas mayores entre los jonroneros ¡me daba la mano! Demás está decir que Antonio es un tipo sin poses y humilde a carta cabal.
I have a very long anecdote with my team, mainly because I have always been someone who likes to go to the stadium. On one occasion, my brother Alberto, a fan of the La Guaira Sharks, has access to the board of directors of that team and on one opportunity at the Universitario I was able to meet "Tony" Armas personally. The guy who returned 43 balls to the stands in the 1984 season to lead the major leagues among home run players shook my hand! Needless to say, Antonio is a guy without poses and humble to a fault.
     En otra oportunidad, nos encontrábamos en el sitio VIP del estadio Universitario de Caracas y en un gesto de enorme desprendimiento, el careta titular del Caracas Henry Blanco obsequió un bate de béisbol firmado por él a mis hijos. De inmediato, el bate se convirtió en el protagonista de las caimaneras de mis hijos y sus amigos. Recuerdo que mi padre no le gustaba el béisbol y jamás nos llevó al estadio. Pero eso no se repitió con mis hijos, quienes me acompañaron muchas veces a ver los juegos de pelota en vivo. Incluso, recuerdo haber ido junto con ellos, a ver jugar a Bob "Comedulce" Abreu con los Filis de Filadelfia contra los Marlins de Florida en el antiguo parque de los "Dolphins de Miami", hoy convertido en el Hard Rock Stadium.
On another occasion, we were at the VIP site of the University of Caracas Stadium and in a gesture of enormous detachment, the Caracas' starter's mask Henry Blanco gave my children a baseball bat signed by him. Immediately, the bat became the protagonist of the caimaneras of my children and their friends. I remember that my father did not like baseball and never took us to the stadium. But that was not repeated with my children, who accompanied me many times to see the ball games live. I even remember going with them to see Bob "Comedulce" Abreu play with the Philadelphia Phillies against the Florida Marlins in the former "Miami Dolphins" park, now Hard Rock Stadium.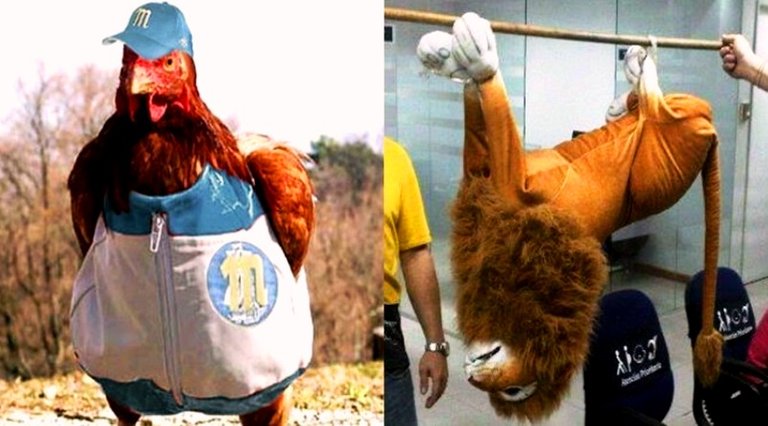 Composición de imágenes en Power Point, provenientes de memes con origen desconocido
Composition of Power Point images from memes of unknown origin

     La rivalidad entre el Caracas y el Magallanes (ambos equipos de la liga invernal Venezolana) ha sido proverbial. Y los memes que adornan esta publicación lo atestiguan. Cuestiones como que el Caracas haya dominado todos los juegos de la serie particular en el año 79' o que el Magallanes le haya ganado dos series finales al equipo de la capital, se han convertido en el aderezo principal para tan enconado desacuerdo. Pero siempre en un marco de camaradería, porque el Venezolano es así: echador de bromas hasta más no poder.
The rivalry between Caracas and Magallanes (both teams in the Venezuelan winter league) has been proverbial. And the memes that adorn this publication attest to it. Issues such as Caracas dominating all the games of the particular series in 79' or Magallanes winning two final series against the team from the capital, have become the main dressing for such a bitter disagreement. But always in a framework of comradeship, because the Venezuelan is like that: a joker to the core.
     Solo estoy esperando que termine la pandemia y las cosas vuelvan a su lugar, para uniformarme e ir al estadio para apoyar al equipo. Créanme cuando les digo que es una de las cosas que más disfruto.
I'm just waiting for the pandemic to end and things to go back to their place, to get into uniform and go to the stadium to support the team. Believe me when I tell you that this is one of the things I enjoy most.
P.S. English is not my native language, apologize for that.
I used a web translator for english text (DeepL)
     ¡Gracias por leer..! // Thanks for read..!

¿Quieres tener tu propio blog y la libertad financiera que significa
el mundo cripto? ¡Haz clic en la firma!
---
My social networks