Lo bueno de ver a Miguel Cabrera en el nuevo rol como bateador designado de los Tigres de Detroit, es la toma de un segundo aire para el pelotero veterano que se acerca al final de su carrera. Y es que el nativo de Maracay hará historia de un modo u otro al pararse en el home-plate desde que comenzó esta temporada y hasta que llegue el momento de decir: "No más, hasta aquí he llegado" Y cuando eso pase, ya podrá haber pasado al primer lugar en muchos departamento vitalicios entre los peloteros venezolanos en las ligas mayores.
The good thing about seeing Miguel Cabrera in his new role as the Detroit Tigers' designated hitter is the second wind for a veteran baseball player nearing the end of his career. The Maracay native will make history one way or another by standing on the home-plate from the beginning of this season until the time comes to say: ""No more, this is it"" And when that happens, he may already have moved up to first place in many departments for life among Venezuelan ballplayers in Majors Leagues.
     ¿No creen que tiene un segundo aire? Por segunda noche consecutiva, puso a volar la pelota. Pero esta vez fue diferente: un primer bambinazo para empujar tres carreras y marcar su jonrón No. 485 con el cual llegó a la carrera anotada número 1.200 con la franela de los Tigres de Detroit. Algo que solo han hecho: Ty Cobb, Al Kaline, Harry Heilmann, Charlie Gehringer, Sam Crawford y Hank Greenberg; todos miembros de los bengalíes y en el salón de la fama del béisbol.
Don't you think he has a second wind? For the second night in a row, he put the ball in the air. But this time it was different: a first "Bam" to push three runs and score his 485th home run to reach the 1,200th run scored with the Detroit Tigers' flannel. Something only Ty Cobb, Al Kaline, Harry Heilmann, Charlie Gehringer, Sam Crawford and Hank Greenberg have done, all members of the Bengalis and the baseball hall of fame.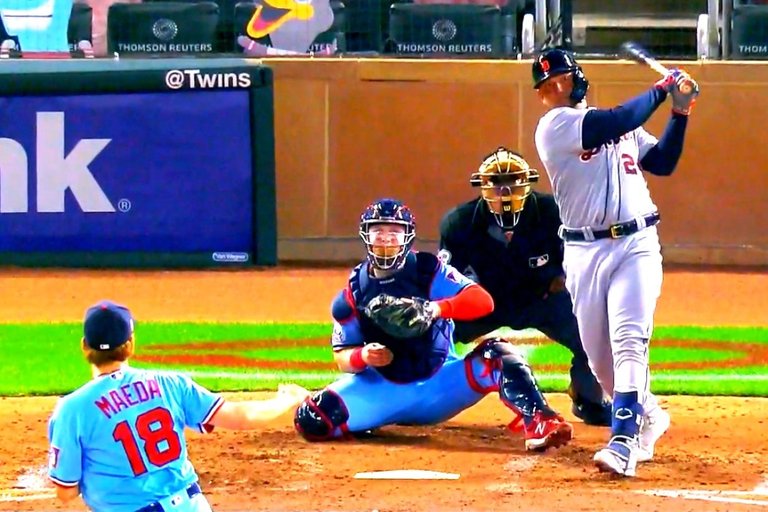 Captura de pantalla a partir de vídeo en el sitio de la MLB
Screenshot from video on the MLB site

     Con la anotada producida por el jonrón, Miggy superó por una carrera las anotadas por Bob Comedulce Abreu, quien tenía el registro de más carreras anotadas para un Venezolano en las mayores. Ya lideraba a sus coterráneos en dobles (581); estacazos (485); carreras impulsadas (1726); bases alcanzadas (4934); extrabases (1084) y boletos intencionales (235). El fin de semana pasado ya se había convertido en el primer bateador derecho en la historia de las ligas mayores en sacar 100 jonrones por la banda contraria.
With the home-run score, Miggy surpassed by one run those scored by Bob Comedulce Abreu, who had the record of most runs scored for a Venezuelan in the majors. He was already leading his fellow countrymen in doubles (581); home runs (485); driven runs (1726); bases reached (4934); extra bases (1084) and intentional BB (235). Last weekend he had already become the first right-handed hitter in major league history to hit 100 home runs on the opposing side.

     ¿Comprenden cuando les decimos que se para en el home, cada vez para hacer historia? Luego, vino en la novena entrada para producir otro cuadrangular, 431 pies de recorrido y lo montó en el segundo piso del estadio de los Twins (el primero había sido de 438 pies, su más largo en esta temporada). Tres carreras más para la registradora y fue el No. 486 de su larga trayectoria. Seis carreras producidas empatando un récord personal, no lo hacía desde el 2.013.
Do you understand when we tell you that it stops at home, every time to make history? Then, he came in the ninth inning to produce another home run, 431 feet long and mounted it on the second floor of the Twins' stadium (the first had been 438 feet, his longest this season). Three more runs for the register and he was No. 486 of his long career. Six races produced tying a personal record, he had not done so since 2,013.

     9 jonrones acumulados en 54 partidos ¿se atreven apostar cuántos habría bateado en un calendario normal de 162 juegos? Al menos 30, creemos nosotros ¿Miguel está de vuelta? Creemos ver suficientes señales que sí, es el Miguel Cabrera de siempre. Lamentablemente las seis carreras impulsadas por él (todas las del equipo) no alcanzaron para triunfar y combinado con los otros resultados, los Tigres de Detroit han quedado fuera de la postemporada.
9 home runs accumulated in 54 games, do you dare to bet how many you would have hit in a normal schedule of 162 games? At least 30, we believe. Is Miguel back? We think we see enough signs that yes, he is the same old Miguel Cabrera. Unfortunately the six runs driven by him (all of the team) were not enough to win and combined with the other results, the Detroit Tigers have been left out of the postseason.
     Ya relajado, sin la presión por clasificar a los play-off, Miguel puede concentrarse en mejorar sus números en los 4 juegos que restan. Llegó a 1.455 anotadas con el segundo jonrón de la noche y está a 6 hits de alcanzar a Harold Baines en la lista de todos los tiempos. Está a 16 de Omar Vizquel quien es el máximo bateador de hits venezolanos en la historia de las Mayores. No creemos que pueda lograrlo en lo que resta de campaña. Será al comenzar la temporada en el 2.021, que lo veremos hacer más historia.
Already relaxed, without the pressure to qualify for the play-offs, Miguel can concentrate on improving his numbers in the four remaining games. He hit 1,455 with the second home run of the night and is 6 hits away from catching up with Harold Baines on the all-time list. He is 16 away from Omar Vizquel who is the top hitter of Venezuelan hits in the history of the Majors. We don't think he can make it the rest of the campaign. It will be at the beginning of the season in 2021 that we will see him make more history.
P.S. English is not my native language, apologize for that.
I used a web translator for english text (DeepL)
     ¡Gracias por leer..! // Thanks for read..!

¿Quieres tener tu propio blog y la libertad financiera que significa
el mundo cripto? ¡Haz clic en la firma!
---
My social networks