Sandy Alcántara llegó a los Marlins procedente de los Cardenales de San Luis, en la temporada baja del año 2017, luego de haber ganado un puesto en el roster de 40 hacia el final de aquella temporada ¿Sus números? Nada especiales: permitió 4 carreras limpias en 8.1 innings de labor para un porcentaje de carreras permitidas de 4.32
Sandy Alcantara came to the Marlins from the St. Louis Cardinals in the 2017 offseason after earning a spot on the 40-man roster toward the end of that season His numbers? Nothing special: he allowed 4 cleanup runs in 8.1 innings of work for 4.32 runs allowed percentage.
     Pero era un pitcher con lanzamiento a más de 95 millas por hora, descontrolado sí, pero con un potencial enorme. Todo fan del béisbol medianamente sabe que el cuerpo de técnicos de pitcheo de San Luis ha tenido tantas historias de acierto como los técnicos de pitcheo de los Mets de Nueva York. Así que los Marlins hicieron la apuesta por el muchacho y se lo trajeron a la cálida Florida.
But he was a 95+ mph pitcher, out of control yes, but with enormous potential. Any baseball fan halfway knows that St. Louis pitching staff has had as many success stories like the New York Mets pitching staff. So the Marlins took a gamble on the guy and brought him to warm Florida.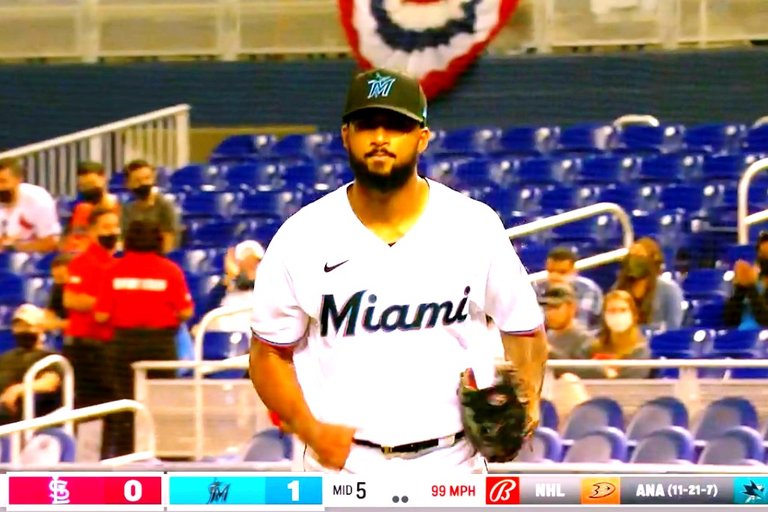 Screenshot from video at: mlb.com

     Y por segunda temporada consecutiva ha sido el pitcher del opening day para los Marlins ¿Que hizo en su primera presentación? ¡Seis innings completos en blanco! ¡10 hombres ponchados! Intransitable, desde que en el segundo inning permitió que las bases se le llenaran pero apretó el brazo para sacar el cero. Lo remarcable de la historia está en cómo fue saliendo de sus contendores ponchados.
And for the second consecutive season, he has been the opening day pitcher for the Marlins. What did he do in his first appearance? Six complete innings of shutouts! 10 men struck out! Unhittable, since in the second inning he allowed the bases to be loaded but he tightened his arm to get the zero out. The remarkable part of the story is how he got out of his strikeout contenders.
     Con una sinker de respeto y un cambio de velocidad que cae sobre el home a ¡91 millas por hora! ¡Increíble! Tiraba indistintamente los lanzamientos especiales y los combinaba con rectas que se medían en velocidad de 99 millas por hora. Así es muy difícil batear. Y ¿adivinen quien fue el equipo víctima? Los Rays de Tampa Bay y su terrorífico tándem de bateadores. Salió sin decisión, pero los Marlins finalmente perdieron ese juego.
With a sinker of respect and a change of speed that falls on the home plate at 91 miles per hour! Incredible! He indiscriminately threw special pitches and combined them with straightaways that were measured in 99 miles per hour velocity. That's very hard to hit like that. And guess who the victim team was? The Tampa Bay Rays and their terrifying tandem of hitters. He came out with a no-decision, but the Marlins finally lost that game.
     La verdad, no sé que le espera a Sandy el resto de la temporada (ayer se enfrentó a San Luis y perdió), pero si sé que un muchacho de 25 años pitchando al nivel que le ví, debería tener un futuro brillante. Solo que parece un problems todavía el control. Algo en lo que el equipo ha tenido paciencia. No se consigue ese tipo de brazos por ahí todos los días.
Truth be told, I don't know what the rest of the season holds for Sandy (he faced St. Louis yesterday and lost), but I do know that 25-year-old pitching at the level I saw him at should have a bright future. He just seems like a problem still in control. Something the team has been patient with. You don't get that kind of arm out there every day.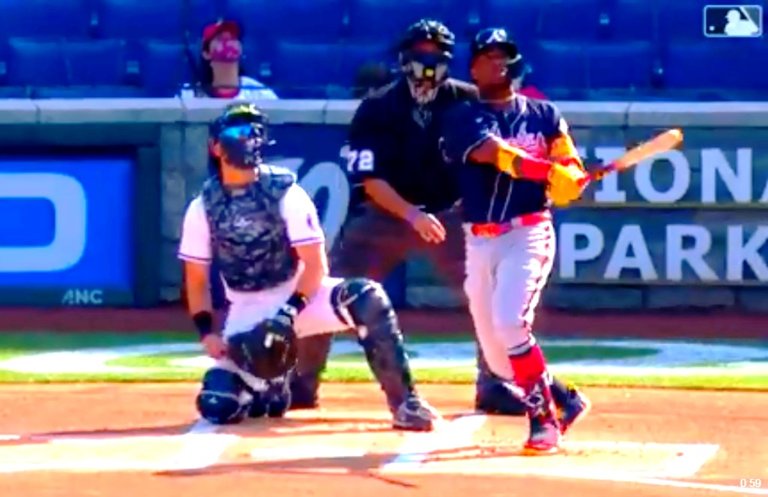 Screenshot from video at mlb.com

     ¿Y Ronald Acuña Jr.? Quien tiene a la prensa enamorado de su carisma, volvió dentro de las tinieblas para sacar dos pelotas del parque ayer ante el Cy Young Mark Scherzer, la primera sin hombres en base y la segunda bola con un hombre en base para traer dos carreras más. Impulsadas 3 y ocho bases alcanzadas. Sin embargo, Atlanta perdió el partido porque los Nationals desperezaron los bates. Con los dos estacazos, llegó a un promedio de bateo que se nos hace bajo todavía: .235, se le ve muy inquieto en el home y no está esperando los lanzamientos. Esto puede meterle en un slump prolongado, si no controla la ansiedad.
And Ronald Acuña Jr.? Who has the press in love with his charisma, came back from the darkness to hit two balls out of the park yesterday before Cy Young Mark Scherzer, the first with no men on base and the second ball with a man on base to bring in two more. RBIs 3 and eight bases reached. However, Atlanta lost the game because the Nationals woke up the bats. With the two hits, he reached a batting average that is still low to us: .235, he looks very restless at home and is not waiting for pitches. This could put him in a prolonged slump if he does not control his anxiety.
     ¿Últimos movimientos resaltantes de jugadores? Los del Bronx se trajeron a Rougner Odor, luego de ser liberado por Texas y cubrirá la espalda del otro venezolano en la segunda base de los Yankees: Gleyber Torres. Orlando Arcia fue a parar a los Bravos de Atlanta desde los Cerveceros de Milwaukee, le hará compañía a Inciarte, al "Panda" Sandoval (que hizo el equipo) y Acuña. El béisbol es la vida misma.
Latest notable player moves? The Bronx brought in Rougner Odor, after being released by Texas, and he will cover the back of the other Venezuelan at second base for the Yankees: Gleyber Torres. Orlando Arcia went to the Atlanta Braves from the Milwaukee Brewers and will keep company with Inciarte, "Panda" Sandoval (who made the team), and Acuña. Baseball is life itself.
---
P.S. English is not my native language, apologize for that.
I used a web translator for english text (DeepL)