Un bolivarense doma a Toronto [ESP] // [ENG] A bolivarense tames Toronto || OPINION

      Una de las cosas más graciosas al buscar información en la web sobre alguien desconocido, es lograr dar con información fidedigna. En el caso del bolivarense Luis Heibardo García, lanzador abridor derecho de los Astros de Houston, un novato que sólo lanzó una docena de innings la temporada acortada por la pandemia, es especialmente bueno para ilustrar ésta deficiencia. Cómo será el entuerto que el tipo no tiene entrada en wikipedia en español y sólo la tiene en su versión anglosajona. No en balde existe el dicho popular: "nadie es profeta en su tierra".
One of the funniest things when looking for information on the web about someone unknown is to find reliable information. In the case of Bolivar's Luis Heibardo García, right-handed starting pitcher for the Houston Astros, a rookie who only pitched a dozen innings during the pandemic-shortened season, is especially good to illustrate this deficiency. How could it be that the guy has no entry in Wikipedia in Spanish and only has an English version. No wonder there is a popular saying: "nobody is a prophet in his own land".
      El caso es que la entrada tanto en Wikipedia, como en el sitio de la MLB dice nacido en "Bolívar" siendo éste un estado o provincia y jamás una ciudad. Se me ocurre que pudo haber nacido en "Ciudad Bolívar", a las orillas del Orinoco y de allí proviene el error, pero también pudo haber nacido en San Félix o en Puerto Ordaz por nombrar otras dos ciudades importantes del estado Bolívar en Venezuela. De cualquier modo, lo que viene haciendo éste novato es excepcional.
The thing is that the entry in Wikipedia, as well as in the MLB site says that he was born in "Bolivar" being this a state or province and never a city. It occurs to me that he could have been born in "Ciudad Bolivar", on the banks of the Orinoco and that is where the error comes from, but he could also have been born in San Felix or Puerto Ordaz to name two other important cities in the state of Bolivar in Venezuela. In any case, what this rookie has been doing is exceptional.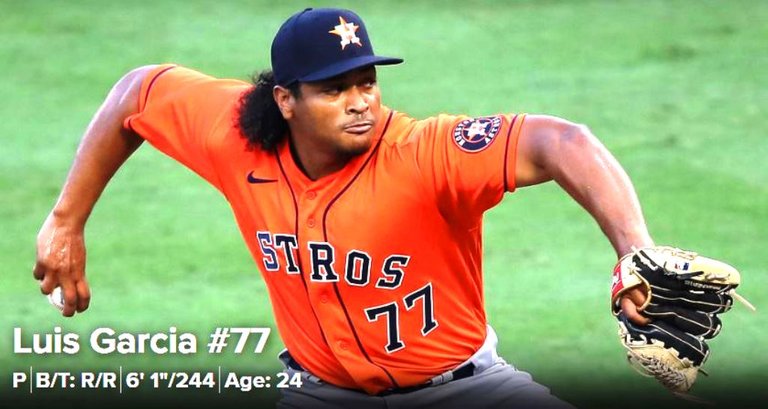 Y es que ayer llegó a su quinta salida de calidad consecutiva lo que significa que anda enrachado (una salida es considerada de calidad para un abridor cuando el pitcher lanza más de cinco entradas sin permitir más de 3 carreras limpias). En seis innings completos espació 3 hits y permitió solo una carrera, ponchando a ocho (8) contendientes y permitiendo solo dos bases por bolas. Con el triunfo colocó a Houston a un solo juego del liderato ocupado por Oakland y permitió que los Astros se llevaran la serie en Buffalo.
Yesterday he reached his fifth consecutive quality start, which means he is on a roll (a start is considered a quality start for a starter when the pitcher pitches more than five innings without allowing more than 3 clean runs). In six complete innings, he spaced 3 hits and allowed only one run, striking out eight (8) contenders and allowing only two walks. With the win, Houston moved within one game of Oakland's lead and allowed the Astros to take the series in Buffalo.
      ¿Y por qué en Buffalo y no en Toronto? Pues los Azulejos han estado jugando fuera de casa por cuestiones de la pandemia. Comenzaron en Arizona y ahora están más cerca de Toronto, en este pueblito neoyorkino. Lo cierto del caso, García tiene en los últimos 7 desafíos lanzados una cadena de 5 ganados, ninguno perdido, 26 hits permitidos con 12 carreras limpias en 39 innings completos con 48 ponches para una efectividad de 2.77 y un minúsculo WHIP de 0.97. Nada mal para un novato.
And why in Buffalo and not Toronto? Well, the Blue Jays have been playing away from home because of the pandemic. They started in Arizona and now they are closer to Toronto, in this small New York town. The truth of the matter, Garcia has in the last 7 challenges pitched a string of 5 wins, none lost, 26 hits allowed with 12 clean runs in 39 complete innings with 48 strikeouts for the effectiveness of 2.77 and a minuscule WHIP of 0.97. Not bad for a rookie.
      ¿Podrá Luis mantener el ritmo? Nadie lo sabe, de un novato se puede esperar cualquier cosa, pero estar en un equipo contendiente es un aliciente enorme y además, tiene compatriotas que le pueden ayudar a manejar la presión. Pero 3 carreras permitidas en los últimos 19 innings es una muy excelente noticia para Houston porque Zack Greinke (el abridor estelar) también está pasando por un buen momento y esto los podría catapultar al liderato del Oeste de la liga Americana.
Will Luis be able to keep up the pace? Nobody knows, you can expect anything from a rookie, but being on a contending team is a huge incentive and besides, he has compatriots that can help him handle the pressure. But 3 runs allowed in the last 19 innings is very good news for Houston because Zack Greinke (star opener) is also going through a good moment and this could catapult them to the lead in the American League West.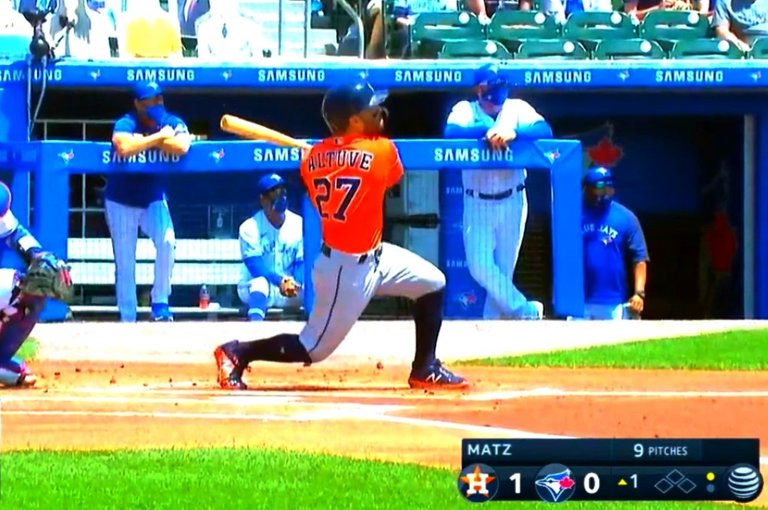 Screenshot from video by MLB

      Y ¿adivinan de quien recibió ayuda? Sí, de José Altuve quien abriendo el partido la mandó a volar a las gradas en una ventaja que jamás perdió Houston. El maracayero está enrachado también y ya ha vuelto a su nivel (aunque ayer terminó de 6-1). En los últimos siete juegos, los números de Altuve dan para soñar: 8 hits en 24 turnos, 3 jonrones, 6 impulsadas y 7 bases por bolas para una línea de .333 AVE, .469 OBP y .708 SLG. El tipo ya se montó sobre el potro de los .300 y no creemos que se baje de allí en lo que resta de temporada.
And guess who he got help from? Yes, José Altuve, who sent the opener into the stands for a lead that Houston never lost. The Maracay native is also on a roll and is back to his best (although yesterday he finished 6-1). In the last seven games, Altuve's numbers give to dream: 8 hits in 24 innings, 3 home runs, 6 RBI and 7 bases on balls for a line of .333 AVE, .469 OBP and .708 SLG. The guy already rode the .300 pole and we don't think he'll get off it for the remainder of the season.
      Hace días escribimos sobre el "Moneyball" de Oakland, pero no les está alcanzando, tal como se preveía. Los Astros andan por las estrellas buscando una nueva oportunidad de redención, luego de la fatídica temporada 2017 donde fueron acusados de ganar la serie mundial haciendo trampas. Todo eso ha quedado atrás y Houston mira con esperanza el futuro.
We wrote about Oakland's "Moneyball" days ago, but it's not catching up to them, as predicted. The Astros are running around the Stars looking for another shot at redemption after a fateful 2017 season where they were accused of winning the World Series by cheating. All that is behind them and Houston is looking hopefully to the future.
P.S. English is not my native language, apologize for that.
I used a web translator for english text (DeepL)
---
---