Al culminar su quinto intento de la noche japonesa, Yulimar Rojas miró a su entrenador Iván Pedroso y le guiñó el ojo. Había cometido su segunda falta en la presentación del salto triple que se escenificaba en el estadio olímpico de Tokio. Fue como una especie de complicidad acallada por el profesionalismo debido y el respeto para con sus contrincantes. En su primer intento había roto el récord nacional y olímpico de la disciplina, con un rotundo e inapelable salto de 15,41 mts, que le agregaba presión inicial a las demás competidoras.
At the end of her fifth attempt of the Japanese night, Yulimar Rojas looked at her coach Ivan Pedroso and winked. She had committed her second foul in the triple jump presentation that was staged at the Olympic Stadium in Tokyo. It was like a kind of complicity silenced by due professionalism and respect for his opponents. In her first attempt, she had broken the national and Olympic record of the discipline, with a resounding and unappealable jump of 15.41 meters, which added initial pressure to the other competitors.
      A partir de ese momento, ella aseguraba un lugar en el podio. Ninguna contrincante logró rebasar los 15 metros en su primer intento y comenzaba el padecimiento para quienes buscaban entrar en el podio. Algo quedaba claro con la marca de Yulimar: quienes quisieran acompañarle en el olimpo, debían tratar tan siquiera de rebasar una mínima distancia que les diera la tranquilidad. Un sentimiento esquivo en las disciplinas de alta competencia porque cualquier cosa puede suceder. Pero todo parecía extraído de un plan maléfico antes de empezar, el primer salto debía enviar un mensaje claro: acá se encuentra la reina del triple salto.
From that moment on, she secured a place on the podium. No other competitor managed to surpass 15 meters in her first attempt and the suffering began for those who wanted to enter the podium. One thing was clear with Yulimar's mark: those who wanted to join her on the Olympus had to try to surpass even a minimum distance that would give them peace of mind. An elusive feeling in high competition disciplines because anything can happen. But everything seemed to be extracted from an evil plan before began, the first jump had to send a clear message: here is the queen of the triple jump.
---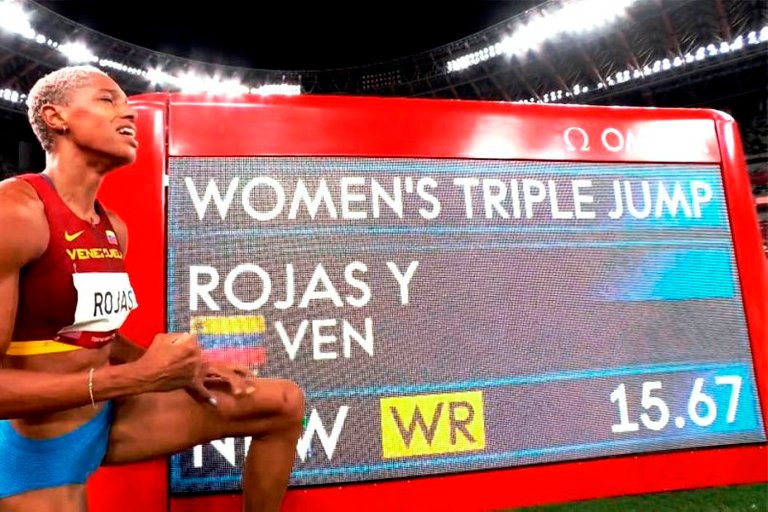 Source

      La hembra de ébano con su 1,92 metros de altura intimida. Recuerda el físico de Usain Bolt: imponente. Pero además es una show woman consagrada, sabe manejar el público y éste le responde. Tiene una energía difícil de describir en el momento previo a cada intento: habla con la pista por donde correrá, regaña al foso de aterrizaje, hace un baile de pasos atrás y adelante, se gira al público pidiendo palmas, grita como una desaforada, en fín, un espectáculo que el más desprevenido desaprobaría si no la conocieran desde hace mucho tiempo. Y es que ella está ahí para competir, pero también para entretener, algo que tiene muy claro.
The ebony female with her 1.92 meters of height intimidates. She is reminiscent of Usain Bolt's physique: imposing. But she is also an established show woman, she knows how to handle the public and the public response to her. She has energy difficult to describe at the moment before each attempt: she talks to the track where she will run, scolds the landing pit, does a dance of steps back and forth, turns to the public asking for clapping, screams like an unbridled, in short, a show that the most unsuspecting would disapprove if they did not know her for a long time. She is there to compete, but also to entertain, something she is very clear about.
      ¿Y cómo no imitar a quien fuera su ídolo, la colombiana Catherine Ibargüen, con quien estaba compitiendo? Hace cuatro años perdió el oro en Río 2016 con la persona que más admiraba. Ahora, los 37 años de la colombiana le pasaron factura, pero en la época de su esplendor, Yulimar siempre dejó claro que ella era su modelo a seguir. Y Catherine le tuvo que haber enseñado que el público debes ganarlo, a la par que las marcas. Cuando llegó el corte, Ibargüen quedó fuera, no pudo. Aún así sonreía a las cámaras consciente de haber tenido una brillante carrera y de haber colocado su país en alto.
And how could she not imitate her idol, the Colombian Catherine Ibargüen, with whom she was competing? Four years ago she lost the gold in Rio 2016 with the person she most admired. Now, the Colombian's 37 years took their toll on her, but in the time of her splendor, Yulimar always made it clear that she was her role model. And Catherine must have taught her that you have to earn the public, as well as the marks. When the cut came, Ibargüen was out, she could not. Still, she smiled for the cameras, conscious of having had a brilliant career and of having placed her country on high.
      La prueba proseguía y la portuguesa Patricia Mamona logró una marca de 15,01 mts; era la única otra rival que pudo saltar más allá de lo exigido para estar en las medallas. Una jamaiquina que tuvo doble falta en sus primeros intentos era la otra rival posible de Rojas, sus saltos la llevaron por encima de los 15 mts, pero no fueron válidos. Una tras otra intentaban llegar pero no parecía la noche de ninguna. Cuando Yulimar falló su segundo intento, lo hizo traspasando el récord mundial. Era el aviso premonitorio de que algo iba a ocurrir.
The event continued and Portugal's Patricia Mamona achieved a mark of 15.01 meters; she was the only other rival who could jump beyond the medal requirement. A Jamaican who double-faulted in her first attempts was the other possible rival of Rojas, her jumps took her over 15 meters, but they were not valid. One after another tried to get there but it didn't seem to be the night of any of them. When Yulimar missed her second attempt, she did it by breaking the world record. It was the premonitory warning that something was going to happen.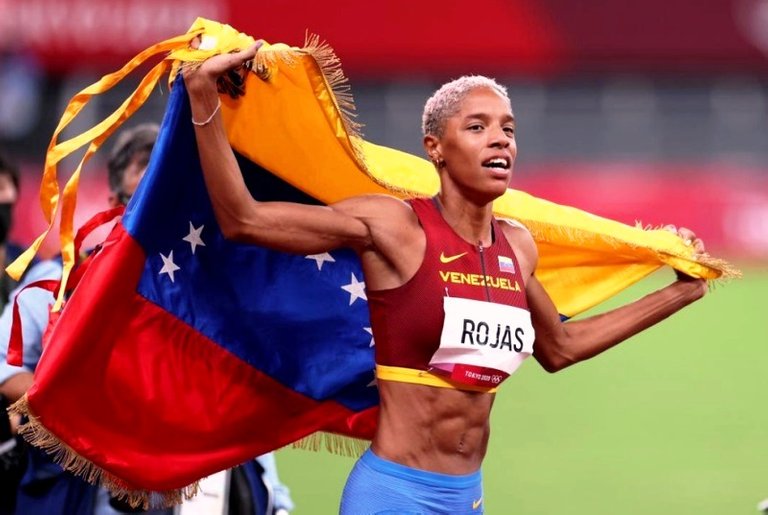 Source

      Su compañera en el FC Barcelona, la española Ana Peleteiro saltó 14,87 y se metía en la lucha por la medalla de bronce. La concentración era máxima cuando Yulimar, sabida ya consagrada por el oro, a cuenta de los resultados de las otras competidoras, comenzó aplaudir hacia el público para abordar su sexto intento. La rutina no faltaba en cada salto, pero recuerden que le había guiñado el ojo a su entrenador luego del quinto intento. Tomo impulso y comenzó a correr como el viento en dirección a la fosa: uno, dos y tres pasos y el cielo de Tokio vió a un ángel volar hacia la gloria olímpica y mundial.
Her FC Barcelona teammate, Spain's Ana Peleteiro jumped 14.87 and was in the fight for the bronze medal. The concentration was at its peak when Yulimar, who was already assured of the gold medal, on account of the results of the other competitors, began to clap her hands towards the audience to approach her sixth attempt. The routine was not lacking in every jump, but remember that she had winked at her coach after the fifth attempt. She picked up momentum and began to run like the wind in the direction of the pit: one, two, three steps, and the Tokyo sky watched an angel fly to Olympic and world glory.
      15,50 metros desde 1.995 quedaron en la historia; al aterrizar y levantarse, la cara de incredulidad parecía fingida, pero nada más lejos de la realidad. Ese es un lujo que no se puede permitir. Como en un guión de cine, 15,67 metros coronaron un récord mundial y a una nueva reina del olimpo. Mis ojos se llenaron de lágrimas, por vez primera, una mujer de la tierra de Bolívar ganaba el oro olímpico. Una mujer que representa a todas las féminas del país, a las luchadoras del día a día y a todas las almas de un golpeado gentilicio. Un guiño de oro para la historia.
15.50 meters from 1995 went down in history; as she landed and stood up, the look of disbelief seemed feigned, but nothing could be further from the truth. That is a luxury that can not be allowed. As in a movie script, 15.67 meters crowned a world record and a new queen of Olympus. My eyes filled with tears, for the first time, a woman from the land of Bolivar won the Olympic gold. A woman who represents all the women of the country, the daily fighters, and all the souls of battered people. A golden wink for history.
P.S. English is not my native language, apologize for that.
I used a web translator for english text (DeepL)