Todo está listo para la tercera y última ventana del clasificatorio FIBA AmeriCup 2022, que se comenzará a jugar mañana en la ciudad de Cali, Colombia. Los quintetos arribaron la semana pasada para cumplir con la cuarentena, descartar contagios por COVID-19 y jugarán en la modalidad burbuja sin cambiar de ciudades, por la misma razón. En una publicación anterior, dimos cuenta del desempeño venezolano en la segunda ventana del clasificatorio, que otorgará cupos al campeonato continental FIBA AmeriCup 2022.
Everything is ready for the third and final window of the FIBA AmeriCup 2022 qualifier, which will begin tomorrow in the city of Cali, Colombia. The quintets arrived last week to comply with the quarantine, to rule out COVID-19 infection and will be played in bubble mode without changing cities for the same reason. In a previous publication we gave an account of the Venezuelan performance in the second window of the qualifier, which will grant quotas to the FIBA AmeriCup 2022 continental championship.
     Así las cosas, Venezuela llega a la última etapa del clasificatorio en inmejorable posición al liderar el grupo "A" con un récord de tres partidos ganados y uno perdido, por encima de Argentina con el mismo balance pero con peor cesta average (+18 VEN / +9 ARG); ambas selecciones son seguidas por Chile y Colombia con récord de un juego ganado y tres perdidos (-9 CHI / -18 COL). A Venezuela sólo le bastará ganar un partido más a cualquiera de los dos colistas, quienes están obligados a ganar si desean permanecer con vida.
Thus, Venezuela arrives at the last stage of the qualifier in an unbeatable position, leading group "A" with a record of three games won and one lost, ahead of Argentina with the same balance but with a worse basket average (+18 VEN / +9 ARG); both teams are followed by Chile and Colombia with a record of one game won and three lost (-9 CHI / -18 COL). Venezuela will only need to win one more game against either of the two bottom teams, who are obliged to win if they wish to stay alive.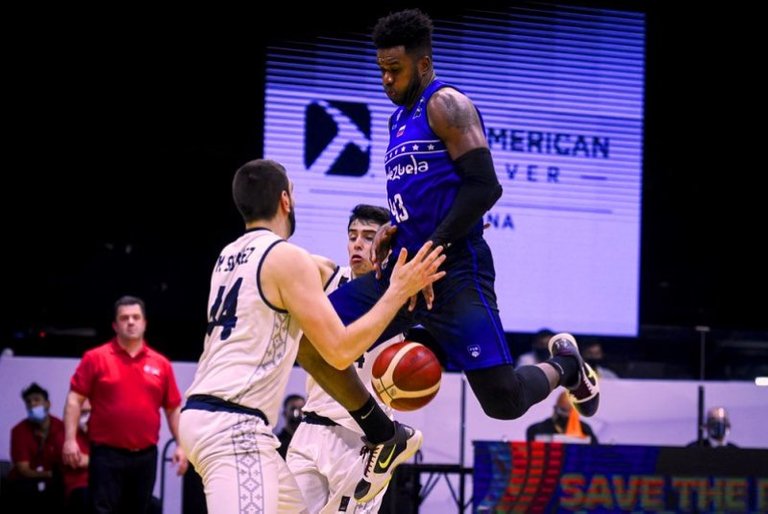 Lamentablemente no podemos afirmar que la clasificación está asegurada ¿La razón? La forma como se ha desarrollado el clasificatorio. Venezuela dividió honores con Argentina, cada equipo ganó el partido de visitante en la primera ventana. Venezuela salió mejor librada porque cuando perdió en la visita de Argentina, lo hizo por sólo un punto en un juego muy peleado (72-73 fue el marcador). Luego, en formato burbuja, jugando de local en Buenos Aires para la segunda ventana, Venezuela tuvo dos juegos muy difíciles que apenas superó: a Colombia por dos cestas de último minuto y a Chile en dos tiempos extras.
Unfortunately, we cannot say that the qualification is assured. The way the qualifiers have developed. Venezuela split honors with Argentina, each team won the away game in the first window. Venezuela came out on top because when it lost to Argentina, it did so by only one point in a hard-fought game (72-73 was the score). Then, in bubble format, playing at home in Buenos Aires for the second window, Venezuela had two very difficult games that they barely overcame: to Colombia by two last minute baskets and to Chile in two overtimes.
     ¿Qué quiere decir esto? Simple. Las distancias en el basquetball continental se han ido empequeñeciendo y equipos que apenas daban batalla antes, se van vuelto en formidables competidores. Venezuela siempre ha tenido una tradición basquetera por excelencia, es un deporte que, junto con el béisbol, está arraigado en los barrios del país los cuales tienen canchas al por mayor. Renacido este deporte, por los logros de la selección nacional llamada héroes de Portland en la década de los 90', ha saltado de nuevo a las preferencias criollas, rebautizando al equipo como la vinotinto del aire.
What does this mean? Simple. The distances in continental basketball have been shrinking and teams that barely gave battle before, are becoming formidable competitors. Venezuela has always had a basketball tradition par excellence, it is a sport that, along with baseball, is rooted in the neighborhoods of the country, which have courts all over the country. Reborn this sport, by the achievements of the national team called heroes of Portland in the decade of the 90's, has jumped again to the Creole preferences, renaming the team as la vinotinto del aire.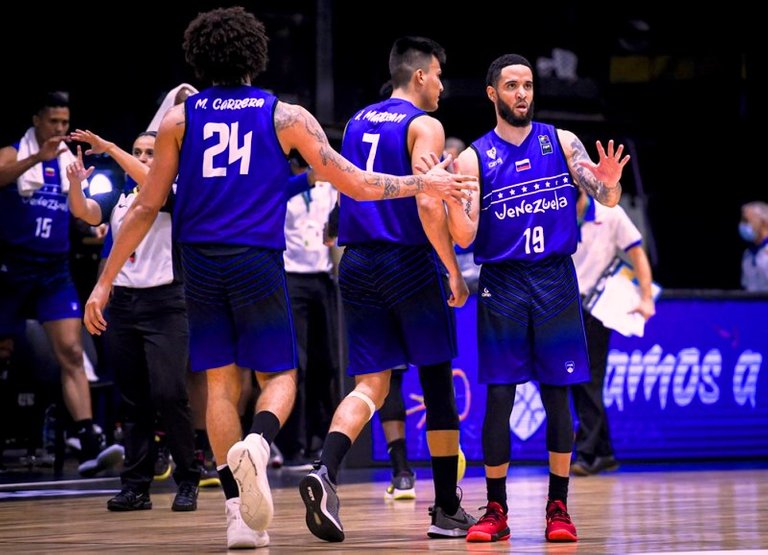 Un color Vinotinto del uniforme que fue extrañado, por un azul eléctrico que lucieron las camisetas nacionales en la ventana anterior, engalanará la cancha. De cualquier manera, la experiencia prevaleció en la segunda ventana y creemos, vehementemente, que Venezuela debiera imponerse en ambos compromisos por jugar: el 21 (mañana) en el Coliseo Evangelista Mora ante la selección Colombiana que será local en Cali a las 07:10 p.m. (hora Venezolana 22:10 GMT) y el 22 (pasado mañana) en el mismo escenario ante Chile a las 11:10 p.m. (hora Venezolana, 03:10 GMT del Martes 23).
A Vinotinto color of the uniform that was missed, for an electric blue that the national jerseys wore in the previous window, will grace the court. Anyway, experience prevailed in the second window and we believe, vehemently, that Venezuela should prevail in both matches to be played: on the 21st (tomorrow) at the Evangelista Mora Coliseum against the Colombian national team that will be local in Cali at 07:10 p.m. (Venezuelan time 22:10 GMT) and on the 22nd (the day after tomorrow) in the same scenario against Chile at 11:10 p.m. (Venezuelan time, 03:10 GMT on Tuesday 23).
     El seleccionador Argentino del equipo venezolano Fernando Duró ha declarado a la prensa ante las posibilidades de Venezuela: "Sería muy importante clasificar, la selección nacional de baloncesto es la única en el país que compite a un nivel internacional desde hace unos años y esto sería un nuevo triunfo colectivo". A la pregunta sobre la integración del equipo respondió: "En este grupo logramos mezclar la experiencia con la juventud y realmente armamos al mejor equipo posible". Y le creemos. Para este servidor, la selección nacional de baloncesto de Venezuela es la única que se ha mantenido trabajando bajo un plan concienzudo.
The Argentine coach of the Venezuelan team, Fernando Duró, told the press about Venezuela's chances: "It would be very important to qualify, the national basketball team is the only one in the country that has been competing at an international level for some years and this would be a new collective triumph" When asked about the integration of the team, he answered: "In this group we managed to mix experience with youth and we really put together the best possible team". For this server, the national basketball team of Venezuela is the only one that has kept working under a conscientious plan.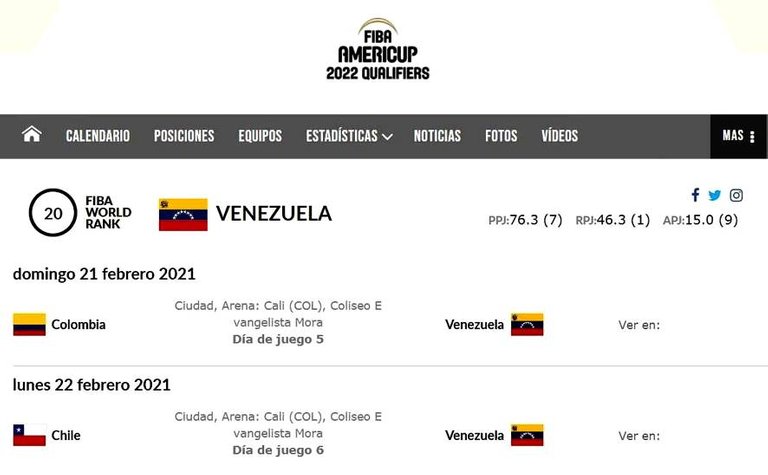 Pronto, estaremos ofreciendo los resultados de ambos partidos y opinaremos sobre lo conseguido en la cancha. Sólo una debacle de proporciones bíblicas, haría que Venezuela no regresara con un boleto para la FIBA AmeriCup 2022, porque aún perdiendo ambos partidos, podría clasificar como mejor tercero del grupo "A" acorde a la combinación de resultados de ambos partidos y lo obtenido por Argentina, ante los mismos rivales.
Soon, we'll be offering the results of both games and we will give our opinion on what was achieved on the court. Only a debacle of biblical proportions would prevent Venezuela from returning with a ticket for the FIBA AmeriCup 2022, because even losing both games, Venezuela could qualify as the best third of group "A" according to the combination of results of both games and the results obtained by Argentina, against the same opponents.
P.S. English is not my native language, apologize for that.
I used a web translator for english text (DeepL)