¡Tres meses! ¿Quién lo habría creído? Cuando nuestro fundador nos habló del proyecto, nos entusiasmó mucho; pero teníamos demasiados factores en contra, según él: El paro de actividades deportivas producto de la cuarentena originada en la pandemia del COVID-19, el inicio de la comunidad sin el apoyo de grandes votantes que atrajeran autores a nuestro feed, una falta de identidad gráfica debido al atraso de nuestra agencia creativa y el poco valor agregado percibido por la plataforma en las publicaciones deportivas.
Three months! Who would have believed it? When our founder told us about the project, we were very enthusiastic, but we had too many factors against it, according to him: The stoppage of sports activities due to the quarantine originated by the COVID-19 pandemic, the beginning of the community without the support of large voters to attract authors to our feed, a lack of graphic identity due to the delay of our creative agency and the little added value perceived by the platform in sports publications.
     Como ven, una receta para el desastre. Y si a eso sumamos las exigencias editoriales para no parecernos a otras comunidades deportivas, donde, a veces, las publicaciones dejan mucho por desear; no creía él que pudiéramos pasar del mes de trabajo. Pero ya ven, aquí nos encontramos con una comunidad pequeña, sí, pero sólida. Formada por 169 suscriptores y contando. Con reportes semanales que han pasado a ser considerados como una revista resumen de los hechos deportivos de la semana. No podríamos haber pedido más.
As you can see, a recipe for disaster. And if we add to that the editorial demands so as not to resemble other sports communities, where sometimes publications leave much to be desired; he did not think we could get through the month's work. But you see, here we find a small community, yes, but solid. Formed by 169 subscribers and counting. With weekly reports that have come to be considered as a summary magazine of the week's sporting events. We couldn't have asked for more.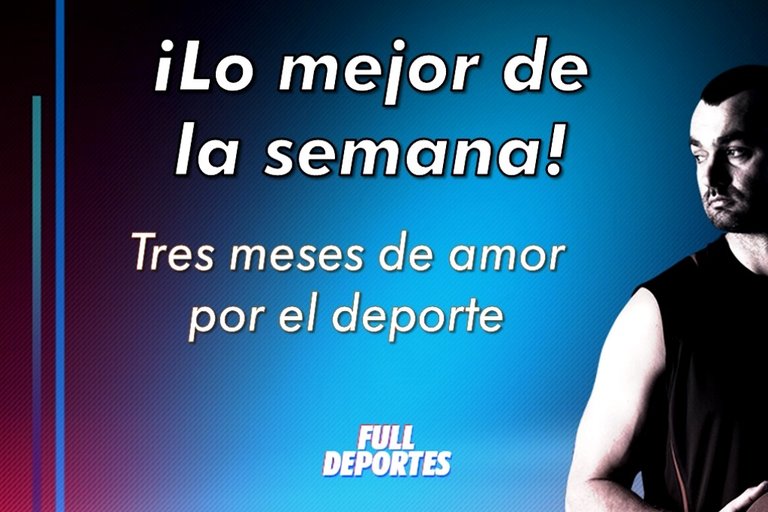 ---
     Son muchas las ideas que rondan la cabeza de @fermionico para potenciar, de cara al futuro, nuestra comunidad. Todavía tenemos que pasar de cierto punto, donde la masa crítica de suscriptores y autores activos darán la pauta para tokenizar la comunidad. Es decir, recompensar con nuestra propia moneda los contenidos presentados en el feed. Antes de llegar a eso, tendríamos que poder desarrollar el front-end de "Full Deportes" desde donde los autores puedan subir sus contenidos y administrar su blog. Esto será el resultado de mucho trabajo que estamos dispuestos acometer.
Many are the ideas that haunt the head of @fermionico to empower, for the future, our community. We still have to pass a certain point, where the critical mass of subscribers and active authors will give the guideline to tokenize the community. That is, rewarding with our own currency the contents presented in the feed. Before that, we should be able to develop the "Full Sports" front-end from which authors can upload their contents and manage their blog. This will be the result of a lot of work that we are willing to undertake.
     Como pueden intuir, el futuro de nuestra comunidad está siendo pensado constantemente y solo será cuestión de tiempo antes que muchos de estos proyectos puedan ser materializados. Antes, el cimentar las bases de "Full Deportes", será el elemento clave mediante el cual todo trabajo nuevo tenga el sustento debido. Podría ser cuestión de tomar el riesgo y ya, pero recuerden que mucho de estos proyectos requieren de financiación y esta solo se conseguirá con el crecimiento constante de nuestra casa.
As you can sense, the future of our community is constantly being thought about and it will only be a matter of time before many of these projects can be realized. Before that, laying the foundation for "Full Deportes" will be the key element by which all new work will be supported. It could be a matter of taking the risk and already, but remember that many of these projects require funding and this will only be achieved with the constant growth of our house.
---
     Cuando existan novedades en el trail de la comunidad o en las delegaciones recibidas, las registraremos. Por lo pronto queremos dar la bienvenida al feed de la comunidad a dos autores deportivos a quien extendemos disculpas por no mencionar en nuestro reporte de hace una semana: @waraira777 y @victor816; el primero escribe sobre todos los deportes con énfasis en el béisbol y el segundo, escribe sobre fútbol. Éxitos a ambos.
When there are new developments in the community trail or in the delegations received, we will register them. For now we want to welcome to the community feed two sports authors to whom we extend our apologies for not mentioning in our report a week ago: @waraira777 and @victor816; the first one writes about all sports with emphasis on baseball and the second one writes about soccer. Successes to both.
     Registramos la participación como jurado de nuestro fundador, en representación de la comunidad "Full Deportes", en la iniciativa de @elizabeths14 de la comunidad @hivemexico, en la cual los Hivers participantes se deshacen de lo malo y dejan plasmado en un escrito, lo bueno que les ha pasado en 2.020. Desde acá les invitamos a participar.
We registered the participation of our founder, representing the community "Full Deportes", in the initiative of @elizabeths14 in the community @hivemexico, in which the Hivers participants get rid of the bad and leave written down, the good that happened to them in 2020. From here we invite you to participate.
Salón de la fama Vol. 11 // Hall of fame Vol. 11
---
     Veintiséis (26) publicaciones reflejaron los gustos deportivos de sus autores y fueron las que entraron en lisa para la selección de ésta semana. Bajamos un poco el ritmo, pero es natural cuando no se suceden grandes hitos deportivos en el ciclo que nos ocupa.
Twenty-six (26) publications reflected the sports tastes of their authors and were the ones that entered the list for this week's selection. We slowed down a bit, but it is natural when there are no major sporting milestones in the cycle we are dealing with.
     Con dos (2) publicaciones muteadas esta semana, hemos retrocedido un poco, pero queremos brindar la mejor calidad que sea posible; agradecemos el trabajo de nuestros scouts curadores patrocinantes: @theycallmedan y @bluemist con la cuenta de @appreciator, siempre mirando nuestro feed con ojos prestos a ayudar. Las pautas sugeridas, para la comunidad de "Full Deportes", ahorrarán tiempo y esfuerzo a los creadores de contenido que deseen participar del feed.
With two (2) mutated publications this week, we have moved back a bit, but we want to provide the best quality possible; we appreciate the work of our scout curatorial sponsors: @theycallmedan and @bluemist with the @appreciator account, always looking at our feed with eyes ready to help. The suggested guidelines, for the "Full Deportes" community, will save time and effort to content creators who wish to participate in the feed.
P.S. English is not our native language, apologize.
We used a web translator for english text (DeepL)
     ¡Gracias por leer..! // Thanks for read..!

¿Quieres tener tu propio blog y la libertad financiera que significa
el mundo cripto? ¡Haz clic en la firma!
---
---
Considera unirte al trail de Full Deportes y apoya a los autores deportivos hispanos