[ESP/ENG] Idolos del automovilismo mundial: Ronnie Peterson, el campeón sin corona. / Idols of world motorsport: Ronnie Peterson, the champion without a crown.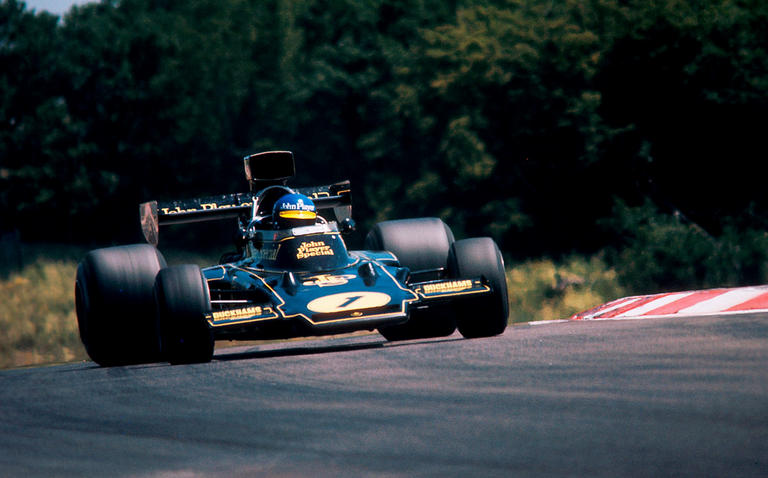 La forma de conducir derrappando y su personalidad fueron la característica distintiva de Ronnie Peterson. /
Ronnie Peterson's drifting driving style and personality were Ronnie Peterson's hallmarks.
Hay pilotos en la Fórmula 1 predestinados a ganar títulos, honores, mundiales, batir récords y constituirse en los "niños mimados" de la máxima categoría del automovilismo mundial. Y terminan siendo leyendas.
Hay otros a los cuáles el destino les depara otro final, muchas veces trágico, inmolándose en su propia aventura y deseo de ser cada vez más veloces, más audaces, más épicos.
Yo era muy joven cuando se mató. En Argentina estaba llegando la TV a colores (debutó oficialmente en el mes de junio con el Mundial de Fútbol de 1978).
Y un par de meses más tarde, concretamente en setiembre de ese año, en el GP de Moza, en un accidente bastante banal perdió la vida uno de los más brillantes y espectaculares pilotos de F1 de la década del 70.
Por su espectacularidad muy parecido al modo de conducir de Senna.
Me estoy refiriendo al piloto sueco Ronnie Peterson.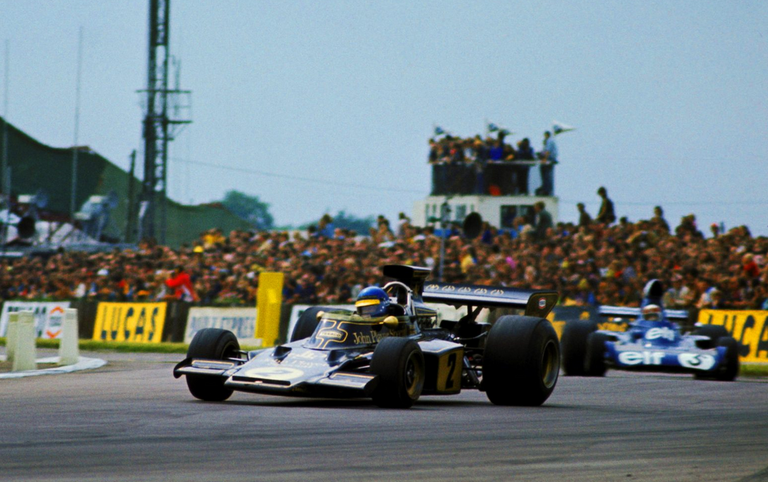 Ronnie Peterson debutó en la F1 con el March 701 en 1970, la temporada en la que Jochen Rindt ganó póstumamente el Campeonato del Mundo con el innovador Lotus 72. / Ronnie Peterson made his F1 debut with the March 701 in 1970, the season in which Jochen Rindt posthumously won the World Championship with the innovative Lotus 72.
There are drivers in Formula 1 who are predestined to win titles, honors, world titles, break records and become the "spoiled children" of the highest category of world motorsport. And they end up being legends.
There are others to whom destiny has another end in store, often tragic, immolating themselves in their own adventure and desire to be faster and faster, bolder and more epic.
I was very young when he was killed. In Argentina, color TV was just arriving (it made its official debut in June with the 1978 World Cup).
And a couple of months later, specifically in September of that year, at the Moza GP, in a rather banal accident, one of the most brilliant and spectacular F1 drivers of the 70's lost his life.
For its spectacularity very similar to Senna's driving style.
I am referring to the Swedish driver Ronnie Peterson.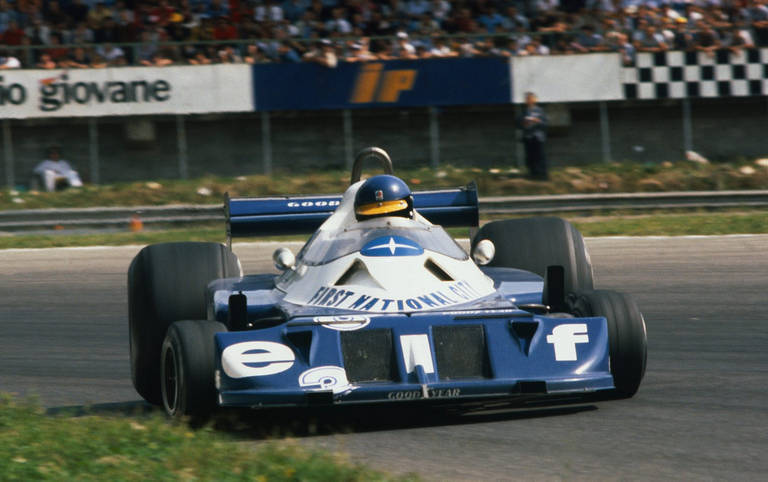 En 1971, se le escapó su primera victoria en Monza por solo 0,1s. cruzando la meta codo a codo con el BRM P160 de Peter Gethin. / In 1971, he missed his first victory at Monza by just 0.1s. crossing the finish line neck and neck with Peter Gethin's BRM P160.

La legenda. / The legend.
Recuerdo haber escuchado la noticia por radio (yo era bastante joven aún y seguía las carreras de Fórmula 1 a través de las transmisiones radiales efectuadas a través de un corresponsal que, al margen de las pistas, transmitía las carreras en vivo) con algunos intervalos publicitarios.
La conexión permanente era muy cara, las llamadas internacionales costaban varias veces lo que cuestan ahora y las conexiones se efectuaban a intervalos regulares cada 10-15 minutos y duraban no más de un minuto.
Las comunicaciones satelitales no habían llegado todavía al ambiente deportivo, el business que ahora lo rodea tampoco, internet y las redes sociales eran una quimera, una utopía que nadie se atrevería a pronosticar para un futuro inmediato.
Lo absurdo de su muerte es que en el accidente múltiple en el que estuvieron involucrados James Hunt y Riccardo Patrese entre otros- sus pies y la parte inferior de las piernas quedaron atrapadas en el chasis delantero de su monoplaza que se estrelló contra el guardrrail prendiéndose fuego y siendo literalmente trituradas.
Pero no fue esto lo que provocó en si mismo su muerte sino la embolia cerebral que sumada a los gases tóxicos emanados por el combustible quemado le produjeron un paro cardio-respiratorio.
Todo esto originó una gran polémica porque no se entendía como un piloto con las piernas rotas podía morir en la sala de operaciones. El Dr Niels Lund médico sueco anestesista declaró que Peterson había sido operado demasiado pronto. Luego se desdijo, pero la frase quedó flotando...
Nunca pudo ganar un campeonato mundial aunque la oportunidad la tuvo quince días antes durante el GP de los Países Bajos cuando Peterson segundo a nueve puntos de Mario Andretti, a la postre campeón mundial, prefirió escoltar su compañero de equipo antes que pasarlo, y protegerlo hasta el final de los ataques rivales. Ya tenía acordado su pase de Lotus a McLaren para el año siguiente.
Cuando al terminar la carrera le preguntaron por qué había tomado la decisión de ayudar a Andretti respondió: "le habia dado mi palabra a Mario que iba a tener mi apoyo para ganar el Mundial. Si no la hubiera respetado, en el futuro como podrían confiar en mi?"
En su Bernie Ecclestone, mandamás indiscutido de la F1 por décadas sentenció: "El talento de Ronnie Peterson era superior al de muchos campeones de la Fxrmula 1".
Elogios similares fueron vertidos por Jackie Stewart, Emerson Fittipaldi, Niki Lauda, Jody Scheckter y Gilles Villeneuve.
Se apagaba una estrella en el firmamento de la F1. Fue subcampeón post-mortem en 1978, lo mismo que en 1971 y tercero en el año 1973. Era la época de los revolucionarios Lotus 78 y 79 creados por Colin Chapman el excéntrico empresario y constructor inglés que saludaba cada victoria de sus monoplazas arrojando al aire su gorra.
Tenía solo 34 años. Este accidente sirvió para que la FIA comenzara a designar a partir de la temporada siguiente un médico permanente para seguir a los pilotos durante todas las carreras.
Desaparecía un estilo de conducción donde la espectacularidad iba de la mano con la efectividad.
Desaparecía de las pistas un campeón sin corona.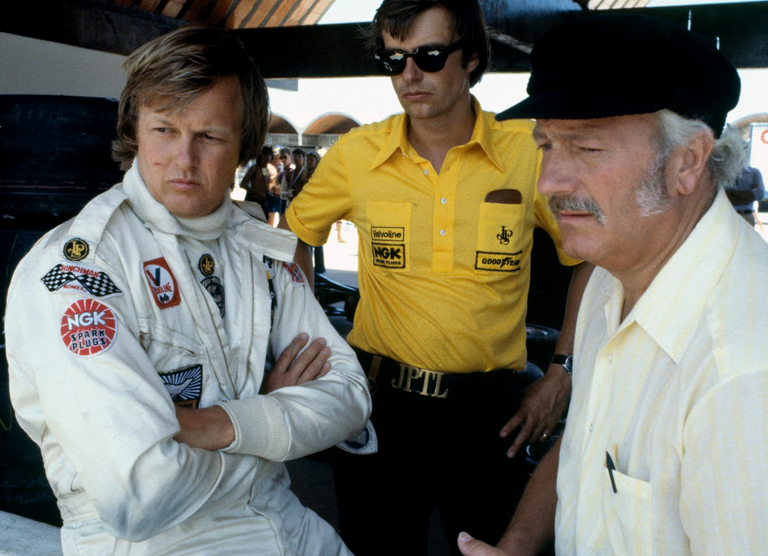 Su relación con Chapman, que nunca fue buena, se había agriado considerablemente y para la temporada siguiente (1979) había ya decidido cambiar de equipo firmando para McLaren. / His relationship with Chapman, which was never good, had soured considerably and by the following season (1979) he had already decided to change teams and signed for McLaren.
I remember hearing the news on the radio (I was still quite young and followed the Formula 1 races through the radio transmissions made through a correspondent who, on the sidelines of the track) transmitted the races live, with some advertising intervals.
The permanent connection was very expensive, international calls cost several times what they cost now and connections were made at regular intervals every 10-15 minutes and lasted no more than a minute.
Satellite communications had not yet reached the sports environment, neither had the business that now surrounds it, internet and social networks were a chimera, a utopia that no one would dare to predict for the immediate future.
The absurdity of his death is that in the multiple accident -in which James Hunt and Riccardo Patrese among others were involved- his feet and lower legs were trapped in the front chassis of his single-seater that crashed into the crash barrier, catching fire and being literally crushed.
But it was not this that caused his death in itself but the cerebral embolism that added to the toxic gases emanated by the burnt fuel produced a cardio-respiratory arrest.
All this caused a great controversy because it was not understood how a pilot with broken legs could die in the operating room. Dr. Niels Lund, a Swedish anesthesiologist, declared that Peterson had been operated on too soon. He later retracted his statement, but the phrase was left floating around....
He was never able to win a world championship, although he had the opportunity a fortnight before during the Dutch GP when Peterson, second nine points behind Mario Andretti, the eventual world champion, preferred to escort his teammate rather than pass him, and to protect him from rival attacks until the end. He had already agreed to move from Lotus to McLaren for the following year.
When he was asked after the race why he had made the decision to help Andretti, he replied: "I had given my word to Mario that he would have my support to win the World Championship. If I hadn't respected it, how could they trust me in the future?"
In his turn, Bernie Ecclestone, F1's undisputed boss for decades, said: "Ronnie Peterson's talent was superior to that of many Formula 1 champions".
Similar praise came from Jackie Stewart, Emerson Fittipaldi, Niki Lauda, Jody Scheckter and Gilles Villeneuve.
A star in the F1 firmament was going out. He was runner-up post-mortem in 1978, the same as in 1971 and third in 1973. It was the time of the revolutionary Lotus 78 and 79 created by Colin Chapman, the eccentric English businessman and constructor who greeted each victory of his single-seaters by throwing his cap in the air.
He was only 34 years old. This accident led the FIA to start appointing a permanent doctor to follow the drivers during all races from the following season onwards.
A style of driving where spectacularity went hand in hand with effectiveness was disappearing.
A champion without a crown was disappearing from the tracks.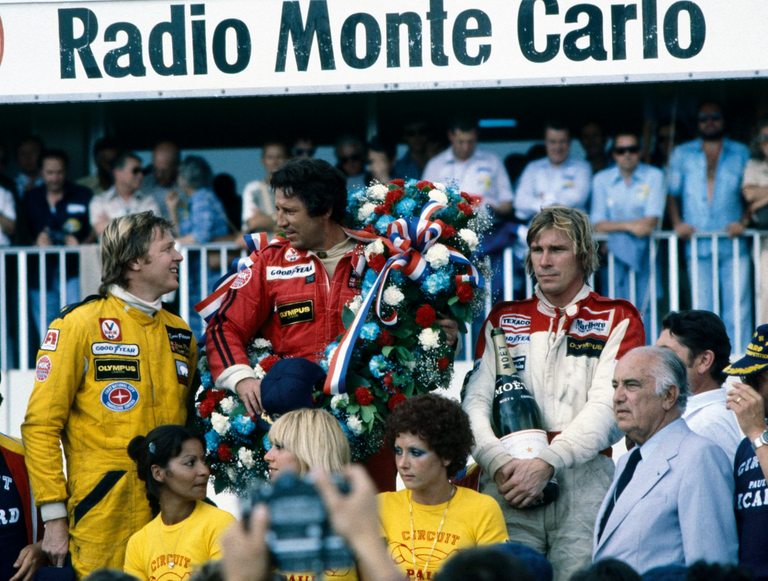 Mario Andretti se convirtió rápidamente en un gran amigo dando lugar paso a una admiración y amistad duraderas. / Mario Andretti quickly became a great friend, giving way to a lasting admiration and friendship.

Gracias por leer. / Thank you for reading.
---
---